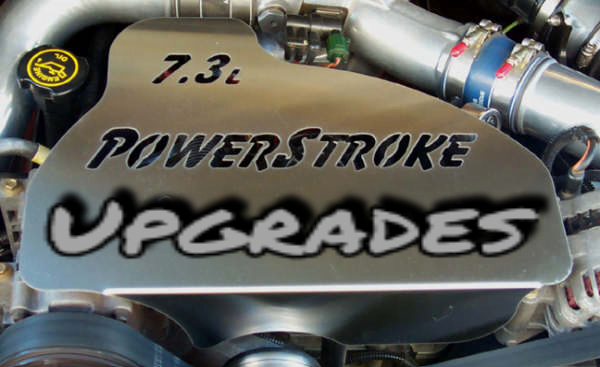 The 7.3L Power Stroke is commonly regarded as possibly the best power stroke engine that Ford has made to date. It wasn't plagued with the problems of the 6.0, nor was it weighed down by the emission junk that was found in the 6.4 and the 6.7 power strokes. These factors and more allow the 7.3 to have incredible reliability and power capability, making it an excellent powerplant that lasts for a very long time.
Singing my praises for the 7.3 aside, we all know how good it is, but there are still a few things that can be done to improve it beyond what Ford engineered it to do. The best mods for these engines have to do with reliability, adding power, and improving MPGs. A lot of them are quite simple, effective, and cheap, and will work wonders to transform your truck to another level of performance.
We came up with his guide to categorize the most popular mods for the 7.3. In the name of keeping it simple, it starts with the most popular mods to do, the ones that have the most impact on performance and goes down the list from there. You can also use the table of contents below to skip to whatever mod you might be interested in most.
Best Intake Kit for the 7.3L
S&B Filters Cold Air Intake (Reusable Filter)
aFe Power Magnum FORCE 54-10792 Ford Diesel Truck 94-97 V8-7.3L (td) Performance Intake System (Oiled, 5-Layer Filter)
as of January 21, 2021 2:19 pm
Features
Outflows the factory intake by 117%. Produces an additional 8 horsepower and 17 lbs. x ft. torque
5-Layer progressively finer oiled, washable cotton gauze media allows maximum airflow for maximum power
One-piece powder-coated heat-shield with a one-piece intake tube
Hassle-free installation that utilizes all factory mounting locations
This product is 50-state legal (CARB E.O Number D-550-4)
Best Exhaust Kit for the 7.3L
MBRP Turbo Back Single Side Exhaust System
MagnaFlow 18951 Large Aluminized Performance Exhaust System Kit
as of January 21, 2021 2:19 pm
Features
Mandrel bent tubing
Aluminized steel construction
Dyno-proven power
Straight through muffler
Made in the USA
Best Tuner Chip for the 7.3L
TS Performance 6-way Switchable Tunes
Ford Powerstroke Diesel 7.3 1994-2003 TS Performance 6 Position Chip WITH KNOB 140+ HP
as of January 21, 2021 2:19 pm
Features
Please contact seller and provide Vehicle Info for Programming
your vehicle model year Make and Model (F series, Van or excursion)
transmission type (auto or manual)?
If you have 1999 model year we need the vehicle Production date
California customers must provide PCM box code
Best Gauges for the 7.3
GlowShift complete gauge kit
GlowShift 1999-2007 Ford Superduty Tan Gauge Package Black Face Boost, EGT & Trans Temp
as of January 21, 2021 2:19 pm
Features
GlowShift Diesel Gauge Package for 1999-2007 Ford Super Duty Power Stroke F-250 F-350 Trucks with Factory Color Matched Tan Triple Pillar Pod, Black 7 Color Series 3 Gauge Diesel Set & Installation Accessories You Need to Successfully Install the Fittings & Sensors
Includes 60 PSI Boost Gauge with Compression Fittings, 9' Nylon Hose & Boost T-Fitting - 1500° F Pyrometer Exhaust Gas Temp Gauge with EGT Probe - Transmission Temp Gauge with Temp Sensor
Factory Color Matched Tan Triple Pillar Pod Mounts the Gauges to 1999-2007 Ford Super Duty Power Stroke F250 F350 Trucks - Manufactured from ABS Plastic - UV Protected - Includes Mounting Hardware
Includes Ford Super Duty 7.3L 6.0L Power Stroke Installation Guide Complete with Step-By-Step Instructions & Photos that Help Walk You Through the Process of Installing & Wiring this Diesel Gauge Package to Your Truck
GlowShift Guarantee with One Year Limited Warranty & Free Lifetime Technical Support
Turbocharger Upgrade for 7.3L
Garrett Powermax GTP38R Ballbearing Turbocharger
The best turbo upgrade that you can do for your 7.3L is to swap over to this Garrett ball-bearing monster. With this upgrade, you can replace your tired original turbo with one that can spool much faster and supply significantly more boost throughout the entire rev range, giving you more power and torque.
Garrett Powermax GTP38R Ballbearing Turbocharger for Powerstroke 7.3L
as of January 21, 2021 2:19 pm
Features
Fits:99.5-03 Ford Powerstroke F250, F350, and Excursion
Patented Garrett dual ball-bearing cartridge
Maximum recommended boost level is 40psi
Capable of an additional 370+hp increase over stock
Complete bolt-in kit
AIH Delete Mod
GlowShift Air Intake Heater Boost Plug Sensor Thread Adapter
This mod allows you to remove the restrictive air intake heater out of the flow of incoming boost.
This heater is only activated at low ambient temps while the truck is idling for an extanded time, so 90% of drivers won't even know its gone. The conditions for when it runs are as follows: oil temps below 131°F, glow plugs off, trans in park/neutral, parking brake on, charging system between 11.5 and 15.0 volts, and ambient temp below 32°F.
For how little it runs, it's a lot better to pull that big heater element out and replace it with this plug, which also allows you to easily add an aftermarket boost pressure sensor.
GlowShift Air Intake Heater Boost Plug Sensor Thread Adapter for 1999.5-2002 7.3L Ford Power Stroke & 2001-2004 6.6L GM LB7 Duramax Diesel
as of January 21, 2021 2:19 pm
Features
GlowShift Air Intake Heater Boost Sensor Thread Adapter Allows Users to Easily Install a Boost Hose or Sensor to the Intake Manifold Without Having to Drill & Tap the Manifold - Replaces the Air Intake Heater
Compatible with 1999.5-2002 Ford Super Duty 7.3L Power Stroke & 2001-2004 6.6L GM LB7 Duramax
Features a 1/8-27 NPT Female Thread Port to m22 x 1.5 Male Thread - 1/8-27 NPT Thread Port Plug
Includes Step-By-Step Installation Instructions
GlowShift Guarantee with One Year Limited Warranty & Free Lifetime Technical Support