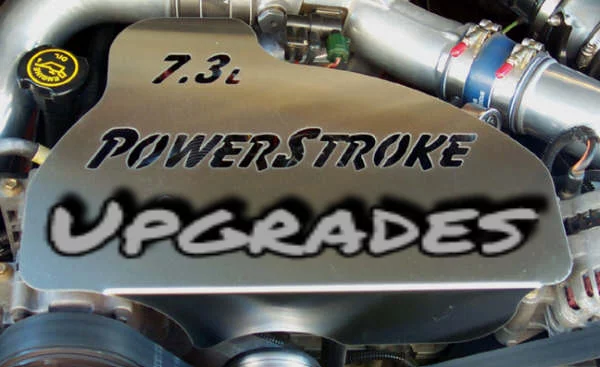 The 7.3L Powerstroke is commonly regarded as possibly the best Powerstroke engine that Ford has made to date. It wasn't plagued with the head gasket problems of the 6.0L Powerstroke, nor was it weighed down by the emission issues that were found in the 6.4L Powerstroke and the 6.7L Powerstroke. These factors and more allow the 7.3 to have incredible reliability and power capability, making it an excellent powerplant that lasts for a very long time.
Singing my praises for the 7.3 aside, we all know how good it is, but there are still a few things that can be done to improve it beyond what Ford engineered it to do. The best mods for these engines have to do with reliability, adding power, and improving MPGs. A lot of them are quite simple, effective, and cheap, and will work wonders to transform your truck to another level of performance.
We came up with his guide to categorize the most popular mods for the 7.3L. In the name of keeping it simple, it starts with the most popular mods to do, the ones that have the most impact on performance and goes down the list from there. You can also use the table of contents below to skip to whatever mod you might be interested in most.
Best Intake Kit for the 7.3L
S&B Filters Cold Air Intake (Reusable Filter)
There is not much else (for the cost) that can wake up your truck like a new cold air intake. This S&B intake is probably the best that we've used for the 7.3L Powerstroke, it offers such a great return on investment as far as smiles per gallon go. A cold air intake is crucial for a starting mod, as it allows the engine to pull in a much higher volume of air, setting you up for success later down the line when you increase boost and lower backpressure. 
aFe Power Magnum FORCE 54-10792 Ford Diesel Truck 94-97 V8-7.3L (td) Performance Intake System (Oiled, 5-Layer Filter)
as of November 23, 2023 11:58 am
Features
Outflows the factory intake by 117%. Produces an additional 8 horsepower and 17 lbs. x ft. torque
5-Layer progressively finer oiled, washable cotton gauze media allows maximum airflow for maximum power
One-piece powder-coated heat-shield with a one-piece intake tube
Hassle-free installation that utilizes all factory mounting locations
This product is 50-state legal (CARB E.O Number D-550-4)
Best Exhaust Kit for the 7.3L
Magnaflow Turbo Back Single Side Exhaust System
Once you have the volume of air into the engine increased from upgrading to a high flow cold air intake, you'll need to upgrade the flow out of the engine through the exhaust to match. A larger exhaust exhaust with smoother bends allows you to do this, by reducing the amount of backpressure behind the turbo. As we all know, combustion engines are basically complicated air pumps. The more air that you can pull in and then pump out, the more power can be made. It also increases the efficiency of the burn, if you upgrade the fueling to match.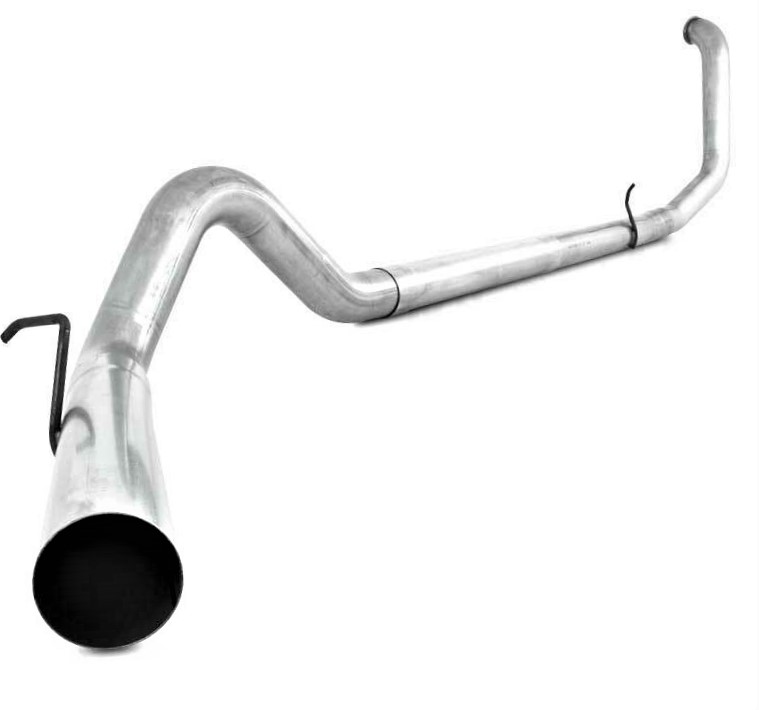 4" Turbo Back Exhaust for 7.3L Powerstroke
Check Price

Ebay.us
as of November 23, 2023 11:58 am
A huge performance upgrade for the 7.3L Powerstroke, this exhaust system allows for maximum flow and minimum turbo backpressure, making your truck run more efficiently and with more power!

Key Features:

Delivers an Aggressive, Deep Exhaust Note
Includes Maximum Flow Muffler Delete Pipe
Installs with Common Hand Tools
Boosts Torque and Horsepower
Maximum Performance at a Minimum Price
Not for Use on Vehicles Equipped with a Catalytic Converter
1 Year Manufacturer's Warranty
Best Tuner Chip for the 7.3L
TS Performance 6-way Switchable Tune
All the higher flow upgrades that you add to your truck are not going to do you nearly as much good until you adjust the fuel and burn to take full advantage of the added air. Fortunately for the 7.3L this is both easy and cheap to do, with a TS Performance chip. Simply plug the chip into your trucks PCM, and then run the wire for the tune selector to an easy to reach place by the steering wheel. The 6-position selector switch actually has 8 total options and allows you to change between the pre-loaded tunes as follows:
Valet Mode for when you don't want a driver to have full power
Stock Mode for normal driving
High-Idle Mode to allow you quickly warm up your truck 
Anti-Theft Mode for added protection
50 HP mode increases the wheel horsepower by 50
75 HP mode of course is a 75 horsepower increase
100 HP mode starts to add quite a bit of power at 100 more hp
140 HP mode will be where you need to start adding supporting mods
TS Performance Part # 1180402 Diesel Performance Horsepower/Fuel Economy Switchable Chip
as of November 23, 2023 11:58 am
Features
Detailed Instructions Included
All HP Settings are RWHP
Easy Installation
In Cab Adjustable
Hardware and Programming are TS Performances' Design
Best Gauges for the 7.3
GlowShift complete gauge kit
If you have started upgrading and tuning your 7.3L, the most important thing that you can to preserve the heath of your engine is to monitor the vitals. In order of importance, the most critical things to monitor on any diesel are the EGT's (exhaust gas temperatures) the boost pressure, and the transmission temperature (especially if towing.) This gauge set allows you to do that in one easy to install package.
GlowShift 1999-2007 Ford Superduty Tan Gauge Package Black Face Boost, EGT & Trans Temp
as of November 23, 2023 11:58 am
Features
GlowShift Diesel Gauge Package for the 1999-2007 Ford Super Duty 7.3L 6.0L Power Stroke F250 F350 Truck features a Factory Color Matched Tan Triple Pillar Pod, Black 7 Color Series 3 Gauge Diesel Set, Boost MAP Line T-Fitting Adapter, 3 Gauge Power/Sensor Wiring Harness & an Installation Guide that Walks Users Through the Process of Installing the Gauges, Sensors & Pod Step-By-Step
Includes 60 PSI Boost Gauge with 1/8-27 NPT Compression Fittings, 9' Nylon Boost Hose & Boost MAP Line T-Fitting Adapter - 1500°F Pyrometer EGT Gauge with 1/8-27 NPT EGT Probe with 3' of Wire, 6' Sensor Harness & 2' Power Harness - Transmission Temperature Gauge with 1/8-27 NPT Temperature Sensor & 2' Power/Sensor Harness - Black 7 Color Series Features a Black Dial, Clear Lens, 7 Solid Color Modes & 2 Color Cycle Modes
Factory Color Matched Tan Triple Pillar Pod for 1999-2007 Ford Super Duty 7.3L 6.0L Power Stroke F250 F350 Trucks Mounts 3 Gauges to the Truck's A-Pillar - Overlay Design Mounts Pod on Top of the Factory A-Pillar - Manufactured from ABS Plastic - UV Protected - Includes Mounting Hardware
Includes Ford Super Duty 7.3L 6.0L Power Stroke Installation Guide Complete with Step-By-Step Instructions & Photos that Help Walk You Through the Process of Installing & Wiring this Diesel Gauge Package to Your Truck
GlowShift Guarantee with One Year Limited Warranty & Free Lifetime Technical Support
Turbocharger Upgrade for 7.3L
Garrett Powermax GTP38R Ballbearing Turbocharger
The best turbo upgrade that you can do for your 7.3L is to swap over to this Garrett ball-bearing monster. With this upgrade, you can replace your tired original turbo with one that can spool much faster and supply significantly more boost throughout the entire rev range, giving you more power and torque.
Garrett Powermax GTP38R Ballbearing Turbocharger for Powerstroke 7.3L
as of November 23, 2023 11:58 am
Features
Patented Garrett dual ball-bearing cartridge
Complete bolt-in kit
Patented Garrett dual ball-bearing cartridge
AIH Delete Mod
GlowShift Air Intake Heater Boost Plug Sensor Thread Adapter
This mod allows you to remove the restrictive air intake heater out of the flow of incoming boost.
This heater is only activated at low ambient temps while the truck is idling for an extanded time, so 90% of drivers won't even know its gone. The conditions for when it runs are as follows: oil temps below 131°F, glow plugs off, trans in park/neutral, parking brake on, charging system between 11.5 and 15.0 volts, and ambient temp below 32°F.
For how little it runs, it's a lot better to pull that big heater element out and replace it with this plug, which also allows you to easily add an aftermarket boost pressure sensor.
7.3L Powerstroke Heater Sensor Thread Adapter for Ford 1999.5 2000 2001 2002 6.6L & 7.3L 2001 2002 2003 2004 GM LB7, and for Durmax Diesel
as of November 23, 2023 11:58 am
Features
Fitment: for F250 F350 F450 Super Duty 7.3L Power Stroke 1999.5 2000 2001 2002 6.6L &7.3L GM LB7 Duramax 2001 2002 2003 2004
Replaces: for 7.3l and 6.6l Air Intake Heater sensor
Installation: Easy to install Sensor or Fittings to Intake Manifold Without Drilling and Tapping
Notice: Please confirm the adapters fitment and engines models before order