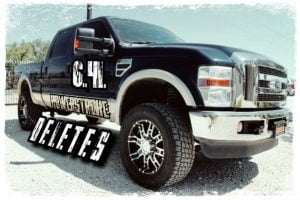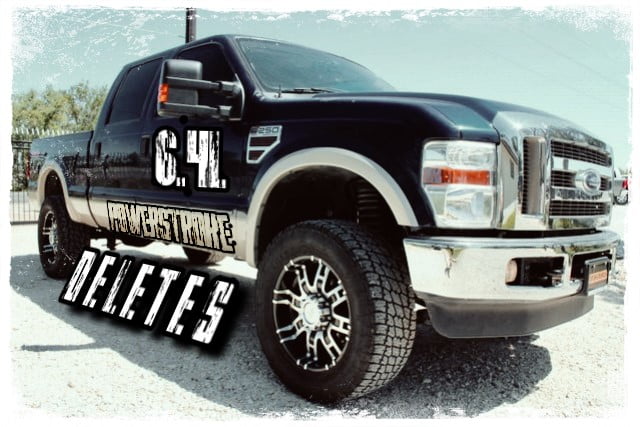 Welcome to our delete guide for the 2008-2010 Ford 6.4L Powerstroke.
In this article, we will cover the available delete kit options for your Super Duty and what they can do to improve your engine's reliability, while also increasing your MPG and HP.
The 6.4L responds excellently to a good tune and a couple deletes, by running it on the stock ECU alone you are missing out on a huge increase in the driveability experience that your powerstroke is just waiting to give you.
Why Delete?
If you're wondering why you would want to remove any factory systems from your truck and what the benefits are – hopefully this will help to answer those questions.
Benefits of DPF removal:
Drastically slows down the bad oil dilution problem that 6.4s have, which decreases wear and extends engine life.
Improves exhaust flow, turbo spool rate and lowers your exhaust gas temps, mainly because the restriction is no longer slowing the exhaust gases after the turbo.
More efficient as far as MPG and HP without the restrictions or regen cycles.
EGR delete benefits:
Better MPG by eliminating hot exhaust gasses from entering the intake.
Extends the life of the EGR cooler because there is no more 1200 degree exhaust gasses passing through, which can cause the coolers to crack and fail.
Removes the risk of premature engine damage from EGR system failure.
So now that you can see the benefits of deleting your EGR and DPF systems, you might be asking what could possibly be the downside?
Cons:
The biggest, and really only con to DPF and EGR removal is that these type of modifications are for off-road use only and not-applicable if you drive your truck on public highways, and this applies anywhere in the United States.
That being said, if you live in a country without emissions regulations, it would be a disservice to the life of your truck if you don't do the deletes.
How to delete:
To make it easier for those looking to find the right parts to pull this off, below I've listed what you will need for each type of delete and where to find them.
Note: this guide is only for the '08-2010 Powerstroke F-250, F-350, F-450, or F-550 Super Duty, if you have the newer 6.7L click here.
Best Delete Tuner for the 6.4L
SCT x4 Handheld Tuner with custom tunes
Hands down the best option for a 6.4 programmer, this preloaded SCT handheld has tunes designed specifically for the 6.4L Powerstroke, ranging from a mild +40HP increase, all the way up to +250HP, for trucks with really built powertrains. There are also towing mode tunes that help greatly when you are trying to have the power and efficiency for pulling heavy loads.
The SCT tuners are flexible and highly customizable, but the most important feature; with it you have all the preloaded tunes that retain emissions, and the ones that allow you to delete the EGR and DPF individually or both together.
The 6.4L tends to run best as a daily driver at the +135 HP tune with EGR and DPF deletes installed. It will feel like a whole new truck, just keep the boost below 40 psi if you're still on stock head gaskets and bolts.
If you're feeling a little froggy (and have the supporting mods) you could try the +185 or +250 tunes, they really open the truck up. like crazy. Just beware of the touchier throttle on the higher tunes, it takes some getting used to. Also axle wrap becomes more of a concern at that HP too, take a look at some traction bars to solve the jerkiness.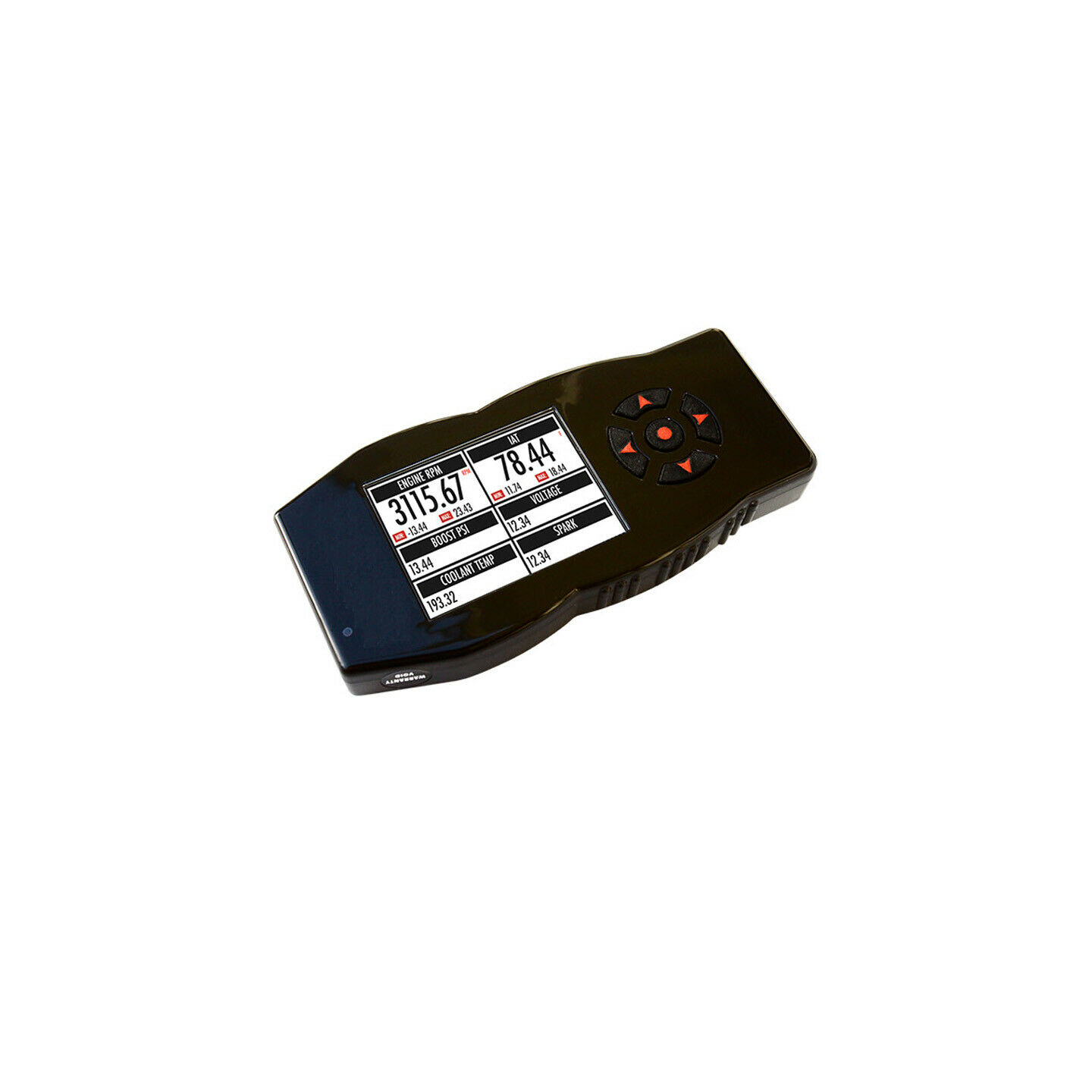 Bully Dog EGR DPF Delete Tune for 2008 - 2010 Ford 6.4L Powerstroke | 3 Tunes
as of November 16, 2022 7:35 pm
Technical support
Custom delete tunes
Choose between Power Levels (If 3 are not chosen, we will choose for you)
+35hp
+80hp
+135hp
+185hp
+250hp
increases power
Increase MPG

Uses

DPF and EGR Delete
Increase in MPG
Increase in HP and TQ
Can be calibrated for larger tires
Cheapest Delete Tuner for the 6.4L
H&S Mini Maxx Race Version
Another really good tuner for the 6.4 is this one from the now-defunct H&S. The Mini Maxx Race is the hot version that allows for the DPF and EGR to be removed.
Right out of the box it has preloaded tunes for the 6.4L which let you delete the EGR and DPF and unleash your truck. It doesn't have as many tunes, or the amount of customizability for the 6.4 that the nGage comes with, but it will allow you to add a lot more power and delete the emissions systems – for about half the cost.
It's the cheapest way to get the ability to delete the emissions systems, and it also serves as a good live engine monitor at the same time, with diagnostics built in. A solid 6.4L programmer choice, the MiniMaxx will work great for 90% of what daily drivers need.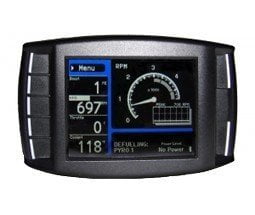 H&S Mini Maxx DPF Delete Race Tuner Ford, Chevy & Dodge
as of November 16, 2022 7:35 pm
Best Exhaust Kit for Removing the DPF and DOC
4″ Turbo Back Race Exhaust Kit
A race exhaust with a straight pipe to remove the DPF filter and DOC (catalytic converter) is required if you are running a tuner that deletes the DPF from the computer.
Otherwise the filters will get clogged with soot because the regen will be turned off. This is terrible for backpressure, and has the potential to build up so much that it can pop your head gaskets if the restriction isn't removed.
This replacement exhaust takes care of the section of factory exhaust that normally houses the DPF and cat/DOC, eliminating those huge restrictions and replacing them with a straight through pipe. Not only does it replace the filter section, it replaces the entire exhaust from downpipe out to the back of the truck.
Turbo whistle will be a lot more evident with this type of exhaust, so if you want to quiet that down for some reason, you'll want to pick one of the exhausts that include a muffler. You could also always add your own or just reuse the factory muffler.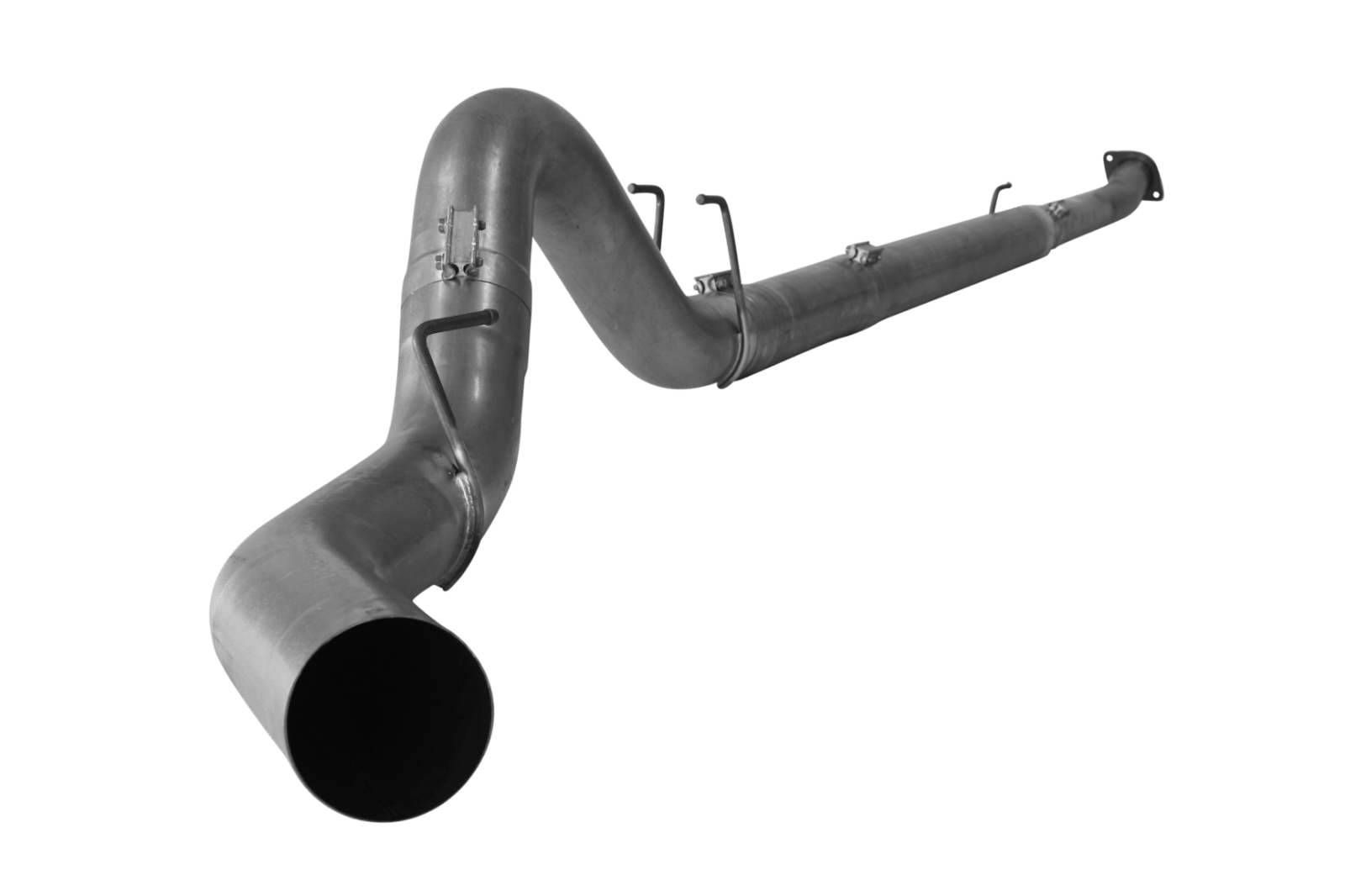 2008-2010 Ford Powerstroke 6.4L Race Exhaust
as of November 16, 2022 7:35 pm
No Bungs
Without Muffler
4″ Aluminized Steel
OE Style Hangers For Easy Installation
Maximum Flow For Competition & Off Road Applications
Best 6.4L EGR Delete Kit
6.4L Powerstroke EGR Delete Kit

Technically, after installing a tuner that deletes the EGR on your 6.4, it will no longer function and will be disabled. However, simply deleting the EGR codes in the computer and doing nothing else to remove the system is not the recommended way to do it.
Leaving the EGR installed can still allow exhaust gasses to flow into the system, causing soot build-up that makes the valve stick open. It's just best to remove the system entirely with an EGR delete kit that has replacement coolant lines to remove the EGR coolers and the block off plates for the exhaust side, as doing it this way will eliminate any possibility of unreliability in the future.
The EGR coolers have a terrible way of cracking and failing on these trucks, and when that happens it can spell disaster for your engine – the way the system is designed the failure can allow coolant to enter the cylinders, causing some very serious damage if not noticed. It's even possible to hydro-lock the motor, which very quickly turns the engine into a write-off.
This EGR Kit includes the intake elbow for a cleaner install and better airflow.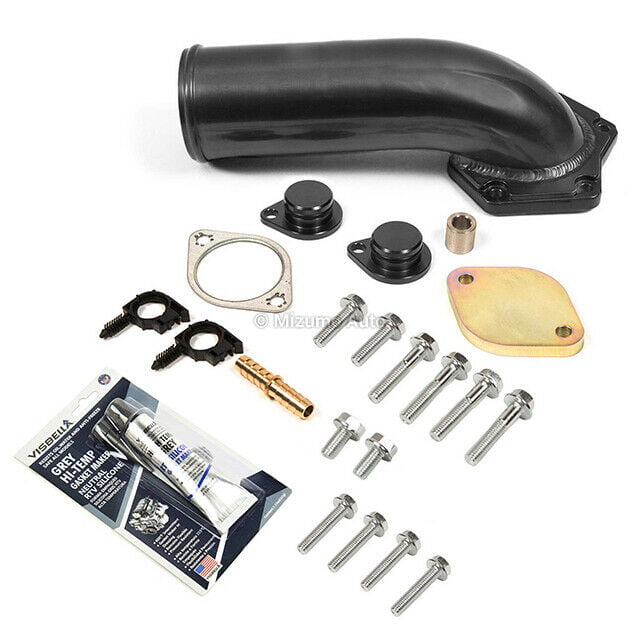 2008-2010 Ford 6.4L Powerstroke Diesel EGR Valve & Cooler Delete Kit Intake Elbow
as of November 16, 2022 7:35 pm
This competition tested EGR Cooler Delete Kit is a great replacement for your entire stock Powerstroke EGR system. This kit gives your Ford Powerstroke's engine quicker turbo spool, lower EGT's and lower coolant temperatures. High Quality Construction in an EGR Delete Kit Sinister Diesel has manufactured this EGR Delete Kit out of more durable materials than your factory EGR. The housing of this kit is made from 304 stainless steel and tough CNC Machined billet aluminum. This product is available for a 2008, 2009, or 2010 Ford Super Duty F-250/F-350 with Powerstroke 6.4L. WARNING, this EGR Delete Kit can never be installed on any vehicle registered for use on highways or public streets. Race Tuning Required
Best Air Intake for the 6.4L
aFe Power Magnum FORCE Performance Intake System

This kit from AFE actually does what most air intake kits only claim to do. By enclosing the filter in a heatshield, AFE has figured out how to keep the air filter from heatsoaking in the hot engine bay air, while still allowing for easy access and a way to visually check the condition of your filter.
It uses a oil-free washable type filter, which can be washed and reused multiple times over. This is a big advantage in my opinion, saves a ton not having to buy new filters every tune-up, simply wash the filter with soap and water and let it air dry before re-installing.
aFe Power Magnum FORCE 51-41262 Ford Diesel Truck 08-10 V8-6.4 (td) Performance Intake System (Dry, 3-Layer Filter)
Check Price
Amazon
as of November 16, 2022 7:35 pm
Features
Outflows the factory intake by 26%. Produces an additional 13 horsepower and 36 lbs. x ft. torque
3-Layer non-oiled, washable synthetic media for the perfect balance of performance, protection and convenience
Powder-coated one piece housing utilizes stock mounting locations
Heat-insulating molded plastic tube replaces the stock intake tract
This product is not CARB exempt at this time and is not legal for sale in California or use on vehicles registered with the California Department of Motor Vehicles.
DEF Delete
On the more modern Powerstrokes, another benefit to deleting the DPF systems is that you no longer have to buy urea to fill up the aux tank for the DEF system to run on.
With the 6.4L, it does not actually use a DEF type system so there is no need to worry about that in the first place, once you eliminate the DPF from the exhaust and flash the tune, you are essentially done.
Conclusion
Hopefully you now have a good idea of what it takes to remove these systems from your truck, and have a feel for what parts are the best for doing so.
As always, we would love to hear any questions or comments that our readers might have, so feel free to drop us a line in the comments below. Thanks for reading!