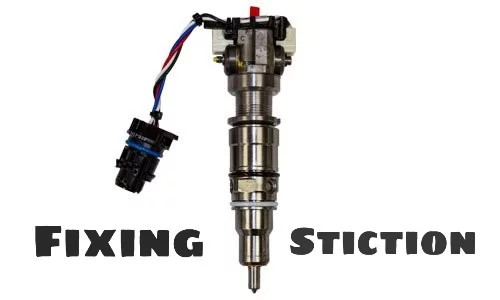 In this guide, I wanted to cover an issue that many 6.0 and 7.3 powerstroke owners have run into, Injector stiction. Stiction is unfortunately a very common problem with the fuel delivery system that these powerstrokes use, and can lead to serious issues with hard starts, rough idling, misfires and terrible overall driveability.
What is stiction?
The 6.0 and 7.3 Powerstrokes use hydraulically actuated electronically controlled unit injector (or HEUI) injectors. Contrary to most modern common rail systems, the HEUI is now an outdated system that was introduced by Caterpillar way back in the 90's. Instead of using a high pressure injection pump to pressurize the fuel in the injector body (like you'll find in newer diesels) the HEUI system uses oil that has been pressurized very highly, sent directly into the injectors, to create the required fuel pressure.
Basically, the oil pump pressurizes some of the engine oil, sends it to the HEUI system, which opens or closes a spool valve inside the injector, allowing the oil to push on the intensifier piston. This piston then converts the oil pressure into fuel pressure, and from there the fuel is injected into the cylinder at up to 4000psi.
The problem happens when the spool valve either has oil residue on it and becomes stuck, or when the engine oil becomes foamy to the point where the foam is creating a false injector pressure.
The bad part about this system is that it is affected by low quality fuel and oil, which is all too common and hard to avoid nowadays. Oil residue and foamy oil in the spool valve is the main issue with the HEUI system, and the best way to keep your injectors flowing well is to use an additive to clean them preventatively.
Frequent oil changes are very important for your Powerstroke, remember that the injectors need oil pressure in order to operate and changing and checking your oil is the best way to ensure that the injector system stays operational and in good working condition. The pressure that the HEUI system operates on the oil side can be greater than 3000 psi, which is just terrible for the longevity of your oil, it breaks down the molecules much faster and creates foam.
Another good reason to stay on top of your oil changes.
The best oil additive to cure your diesel's stiction
There are a few additives out there that claim to fix stiction issues on the powerstroke injectors. Below I'll cover a few of the most popular ones, and how well they work.
Because of the reviews I've read about success with this stuff bringing low performing injectors back to life, if a contribution code were to pop up on my truck I would start my troubleshooting with some fresh oil and a couple bottles of this stuff.
I don't currently have any symptoms of stiction, like any hard start or rough idle issues with my truck (knock on wood) but I have seemed to notice a bit smoother acceleration since I've started incorporating it into my maintenance routine.
You really can't go wrong with trying any of these friction modifiers really, they are all designed to do the same thing basically. If I had an OBD code staring me in the face, I'd start with the Rev-x, as that seems to have the most success with tough cases. For preventative maintenance though, I'd pick one of the other two, just because of cost.
Frequent oil changes
Changing the oil often on a diesel that uses high pressure oil in the fuel injection system is much more important than on a regular gasoline vehicle, and here's why:
With the very intense pressures of the oil injector system, your oil is subjected to much more wear and tear than in a regular engine because of shear.
Shear is a way to measure the effects that mechanical stress has on your oil. Being under huge loads like in a diesel injector system reduces the effective viscosity of the oil by a large factor.
This reduction of viscosity means that the oil is much more quickly thinned out in a diesel than a gasoline vehicle, and because of this it ends up being much less effective at lubricating.
In fact, the industry standard test for oil shear by ASTM International (D5275) actually involves running through a high pressure diesel injection system like in a powerstroke, and then comparing the viscosity to fresh oil.
Best oil for preventing stiction
So now that you know how important frequent oil changes are, let's go over how to choose the best oil to run in your truck to prevent all of the nasty side effects of stiction.
The most important thing to consider when shopping for diesel oil is the additives that they use to protect against shear.
Below is a comparison of what I believe to be the best choice for oil in diesel engines that use a high pressure oil fuel delivery system.
Rotella T6 vs Delo 400LE
Let me start by saying that these two oils are the only kinds that I would ever consider running in my truck. It's so much more important for these high pressure injector systems to have the right additives in the oil to prolong the inevitable thinning, and regular old wal-mart or whatever oil just won't cut it.
Rotella T6 is the primary choice here, the additive profile of this oil is top notch, which ensures that it will be a very good choice for diesels that use a HEUI system.
That being said, Delo 400LE is also a great choice that is much more cost effective. The only caveat to the Delo oil is that it designed for the newer trucks because it was formulated to meet emissions specs for '07 and up.
Cleaning the spool valve in the injectors
Sometimes, using an additive or changing the oil won't be enough to clean off the oil residue that is clinging to the spool valves inside your injectors. In this scenario, you're going to need to either replace the injectors, or pull them and clean the spool valves by hand.
This process is a bit involved, but doable. The best instructions that I've seen for spool valve cleaning are in this video below:
Replacing worn injectors
So, what if you've already thrown the book at your Powerstroke by changing the oil, trying one of the additives, and manually cleaning the spool valves in the injectors – but nothing has helped?
More than likely you're going to have to go with remanufactured injectors like the one below, in order to fix the problem if none of the above has resolved it for you.
Stiction Symptoms
Stiction rears its ugly head in the form of misfires on cold starts, rough and uneven idle, and hesitation when accelerating. These symptoms can continue even when the engine has warmed up fully.
Stiction and OBD DTC's
If your injectors are not operating as they should due to stiction, this can lead to the engine computer throwing out some telltale OBD DTC's:*
*Acronym Translation: OBD = On Board Diagnostics and DTC = Diagnostic Trouble Codes.
P0263 Valve train or injector cylinder #1 contribution/balance
P0266 Valve train or injector cylinder #2 contribution/balance
P0269 Valve train or injector cylinder #3 contribution/balance
P0272 Valve train or injector cylinder #4 contribution/balance
P0275 Valve train or injector cylinder #5 contribution/balance
P0278 Valve train or Injector cylinder #6 contribution/balance
P0281 Valve train or injector cylinder #7 contribution/balance
P0284 Valve train or injector cylinder #8 contribution/balance
FICM Causing Stiction Symptoms
The spool valves in the injectors operate when they receive a signal from the FICM (fuel injection control module.) It stands to reason, if your FICM is not operating correctly then you will get symptoms of stiction, the spool valves will act similarly to being clogged up if they aren't receiving the correct signal from the FICM.
Aside from adding a stiction prevention additive, the other first step in troubleshooting a rough running powerstroke, is to test the FICM for the correct voltages. Check out the FICM repair guide for instructions on how to perform that test.