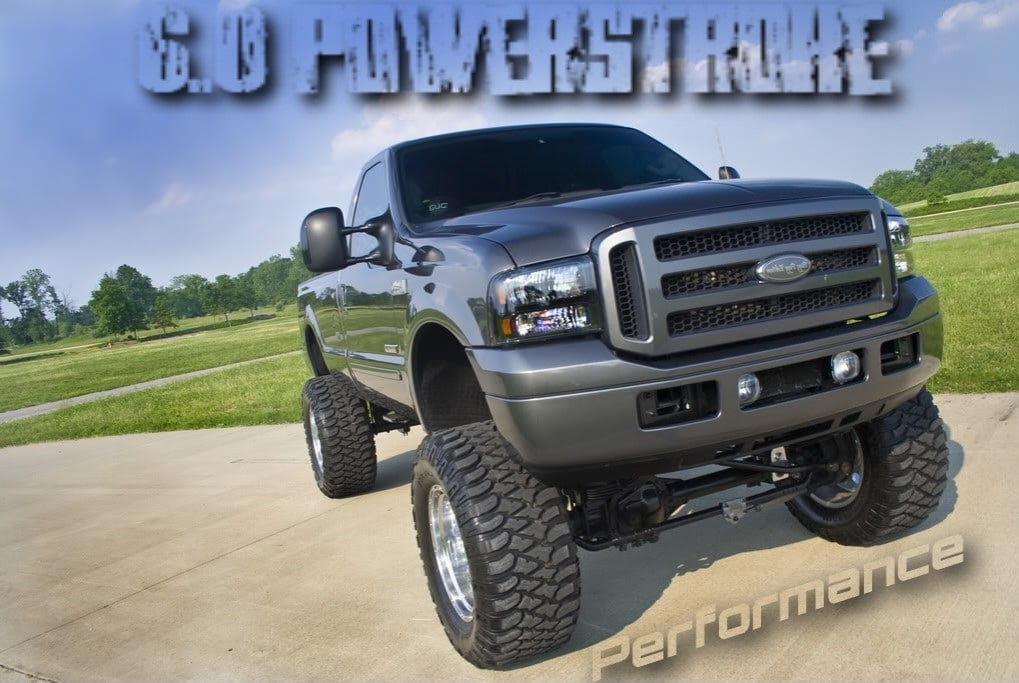 In this guide we'll go over some mods that will start you down the road to getting more performance out of your 6.0 Powerstroke.
We'll start with the basics; an EGR delete kit, air intake and an exhaust are all excellent ways to boost your truck's power and reliability, as modifying these systems allows your truck to breathe much easier and run much more efficiently.
We've made a short list of the parts that you will need for these upgrades for a 6.0L Powerstroke engine in the '03-07 Ford diesel trucks. If you have a newer truck, check out our guides for the 6.4L and 6.7L Powerstrokes.
---
Best Tuner for the 6.0L Powerstroke
The one thing that is key to extracting the maximum horsepower, torque and fuel economy from the 6.0 is a good tuner.
Also sometimes called a programmer or chip, the right tuner will allow you to change fuel maps, delete codes and certain sensors, view readouts and virtual gauges to monitor your truck, and much more. It's a vital part to any build.
There are a lot of options out there as far as tuners for the 6.0, but only a couple that give you maximum tuning ability right out-of-the box. Our favorite is the Livewire, mainly because of the onscreen monitoring/gauges ability that it has.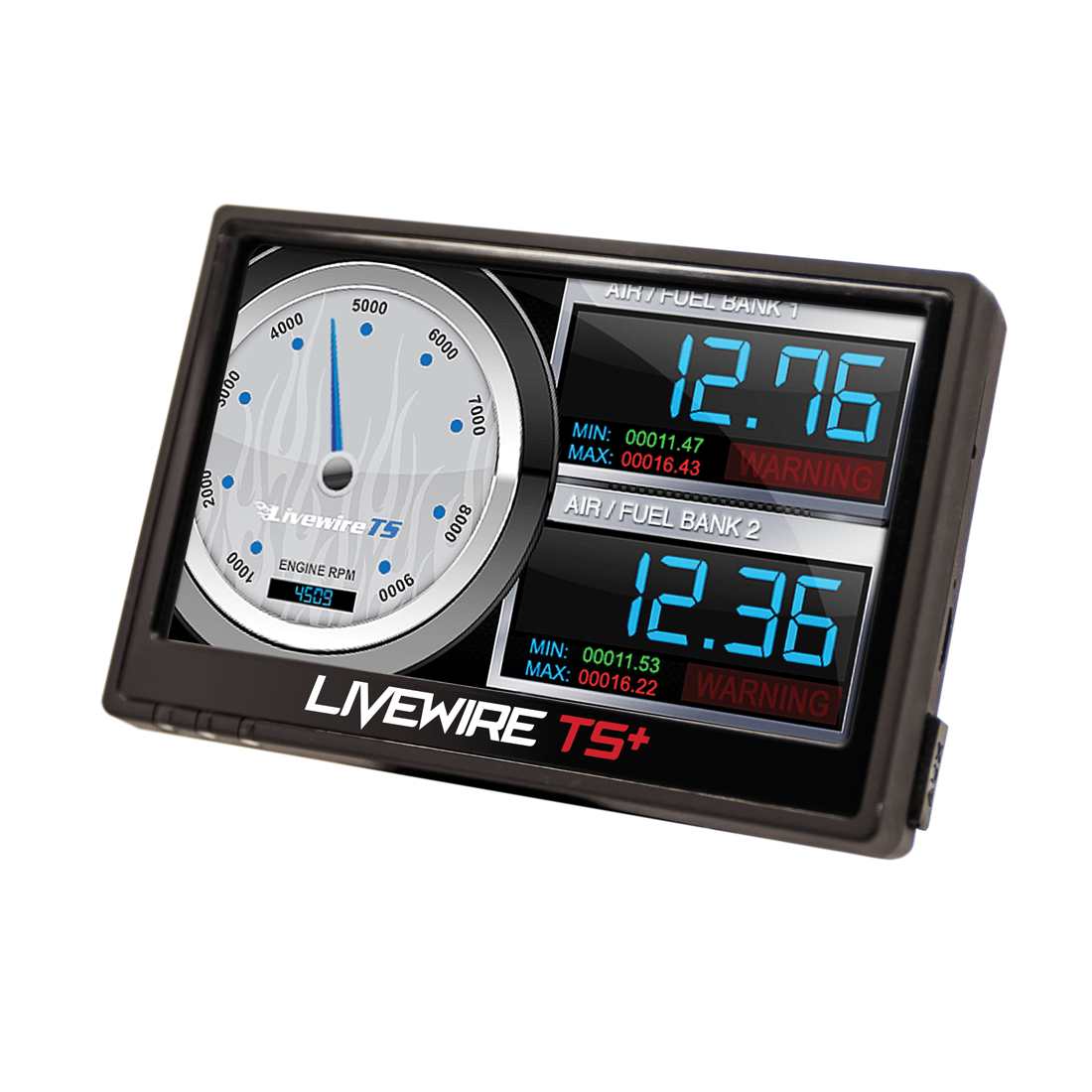 SCT Livewire TS+ Programmer Tuner for Ford Powerstroke 7.3, 6.0, 6.4, 6.7 5015P
as of November 16, 2022 10:35 pm
Manufacturer's Description
Color 4" Touch Screen Display
Livewire TS+ features a full color 4" touch screen display with built-in ambient light sensor for automatic brightness adjustment day & night.

Switch On-The-Fly*
Switch On-The-Fly*
Change power levels on the fly while driving. *Switch On-The-Fly available for select vehicles only.

Holds up to 10 Custom Tunes
Holds up to 10 Custom Tunes
The Livewire TS+ arrives Pre-Loaded with Dyno Proven performance tune files & holds up to 10 custom tuning files for Maximum tune flexibility.
---
Blue Spring Fuel Pressure Upgrade Kit
The blue spring mod is a very popular performance and reliability upgrade for the 6.0, and for a good reason. This simple mod will increase your fuel pressure by around 10-15psi, making your truck run much more smoothly, while decreasing the amount of strain on your injectors.
Bank for your buck it is one of the cheapest and best fuel mods than you can do to these trucks. It is especially a must do if you are going to be adding other power increasing mods to your truck.
6.0 Blue Spring Kit Upgrade - Fuel Regulator Kit - Ford Blue Spring Kit 6.0 Powerstroke F250, F350, F450, F550 2003, 2004, 2005, 2006, 2007 - 3C3Z-9T517-AG
as of November 20, 2022 9:05 pm
Features
Increase fuel pressure for increased performance. This upgrade will increase the fuel pressure 10-15psi on your 6.0 powerstoke. Increases the life of fuel injectors too.
Easy To Install. The 6.0 blue spring kit includes all the gaskets, seals, bolts, spring, and regulator housing needed for installation. This fuel regulator kit includes a detailed installation video (link included in packaging) with step by step instructions for the blue spring upgrade.
Compatible with Ford 6.0L Powerstroke Trucks - F250, F350, F450, F550 model years 2003, 2004, 2005, 2006, 2007
Equivalent to factory part 3C3Z-9T517-AG Perfect for stock or modified trucks. The 6.0 Blue Spring Kit is a common upgrade because it increases injector life, increases drive-ability, and gives smoother power delivery.
Complete kit with everything needed for installation on your 6.0 Powerstroke: blue spring upgrade, 4 rubber o-ring seals, 3 orifice seals, 4 screws, fuel pressure regulator housing
---
Quite simply, the best turbo back exhaust for the 6.0 powerstroke is a simple straight pipe (no restrictions) from the turbo right out to the back of the truck.
Having the exhaust free of all the factory restrictions has a few great benefits (lower exhaust temps, quicker spooling from the turbo), but by far my favorite two side effects are more horsepower and torque!
One thing to look for to find a good exhaust system: mandrel bends. This simply means that the bends in the exhaust have been made with a die of some kind inserted inside of the pipe at the bending point, to prevent deformation (crushed in sections in the middle of the bend.)
When looking to maximize flow and spool times, you're going to want to minimize any disturbances in the flow, especially where the exhaust gases have to go around bends and corners. This is the reason why these types of bends are far superior to crush bent exhausts, it simply flows much better because the middle of the bend isn't all smashed in and interfering with flow. Any good exhaust will always use mandrel bends.
Our favorite for the 6.0 is this one show below. This is the kit that fits on all bed sizes of the '03-'07 Ford powerstroke trucks.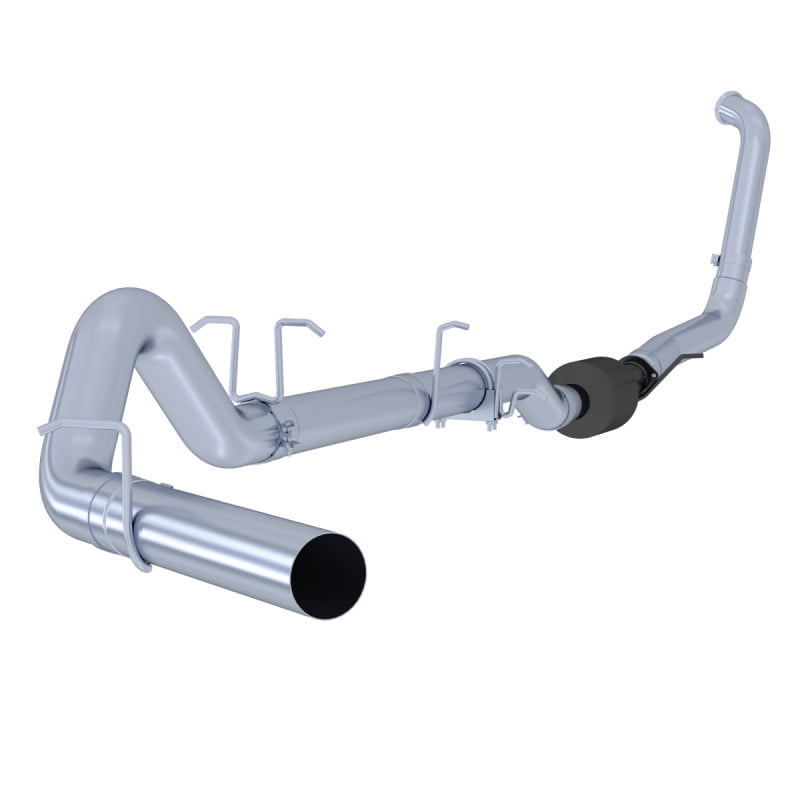 MBRP 4" Straight Pipe Exhaust For 2003-2007 Ford F-250 F-350 6.0L Powerstroke
Check Price

Ebay.us
as of November 16, 2022 10:35 pm
---
An air intake kit is possibly the most common modification that people start with when looking for more performance, and the reason is obvious:
Engines need air and fuel to make power. The more air and fuel, the more power, it's as simple as that. Having a turbocharger like the 6.0 has just makes unrestricted breathing even more important.
Nearly unrestricted breathing is the aim of most aftermarket intakes, and a lot of them do just that. They also all look pretty similar in form too. Since most of them will do the job of opening up the airflow, it basically all comes down to the differences in performance vs reliability, maintenance, and cost.
This Spectre intake pulls off the balance between form and function very well. Because of the heatshield design (that actually pulls in cold air) and the reusable dry filters, I would say that it is the best value intake out there for the 6.0 powerstroke. A main concern with a lot of the other aftermarket intake designs is that they leave the filter exposed to the heatsoak of the engine bay. This is a really bad idea, especially with how high the underhood temps can get in these trucks.
The Spectre kit solves the underhood temp issue with a filter heatshield that pulls air from outside your engine bay, like an intake always should. The heatshield design allows you to visually inspect the filter, and makes it much less of a pain to remove for cleaning vs. the stock setup. The rubber seal that they include blocks airflow around the heatshield, making the setup draw even colder air from outside the engine bay.
As far as reliability and maintenance goes, the best part about the dry filters that Spectre uses in this kit, is that they can be reused a bunch of times and they never need oiling. All you need is just a soapy wash and water rinse (rinse from the inside out) from time to time. Or alternatively, you can vacuum the filter (from the outside) to get the dirt out, which works well too. But one thing I have learned the hard way with dry filters, NEVER try to clean the filter with compressed air, it ends up ruining the media and you'll have to buy a new one (my wallet speaks from experience here.)
Spectre Performance Air Intake Kit: High Performance, Desgined to Increase Horsepower and Torque: 2003-2007 FORD (F250, F350, F450, F550, Harley Davidson, Super Duty, Cutaway, Excursion) SPE-9973
as of November 20, 2022 9:05 pm
Features
DESIGNED TO INCREASE HORSEPOWER AND TORQUE: Dyno-tested with up to 50% more airflow than restrictive factory box air filter and intake tube
BETTER TOWING: Improves acceleration and uphill performance when towing by improving throttle response.
IMPROVED ENGINE SOUND: Hear the power under the hood.
WORLD CLASS PROTECTION: Pushing the limits of engine protection by protecting your engine from harmful contaminants and debris
EASY MAINTENANCE: No filter cleaning required for up to 100,000 miles
---
Garrett PowerMax Turbo Upgrade
This turbo is a great power upgrade, if your original turbo needs replacement or you just want up to 175 more horsepower, look no further than the PowerMax. You'll be able to install this turbo with no more hassle than installing the original Garrett that comes in your truck, it is a true bolt in swap.
Garrett is at the forefront of turbo technology and the attention to detail on the powermax really shows off their innovation. One of the coolest features is the variable vane tech that they've incorporated into the design, which restricts down low and opens up top. This greatly increases the turbine's efficiency as the rpms change, which keeps the boost at peak performance from idle to redline.
Garrett Powermax Turbocharger for 04.5-07 Powerstroke 6.0L Turbo
as of November 20, 2022 9:05 pm
Features
Supports up to an additional 175 HP over stock with no sacrifice in drivability Performance upgrade or replacement for original equipment
Parts # 772441-5001s and 772441-5002s
Note: The compressor housing is NOT polished as pictured!
Fits 2004.5-2007 Ford Powerstroke 6.0l (Build Date After 9/22/2003)
Compressor Inducer Wheel Diameter: 64 mm Compressor Exducer Wheel Diameter: 88 mm Compressor Wheel Trim: 52 Compressor A/R: 0.58 Turbine Inducer Wheel Diameter: 73 mm Turbine Exducer Wheel Diameter: 66 mm Turbine Wheel Trim: 84 Turbine A/R: 0.90 Type: Stage 1 Supported Horsepower: 560 hp
---
If you still use your truck on US roads and need to keep the emissions system intact, there is fortunately an option for upgrading the problematic, clog-prone factory EGR cooler that comes equipped on the 6.0 Powerstroke.
This cooler is a huge upgrade to the factory ford EGR cooler. Made from from stainless steel, and some great looking TIG welds, it looks just as good as it performs. Internally, their design ditches the factory ford honeycomb mesh (that without fail always clogs up) and instead uses rounded tubes as the medium.
They pressure test their coolers to ensure that there aren't any leaks when you install it. Leakproof is absolutely something you want to be sure of when going through all the trouble of installing a cooler replacement. The install itself is a direct replacement fit, so no hacking or modifying of your other EGR components is required.
Upgraded EGR Cooler Kit & Gaskets For Ford F-250 350 6.0L Powerstroke Diesel Turbo
as of November 16, 2022 10:35 pm
---
This EGR track upgrade kit is the result of a new direction in the design of EGR deletes, addressing the many fitment and leakage flaws of the current market kits.
It's evident from the up close pictures of the great-looking TIG welds on the pipe and the expert machining on the plate, they don't really have anything to hide in the construction like you would see with offshore copies.
They also appear to have taken a lot of care with the J-tube and how it interfaces with the adapter plate. This is the only design of its kind I have seen, and is likely the result of the manufacturer taking a look at the current designs and their leak points, and coming up with a solution to fix that.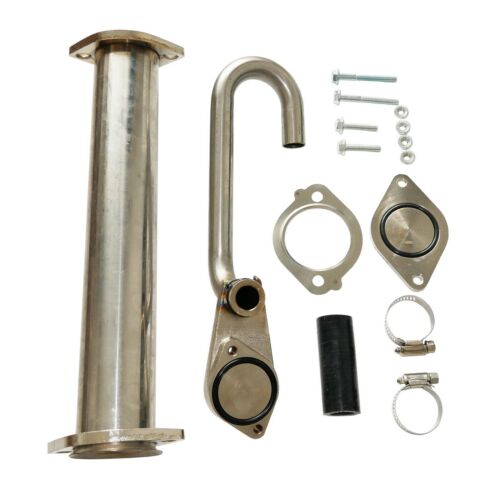 EGR Cooler Upgrade Kit for Ford 6.0L
as of November 16, 2022 10:35 pm
EGR track kit for 2003-2007 V8-6.0 liter(td) Ford power stroke trucks. This EGR track kit is a 100 percent new unit, not remanufactured. The unit is TIG-welded and pressure tested at the factory. May only be used temporarily to confirm defective EGR coolers. Replaces EGR cooler: EGR track kit allows for the removal of the EGR system for improved engine reliability, lower EGT's and improved horsepower. This is a "must have" for any "Race" upgrades. Durable construction: This kit includes a 304 stainless steel TIG-welded coolant pipe, 14-gauge 409 stainless steel exhaust pipe-up, billet EGR valve block-off plate, hi-temp silicone heater hose and all related hardware. Also fits: Ford Excursion 2004-2005 V8-6.0 liter (td). Note: This is a "Race Only" product used solely for competition. It's use is limited to closed-course and open-course racing that is formally sanctioned by a recognized racing organization. Any other use including recreational off-road use, could be in violation of local, state and federal laws. This system also requires an aftermarket electronic module to work properly with the vehicle.
---
Upstand Pipe and Dummy Plug Upgrade Kit
If your truck is having hard start issues after it's warmed up, you most likely have a leak in the oil system, causing the injectors to not pressurize fully. A very common place for oil pressure to leak out is the seals on the dummy plugs, causing your fuel pressure to be too low to start the truck right away.
If you've checked the usual electrical suspects, such as the FICM, IPR and IPC and those are operating as intended, then you most likely have a loss of oil pressure.
A good upgrade kit for replacing the dummy plugs and upstand pipe is this kit, it solves the issues that your original dummy plugs have with worn out or rotten seals, sealing up the oil system which will restore your fuel pressure back to normal.
Genuine Ford 6E7Z-9A332-B Fuel Supply Tube
as of November 20, 2022 9:05 pm
Features
genuine oem factory part
exact fit
durable
best in quality
this is not an aftermarket part
---
The perfect upgrade for 6.0 trucks that have a really slow starter is the much better version that comes in the 6.4 and later trucks. Ford revised the gearset in the newer starters which results in much faster cranking times.
It's a simple drop-in replacement, nothing needs to be modified so this upgrade is a no brainer if your current starter is getting really slow.
DB Electrical SFD0122 New Starter For 6.4L 6.4 Ford F150 F250 F350 Diesel Truck 08 09 10 2008 2009 2010 410-14080 7C3T-11000-AA 7C3T-11000-AB 7C3Z-11002-AA
as of November 20, 2022 9:05 pm
Features
Spec: Unit Type: Starter, Voltage: 12, Rotation: CW, Teeth: 12, KW: 3.1, Starter Type: OSGR
Replaces OEM Numbers: ARROWHEAD: SFD0122, FORD: 7C3T-11000-AA, 7C3T-11000-AB, 7C3Z-11002-AA, J & N: 410-14080, LESTER: 6675, MOTORCRAFT: SA-965, WAI: 6675N
Compatible With/Replacement For: FORD: F-250 SUPER-DUTY 2008-2010, F-350 SUPER-DUTY 2008-2010, F-450 SUPER-DUTY 2008-2010, F-550 SUPER-DUTY 2008-2010
1-year warranty protects you after your purchase. We're confident that our products will work flawlessly once installed in your vehicle. But in a rare case that it does not, we'll replace it anytime within one year of your order.
100% New aftermarket Starter built to meet OEM specifications for Ford
---
Head Gasket and ARP Stud Kit
The most hardcore of upgrades is replacing the head gaskets and bolts with new gaskets and studs to clamp it all together. Unfortunately this is an upgrade that a lot of 6.0 owners have had to do to, with head gasket issues being a weak link in these trucks.
It's such a common occurrence that there are now bulletproofing kit options for replacing everything that this job requires, such as intake gaskets and all the other little gaskets that you would normally not think of when ordering, all included in one easy box with brand new ARP studs – which are a must install. The factory bolts just can't physically have the same clamping force that studs can, and that's one thing you really need on a high boost 6.0.
The only thing to be aware of when choosing a head gasket kit is the build dates on your tuck. Basically, if your truck was built before January 14th 2006, and has t40 Torx bolts for the injector hold-downs – then you have the 18mm dowels in your heads. Of course you should get the kit that has the head gaskets that fits those dowels.
After January 14th, the 2006 and 2007 heads have 20mm dowels in them. That's really the only catch as far as ordering kits goes, pay attention there and your parts will fit when you go to put the beast of a job back together.
03-06 Ford Powerstroke 6.0L Diesel ARP Head Stud Kit & OEM Style 18MM Head Gaskets & Intake Manifold Installation Kit & Exhaust Gaskets Kit - Bundle (18MM)
as of November 20, 2022 9:05 pm
Features
ARP Studs
MAHLE Black Diamond Head Gaskets
Master Intake Gasket Set with Injector O-rings and Turbo Hardware
Exhaust Manifold Gaskets
---
Intercooler Piping Upgrade
The factory intercooler boots on the 6.0 are known for being a weak point. After years of sitting on top of the hot engine they often crack and create leaks. The best way to address this is with an intercooler piping upgrade kit such as this one.
Mishimoto MMICP-F2D-03BK Intercooler Pipe Kit Compatible With Ford 6.0 Powerstroke 2003-2007 Black
as of November 20, 2022 9:05 pm
Features
Direct fit for the 2003-2007 Ford 6.0L Powerstroke
Pipe Construction: Polished Aluminum Pipe Diameter: 3.0"
Improves airflow, power, and EGTs
Duracore technology provides superior resistance to heat, pressure, fuel, and oil
Mishimoto Lifetime Warranty
---
Aluminum Degas Bottle and Y-pipe Upgrade
Another huge failure point on the 6.0 that just about always needs to be addressed is the failure of the coolant cap and the eventual cracking and leaking of the plastic degas bottle.
Fortunately, there are a bunch of aftermarket aluminum degas bottles that solve this issue permanently. My favorite one comes from from Rudy's Diesel as a bundle. They also have included an aluminum replacement for the Y-pipe that is another failure point in your powerstoke's coolant system.
Don't fall victim to a head gasket failure because of a simple coolant leak, bulletproof the coolant system before that can happen!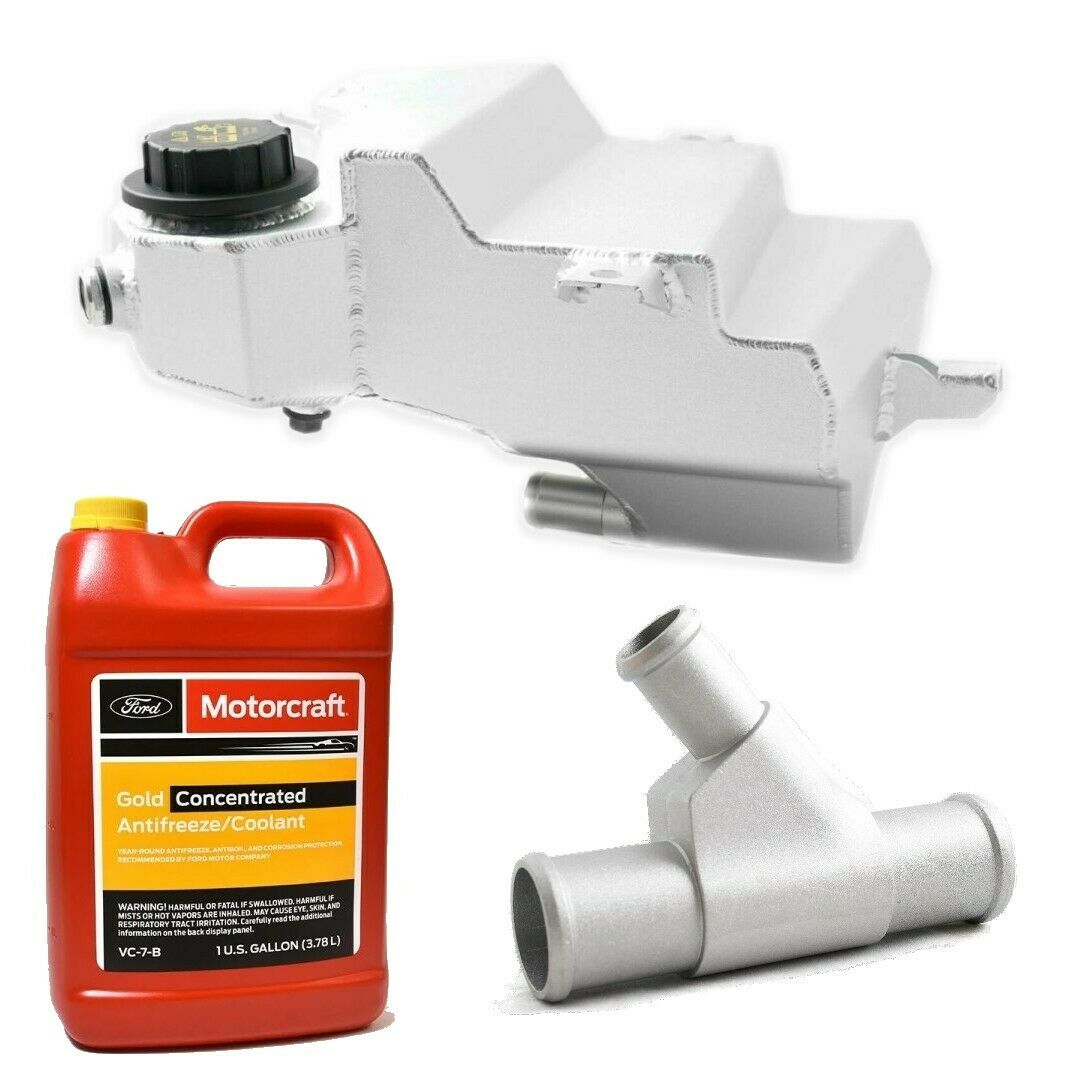 Silver Aluminum Degas Bottle/Coolant Y-Pipe/Gold Antifreeze 03-07 6.0L Powerstroke
as of November 16, 2022 10:35 pm
Conclusion
Hopefully this has answered your questions about what performance upgrades to start with for upgrading the performance on your 6.0 Powerstroke. If you have questions, comments or other upgrades that you think should make the list, be sure to let us know in the comments below, thanks for reading!