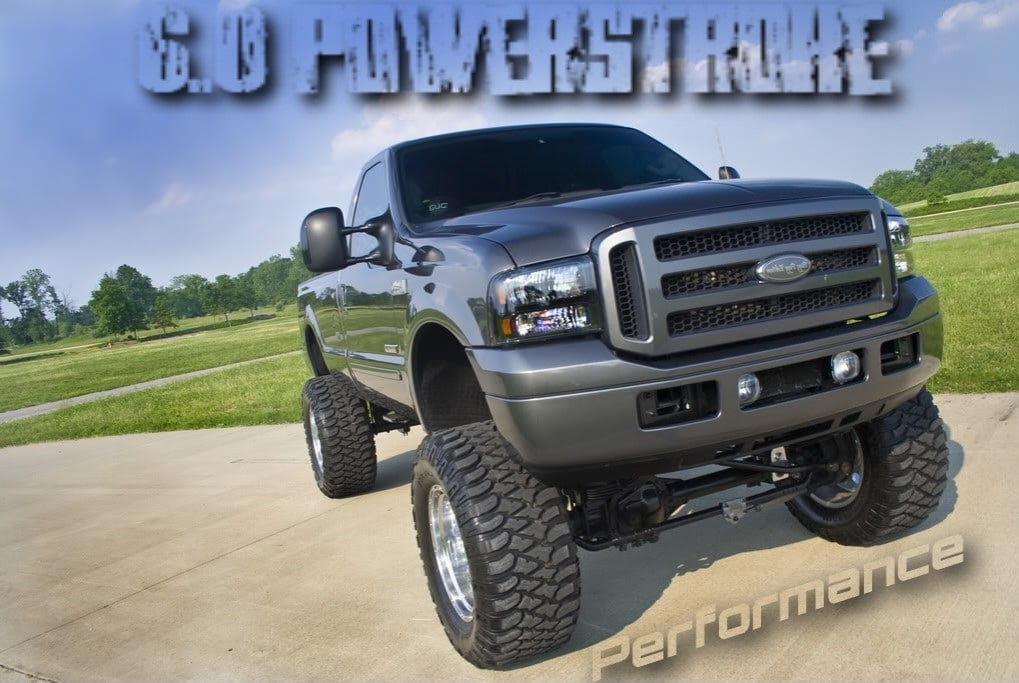 In this guide we'll go over some mods that will start you down the road to getting more performance out of your 6.0 Powerstroke.
We'll start with the basics; an EGR delete kit, air intake and an exhaust are all excellent ways to boost your truck's power and reliability, as modifying these systems allows your truck to breathe much easier and run much more efficiently.
Below I've compiled the list of required parts that you will need for these upgrades for a 6.0L Powerstroke engine, as found in the '03-07 Ford diesel trucks.
Air intake kit
An air intake kit is possibly the most common modification that people start with when looking for more performance, and the reason is obvious:
Engines need air and fuel to make power. The more air and fuel, the more power, it's as simple as that. Having a turbocharger like the 6.0 has just makes unrestricted breathing even more important.
Nearly unrestricted breathing is the aim of most aftermarket intakes, and a lot of them do just that. They also all look pretty similar in form too.  Since most of them will do the job of opening up the airflow, it basically all comes down to the differences in cost vs reliability and maintenance.
One kit in particular that balances well between form and function and wins the overall title for best 6.0 Powerstroke intake is this kit by aFe. The main claim to fame for this intake is how it outflows the factory intake by a whopping 52%.
The kit includes the heatshield that blocks the filter from heat-soaking and also houses the battery in a nice all-in-one package.
As far as reliability and maintenance goes, the best part about aFE filters is how in this kit they use a dry filter that never needs oiling, just a soapy wash and water rinse from time to time. One thing I have learned the hard way, NEVER try to clean the filter with compressed air, it ends up ruining your filter (I didn't read the directions, as usual) the wash and rinse is all you ever need to clean this one.

aFe Power Magnum FORCE 51-11022 Ford Diesel Truck 03-07 V8-6.0 (td) Performance Intake System (Dry, 3-Layer Filter)
Features
Outflows the factory intake by 52%. Produces an additional 13 horsepower and 67 lbs. x ft. torque
3-Layer non-oiled, washable synthetic media for the perfect balance of performance, protection and convenience
Patented, durable 16 gauge, powder-coated heat shield design allows the battery to be turned
Heat-insulating molded plastic tube replaces the stock intake tract
This product is 50-state legal (CARB E.O Number D-550-4)
Product Description
The aFe Power Stage 2 cold air intake system produces 13hp and 67lbs. x ft. torque and outflows the factory intake by 52%. The patented design allows the battery to be turned to fit a massive air filter for industry leading performance gains. Enclosed in a durable 16 gauge, powder-coated heat shield; this air intake system features a washable/reusable conical air filter that improves airflow for increased horsepower and torque. This intake system also features a heat-insulating molded plastic tube that replaces the stock intake tract and directs increased air flow with improved volumetric efficiency for maximum performance. One-piece heat shield requires little or no assembly and the filter is constructed with 100% polyurethane for long life and multiple cleaning cycles.
---
Best 6.0 Tuner/Programmer
Of course, when you optimize your airflow with an intake, you'll need to compensate with more fuel in order to be able to gain the maximum horsepower, torque and fuel economy.
The best way to do this is by way of a tuner, also called a programmer or chip.
There are alot of options out there as far as tuners for the 6.0, but a few of them are extra good and float to the top of the pile because of all the features that they have.
For purposes of this guide, the best overall tuner for the 6.0 is the XCT Livewire TS+

Features
Color 4" touch screen display with rear view camera input
Holds up to 10 custom tunes and has user adjustable tune options
Built-In Wi-Fi for easy updates
High speed data logging & monitoring with built-in performance calculator
Reads & clears DTC codes
Product Description
Pre-Loaded Gas & Diesel Performance: From the factory, your vehicle's computer is calibrated for the masses, designed with the average driver in mind, not the performance enthusiast. This not only leaves valuable Horsepower & Torque hidden inside your vehicle, but it also makes for a mediocre driving experience. The Livewire TS+ unlocks your vehicle's hidden performance by re-calibrating your vehicle's computer for Maximum Horsepower & Torque, Increased Throttle Response, Firmer Shifts and even Increased Fuel Mileage. MORE PERFORMANCE: SCT's Pre-loaded Dyno Proven tune files optimize the vehicle's Air / Fuel Ratio, Engine Timing & Fuel Curves for Maximum Performance while maintaining OEM reliability & drivability. IMPROVED TOWING & INCREASED MPG: Whether towing a fully loaded race trailer or a 5th Wheel Camper, SCT's Towing tune files add the perfect mix of Horsepower & Torque to help make hauling loads easier. SCT's Performance & Towing tune files not only optimize the vehicle for Maximum Performance, they often increase the vehicle's fuel mileage by up to 1-2MPG! Now with Switch On-The-Fly technology, you can easily switch between Performance and Towing tunes while driving! No need to re-program your trucks computer when getting ready to tow, simply select the Tow power level and go! Switch On-The-Fly only available on select diesel vehicles.
---
The best EGR delete kit for the '03-'07 Ford 6.0 powerstroke diesel trucks.

Ford Powerstroke EGR Complete Kit Coolant Filter Diesel 6.0L 2003-2007 Cooler
Features
EGR Delete Kit & Coolant Filtration System
Fits: 2003-2007 FORD E-Series / F-Series / EXCURSION
6.0L (363cid) OHV V8 POWER STROKE DIESEL TURBO
Kit includes All Pictured Items.
*Free Same Day Shipping !! *All Orders Received By 1pm (EST) Will Be Shipped Out That Day*Same Day Shipping Only Applies Monday-Friday
Product Description
Brand New Ford Powerstoke 6.0L EGR Delete Kit & Coolant Filtration System Fits: 6.0L (363cid) OHV V8 POWER STROKE DIESEL TURBO 2004-2005           E-350 CLUB WAGON 2003-2004           EXCURSION 2003-2007           F-250 SUPER DUTY 2003-2007           F-350 SUPER DUTY 2004-2007           F-450 SUPER DUTY 2003-2007           F-550 SUPER DUTY 2004-2007           E-450 SUPER DUTY 2004-2010           E-350 SUPER DUTY This Coaler Systems Ford 6.0L Powerstroke kit was put together with all the correct parts for a complete worry and free install. Kit includes All Pictured Items. **INSTRUCTIONS ARE NOT INCLUDED** Note: This product is not to be shipped to California due to CARB regulations. An important note to customers - The high flow oil coolers have enlarged internal coolant passageways to help prevent clogging from casting sand and silicates the 6.0L engines suffer from. You may see EOTs different from the Ford recommended 15 degree delta which does not apply

 
---
Quite simply, the best turbo back exhaust for the 6.0 powerstroke is a simple straight pipe (no restrictions) from the turbo right out to the back of the truck.

Having the exhaust free of all the factory restrictions has a few great benefits (lower exhaust temps, quicker spooling from the turbo), but by far my favorite two side effects are more horsepower and torque!

One thing to look for to find a good exhaust system: mandrel bends. This simply means that the bends in the exhaust have been made with a die of some kind inserted inside of the pipe at the bending point, to prevent deformation (crushed in sections in the middle of the bend.)

When looking to maximize flow and spool times, you're going to want to minimize any disturbances in the flow, especially where the exhaust gases have to go around bends and corners. This is the reason why these types of bends are far superior to crush bent exhausts, it simply flows much better because the middle of the bend isn't all smashed in and interfering with flow. Any good exhaust will always use mandrel bends.

Our favorite for the 6.0 is this one show below. Made by MBRP, this is the kit that fits on all bed sizes of the '03-'07 Ford powerstroke trucks.


Features
No muffler for maximum performance
Mandrel bent tubing
Installs with common hand tools
Can improve fuel economy by 1-2 mpg
Boosts torque and horsepower
Product Description
The turbo back type exhaust system mounts directly to the turbo and provides maximum diameter as well as reduced band degree angles and mandrel bent pipe. The objective is to provide the absolute lowest exhaust gas temperatures, maximum exhaust flow, torque and horsepower possible. Fits 2003-2007 Extended Cab/Crew Cab Configurations.

Click play for an example of how good a turbo back exhaust sounds:
---
Garrett PowerMax Turbo Upgrade
This turbo is a great power upgrade, if your original turbo needs replacement or you just want up to 175 more horsepower, look no further than the PowerMax. You'll be able to install this turbo with no more hassle than installing the original Garrett that comes in your truck, it is a true bolt in swap.

Garrett is at the forefront of turbo technology and the attention to detail on the powermax really shows off their innovation. One of the coolest features is the variable vane tech that they've incorporated into the design, which restricts down low and opens up top. This greatly increases the turbine's efficiency as the rpms change, which keeps the boost at peak performance from idle to redline.


Features
Supports up to an additional 175 HP over stock with no sacrifice in drivability
Performance upgrade or replacement for original equipment
Parts # 772441-5001s and 772441-5002s
Note: The compressor housing is NOT polished as pictured!
Fits 2004.5-2007 Ford Powerstroke 6.0l (Build Date After 9/22/2003)
Product Description
Garrett Power Max GT3788VA Turbo Kit - Ford Power Stroke 6.0L 2004-2007 Stage 1 AVNT
---
If you still use your truck on US roads and need to keep the emissions system intact, there is fortunately an option for upgrading the problematic, clog-prone factory EGR cooler that comes equipped on the 6.0 Powerstroke.

This cooler by Evergreen diesel parts is a huge upgrade to the standard EGR cooler. Beautifully constructed from stainless steel, and some great looking TIG welds, it's basically part porn for a gearhead. Internally, their design ditches the factory ford honeycomb mesh (that without fail always clogs up) and instead uses rounded tubes as the medium.

They pressure test their coolers to ensure that there aren't any leaks when you install it. Leakproof is absolutely something you want to be sure of when going through all the trouble of installing a cooler replacement. The install itself is a direct replacement fit, so no hacking or modifying of your other EGR components is required.


Evergreen EGR-6.0-CNK-2 Engine Oil Cooler & Upgraded EGR Cooler Kit Ford 6.0 OHV V8 Diesel Turbo
Features
Please note that if you purchase from seller RUDY'S DIESEL on this listing, you will receive COUNTERFEIT products
Factory honeycomb is replaced with bigger stainless steel tubing which allows for better exhaust gas flow into manifold
Pressure tested tig welds guaranteed not to leak
Direct replacement of existing EGR cooler
Please see description details below to ensure the fitment
Product Description
Remark: This kit will not fits for 2003 Ford Powerstroke 6.0 EGR Cooler, "18 inches - Round Style". Only fits for 2004-2010 Ford Powerstroke model "Square Style". Please double check your vehicle production date to make sure this kit will fit before making purchase. The factory honeycomb material inside was replaced with a series of stainless steel tubes. The tubes allow the exhaust gas to flow more freely and faster eliminating a chance of clogging.This item includes:• 1 EGR Cooler• 2 Intake Gaskets• Turbo Bolts• Other Small Gaskets• 1 Oil Cooler• 1 Pump Inlet Strainer• 1 EGR coolant Supply Cover Seal• 1 Coolant Inlet Gasket• 1 Reservoir Cover Gasket• 1 Oil Filter Mount Gasket• O-ringsPart Numbers:• EGR-6.0-CNK, OCK827Product Fitments:2004-2005 FORD E-350 CLUB WAGON 6.0L 363CID V8 DIESEL OHV TURBOCHARGED, VIN CODE "P"2004-2010 FORD E-350 SUPER DUTY 6.0L 363CID V8 DIESEL OHV TURBOCHARGED, VIN CODE "P"2004-2010 FORD E-450 SUPER DUTY 6.0L 363CID V8 DIESEL OHV TURBOCHARGED, VIN CODE "P"2004-2005 FORD EXCURSION 6.0L 363CID V8 DIESEL OHV TURBOCHARGED, VIN CODE "P"2004-2007 FORD F-250 SUPER DUTY 6.0L 363CID V8 DIESEL OHV TURBOCHARGED, VIN CODE "P"2004-2007 FORD F-350 SUPER DUTY 6.0L 363CID V8 DIESEL OHV TURBOCHARGED, VIN CODE "P"2004-2007 FORD F-450 SUPER DUTY 6.0L 363CID V8 DIESEL OHV TURBOCHARGED, VIN CODE "P"2004-2007 FORD F-550 SUPER DUTY 6.0L 363CID V8 DIESEL OHV TURBOCHARGED, VIN CODE "P"
---
Conclusion
Hopefully this has answered your questions about what performance upgrades to start with for upgrading the performance on your 6.0 Powerstroke. If you have questions, comments or other upgrades that you think should make the list, be sure to let us know in the comments below, thanks for reading!