Welcome to our delete guide for the 2008-2010 Ford 6.4L Powerstroke.
In this article, we will cover the available delete kit options for your truck and what they can do to improve your engine's reliability, while also increasing your MPG and HP.
You might be wondering why you would want to remove any factory systems from your truck and what the benefits are and we've designed this guide to help answer those questions.
Benefits of DPF removal:
Drastically slows down the bad oil dilution problem that 6.4s have, which decreases wear and extends engine life.
Improves exhaust flow, turbo spool rate and lowers your exhaust gas temps, mainly because the restriction is no longer slowing the exhaust gases after the turbo.
More efficient as far as MPG and HP without the restrictions or regen cycles.
EGR delete benefits:
Better MPG by eliminating hot exhaust gasses from entering the intake.
Extends the life of the EGR cooler because there is no more 1200 degree exhaust gasses passing through, which can cause the coolers to crack and fail.
Removes the risk of premature engine damage from EGR system failure.
So now that you can see the benefits of deleting your EGR and DPF systems, you might be asking what could possibly be the downside?
Technically these modifications are not road legal if you drive your truck on public highways in the US. That being said, if you race your truck or live somewhere without enforcement of emissions, it would be a disservice to the life of your truck if you don't do the deletes.
Because of the restrictions in the US, you sometimes have to go out of your way to find parts for your race truck that can actually delete the EGR and DPF systems. To make it easier for those looking to find the right parts to pull this off, below I've listed what you will need for each type of delete and where to find them.
Note: this guide is only for the '08-2010 Powerstroke, if you have the newer 6.7L click here.
Best Delete Tuner for the 6.4L
Hands down the best option for a 6.4 programmer, the Spartan Phalanx II has tunes designed specifically for the 6.4L Powerstroke, ranging from a mild 40HP increase, all the way up to 350HP, for trucks with really built powertrains. There are also towing mode tunes that help greatly when you are trying to have the power and efficiency for pulling heavy loads.
The Spartan tuners are flexible and highly customizable, but the most important feature; with the Phalanx II you have all the preloaded tunes that retain emissions, and the ones that allow you to delete the EGR and DPF individually or both together.
The 6.4L tends to run best at the 250 HP tune with EGR and DPF deletes installed. It will feel like a whole new truck, just keep the boost below 40 psi if you're still on stock head gaskets and bolts.

Features
Free Shipping
Lowest Price Guarantee
Product Description
Spartans 6.4 custom tuning is the market's only true custom tuning for the new Ford diesel engine, and delivers power and fuel efficiency unrivaled to any other! With tuning options available from 40 RWHP to 350 RWHP. The Phalanx II console is specialized to the Ford Powerstroke, it is not a "generic" performance device to fit all vehicles Along with its tuning ability the Phalanx offers a full line of parameter monitoring and datalogging, serving as a full set of digital and analog gauges. The ability to monitor Exhaust Gas Temp Engine Oil Temp Transmission Temp Fuel Rail Temp Fuel delivery volume DPF pressure Charge Air Temp Engine Coolant Temp Boost Fuel Rail Pressure Injection Timing Regeneration Status Intake Air Temp and hundreds (literally) of other parameters Tested on the street, strip and pulls the Phalanx Flash Console leaves no vehicle configuration or user needs unanswered. With proper support for all 2008 & 2009 6.4 latest "reflashes", automatic and manual transmissions. **All DPF-OFF tuning products are STRICTLY FOR RACE USE ONLY** Not for sale or use on any pollution controlled vehicle in the state of California. We will NOT ship to these to California According to the EPA Clean Air Act, they are illegal for use on any Federal, State, or Local public highways and illegal use is punishable by the penalties enacted by the mentioned laws. Spartan Diesel does not condone or promote illegal use of these products. An Environmental and Liability waiver must be signed in order to activate any racing products after purchase.
Cheapest Delete Tuner for the 6.4L
Another really good tuner for the 6.4 is this one from the now-defunct H&S. The Mini Maxx Race is the hot version that allows for the DPF and EGR to be removed.
Right out of the box it has preloaded tunes for the 6.4L which let you delete the EGR and DPF and unleash your truck. It doesn't have as many tunes, or the amount of customizability for the 6.4 that the Phalanx comes with, but it will allow you to add a lot more power and delete the emissions systems – for about half the cost.
It's the cheapest way to get the ability to delete the emissions systems, and it also serves as a good live engine monitor at the same time, with diagnostics built in. A solid 6.4L programmer choice, the MiniMaxx will work great for 90% of what daily drivers need.

Features
Free Shipping
Lowest Price Guarantee
Product Description
The Mini Maxx race tuner is part of the next generation of diesel downloaders from H&S that offer everything a diesel owner could want, all in one high-tech unit. Exclusive to H&S Performance, the Mini Maxx offers the flexibility of shift-on-the-fly tuning, as well as giving you the ability to monitor vital engine statistics at a glance. The full color, high resolution screen allows the user to view up to four parameters at one time
Best Exhaust Kit for Removing the DPF
A race exhaust with a straight pipe to replace the DPF filter is required if you are running a tuner that deletes the DPF from the computer.
Otherwise the filter will get clogged with soot because the regen will be turned off. This is terrible for backpressure, and has the potential to build up so much that it can pop your head gaskets if the exhaust isn't upgraded to a straight pipe.
This model from MVP is made from stainless steel, SS409 to be exact, which means that it's going to last alot longer than an aluminized or mild steel exhaust. On my own vehicles I will only run stainless, just because I like not having to frequently mess with rusted out exhaust parts.

SS409 Stainless Steel 4" Turbo Back Race Exhaust No Muffler Straight Pipe System With Downpipe Down Pipe Included For 08-10 Ford F250 F350 6.4L Diesel Pickup Truck
Features
Fit: 2008-2010 Ford F250 & F350 Turbo Diesel 6.4L, Automatic Transmission Only
4" Turbo Back Performance Race Exhaust System (Down Pipe Included)
Will Fit Extended & Crew Cab, Short Bed or Long Bed. Extension Pipe May Require Trim-To-Length, Depending On Wheelbase
Straight Pipe Design, No Muffler Or Tip. Bolt On Installation, Clamps & Hangers Included
SS409 Stainless Steel. Top Quality & Affordable Products. Professional Installation Recommended
Product Description
The turbo back type exhaust system mounts directly to the turbo and provides maximum diameter as well as reduced band degree angles and mandrel bent pipe. The objective is to provide the absolute lowest exhaust gas temperatures, maximum exhaust flow, torque and horsepower possible.
Best 6.4L EGR Delete Kit
Technically, after installing a tuner that deletes the EGR on your 6.4, it will no longer function and will be disabled. However, simply deleting the EGR codes in the computer and doing nothing else to remove the system is not the recommended way to do it.
Leaving the EGR installed can still allow exhaust gasses to flow into the system, causing soot build-up that makes the valve stick open. It's just best to remove the system entirely with an EGR delete kit that has replacement coolant lines to remove the EGR coolers and the block off plates for the exhaust side, as doing it this way will eliminate any possibility of unreliability in the future.
The EGR coolers have a terrible way of cracking and failing on these trucks, and when that happens it can spell disaster for your engine – the way the system is designed the failure can allow coolant to enter the cylinders, causing some very serious damage if not noticed. It's even possible to hydro-lock the motor, which very quickly turns the engine into a write-off.

Ford Power Stroke Engine 6.4L EGR Delete Kit, for 2008, 2009, 2010 Super Duty Diesel Trucks
Features
Bypasses the Ford EGR System, No Other Parts Required (You will need a tuner / programmer).
CNC Machined Billet Aluminum and Steel
Includes Detailed Installation Instructions
You Will See Lower Coolant Temperatures Quicker Turbo Spool Up, And You Will Never Have To Worry About A Blown EGR Cooler Again
Intended for off road use. Please check your state laws before installing kit.
Product Description
Custom Diesel, Inc. manufactures the world's best EGR Delete Kits, right here in Morristown, TN, USA! We're as proud of our EGR Delete Kits as you are proud of your Ford Truck! Do you want a completely leak free and affordable EGR delete kit? Order your EGR delete kit today delete your EGR system before the summer heat takes it's toll on your truck! Our Ford 6.4 EGR Delete Kit Features: • CNC Machined Billet Aluminum and Steel • Bypasses the Ford EGR System, No Other Parts Required (You will need a tuner / programmer). • Includes Detailed Installation Instructions • You Will See Lower Coolant Temperatures Quicker Turbo Spool Up, And You Will Never Have To Worry About A Blown EGR Cooler Again With these hardware kits installed, you MUST program your engine to run efficiently without these systems in place. A variety of tuners are available from Custom Diesel supporting DPF/EGR deleting. Please note, YOU CANNOT RUN EGR/DPF DELETE TUNING WITH THE DPF STILL ON THE TRUCK! The DPF will continue to accumulate soot and cause excessive backpressure on the engine. Once tuned, the engine will NEVER go into regen again unless returned to stock. In short, if you run DPF delete tuning with the DPF still on the truck, excessive backpressure can cause the head gasket to fail and cause other internal engine related failures. This kit is intended for off road use. Please check your state laws before installing kit. Quantity Discounts Available. For quantities over 20 units, please call us, toll free, at (877) 259-4977.
DEF Delete
On the more modern Powerstrokes, another benefit to deleting the DPF systems is that you no longer have to buy urea to fill up the aux tank for the DEF system to run on.
With the 6.4L, it does not actually use a DEF type system so there is no need to worry about that in the first place, once you eliminate the DPF from the exhaust and flash the tune, you are essentially done.
Conclusion
Hopefully you now have a good idea of what it takes to remove these systems from your truck, and have a feel for what parts are the best for doing so.
As always, we would love to hear any questions or comments that our readers might have, so feel free to drop us a line in the comments below. Thanks for reading!
Have you ever had your hands full while trying to open your tailgate? If so, you'll already realize that if you don't hold it on the way down, you'll be greeted with a big slam as your tailgate freefalls – until the cables catch it and jerk it to a hard stop.
This not nice and easy on the cables or the mounting hardware of the gate. Fortunately, there is a way to fix this issue and have a nice and smooth opening tailgate, without you having to hold onto it all the way down.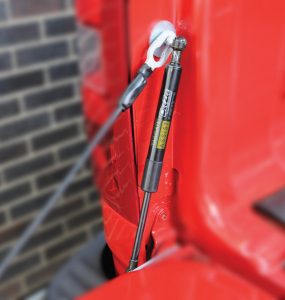 The answer to the dropping tailgate is a simple little hydraulic damper, or assist. These little shock absorbers (or struts) attach directly to the tailgate and bed, slowing the tailgate down for a nice and easy descent.
There are a few manufacturers that make these tailgate dampers, and below I'll go over the best options and deals for each of the different model trucks listed. If you are installing one of these assists yourself, you'll find that it's pretty straightforward for the most part, installation difficulty for most of these kits is about a 3-4 out of 10.
Tailgate assist for the 2015-2017 Ford F-150
Ford OEM Tailgate Assist Kit FL3Z-99406A10-A
Without a doubt the best tailgate damper kit that you can get for the 2105, 2016 and 2017 Ford F-150 would be the one made by Ford. It's designed to fit directly into factory mounting points, so no messing with aftermarket accessory fitment, which can be tricky in some cases.

Features
Genuine OEM
Top quality
Rely on the high quality and effectiveness
Protect your investment
Ford F-150 2015
Product Description
Manufactured from top quality components, this is your inexpensive replacement option for your rebuild, repair, and maintenance needs. When you select a genuine OEM part - you can rely on the high quality and effectiveness of the product and brand without having to guess if the product will work in sequence with your vehicle. Protecting your investment is important and choosing the right parts can be challenging. Stick with what you know and choose a genuine OEM part.
Tailgate assist for the 2005-2014 Ford F-150
DeeZee F-150 Tailgate Assist DZ43200
If you own a 2005-2014 F-150 then the best option for a tailgate damper is this retrofit model by DeeZee. The kit comes with everything you need to add it to your truck, including the strut and all required hardware. Only one damper is needed, there's no need for a second kit.

Features
Safely Controls The Drop Rate Of Truck Tailgates
Custom Designed For Each Make And Model
High Quality and Extensively Tested For Heavy Use
Works In Conjunction With Factory Cables
Only One Tailgate Assist Required Per Vehicle
Product Description
Dee Zee Tailgate Assist - Safely controls the drop of your truck's tailgate. Custom designed for each make and model. High quality and extensively tested to handle heave use for the life of the truck. Works in conjunction with factory cables. Easy, no drill installation that installs in minutes.
Tailgate assist for the Ford F-250 and F-350 Super Duty
DeeZee Tailgate Assist kit DZ43203
This kit is the one designed for the 1999-2106 Ford Super Duty trucks. Just like the other kits from Dee Zee, this one includes all required hardware and installation instructions in the box.

Features
Safely controls the drop rate of truck tailgates
Custom designed for each make and model
High quality and extensively tested for heavy use
Works in conjunction with factory cables
Product Description
Dee Zee tailgate assist safely controls the drop of your truck's tailgate. Custom designed for each make and model. Works in conjunction with factory cables. Tested to handle heavy use with all mounting hardware included. Easy, no drill installation that installs in minutes.
Tailgate assist for the Dodge Ram 1500-3500
DeeZee Tailgate Assist kit DZ43301
If you own a Ram 1500 from 2009-2017 or a Ram 2500 and 3500 from 2010-2017, then this is the tailgate assist made specifically for your truck. As always, DeeZee has provided a Dodge Ram specific all-in-one kit that includes everything you will need for am easy, complete install.

Features
Safely Controls The Drop Rate Of Truck Tailgates
Custom Designed For Each Make And Model
High Quality and Extensively Tested For Heavy Use
Works In Conjunction With Factory Cables
Only One Tailgate Assist Required Per Vehicle
Product Description
This Fits: Dodge Ram 1500 Pickup 2009 - 2010 Sport , Dodge Ram 1500 Pickup 2009 - 2010 Laramie , Dodge Ram 1500 Pickup 2009 - 2010 SLT , Dodge Ram 1500 Pickup 2009 - 2010 ST , Dodge Ram 1500 Pickup 2009 - 2010 TRX , Dodge Ram 1500 Pickup 2009 - 2010 TRX4 , Ram 1500 2011 - 2014 Sport , Ram 1500 2011 - 2014 Laramie , Ram 1500 2011 - 2014 Outdoorsman , Ram 1500 2011 - 2014 Big Horn , Ram 1500 2013 - 2014 Express , Ram 1500 2011 - 2014 Laramie Longhorn , Ram 1500 2011 - 2014 SLT , Ram 1500 2013 - 2014 HFE , Ram 1500 2013 - 2014 Laramie Limited , Ram 1500 2013 - 2013 R/T , Ram 1500 2014 - 2014 Special Service , Ram 1500 2011 - 2014 ST , Ram 1500 2011 - 2014 SXT , Ram 1500 2011 - 2014 Tradesman , Ram 1500 2012 - 2012 Tradesman HD , Ram Pickup 1500 2012 - 2012 Outdoorsman
Tailgate assist for the Chevy/GMC 1500, 2500 and 3500HD
DeeZee Tailgate Assist kit DZ43102
In the more recent model years, the Chevy trucks have finally started to include a tailgate dampening system in the higher trim trucks like the SLE/SLT and LT/LTZ packages. However if you have an older truck or a base model, you were out of luck as far as having this installed from the factory.
Thankfully, once again DeeZee steps up to the plate to offer their all-in-one kit for GM trucks. This is certified to fit the 2009-2017 1500/2500/3500 and is more of a universal kit that can be adapted to a lot of the Chevy/GMC platform tailgates.

Features
Safely Controls The Drop Rate Of Truck Tailgates
Custom Designed For Each Make and Model
High Quality and Extensively Tested For Heavy Use
Works In Conjunction With Factory Cables
Only One Tailgate Assist Required Per Vehicle
Product Description
Safely Controls The Drop Rate Of A Tailgate. Custom Designed For Each Make And Model. Tested To Handle Heavy Use For The Truck Life. Works In Conjunction With Factory Cables. Easy No Drill Installation. Installs In Minutes. All Hardware Included.
What do the customer reviews have to say?
DeeZee has made quite the good name for themselves in the truck accessories market, and you can see that in their reviews, which reflect a lot of praise for their products.
Like anything aftermarket, there will always be a couple of hiccups in how the product fits initially or wears over time. This is standard for all aftermarket accessory manufacturers and doesn't necessarily mean that the products are junk if they have a couple of issues across a wide range of models.
What really matters is how the company handles feedback from their customers about issues that need resolving in the next iteration of the product, and also how they handle the current customers that have the issues in the first place.
Below, you'll see how they've dealt with the only real problem with the DeeZee assist kits and how they have resolved the issue going forward.
 Tailgate assist common problems
The early versions of the Dee-Zee assist in particular did have a frustrating issue that has since been fixed. The issue is with the nutsert that they provided to install the strut with. The nutsert allows you to add threads to a bare hole in your tailgate that wasn't originally designed to have threads in it.
The problem is that the early version nutsert had a tendency to loosen up in the hole with the repeated rotation that the end of the strut subjects it to. Either the nutsert was just a little off in size, or didn't have enough friction to hold itself in the tailgate.
Good news is that Dee-Zee has realized the issue, and eliminated the nutsert problem for all the new versions of their kits, and has even been assisting previous customers in fixing the original version.
Conclusion
Hopefully this overview and guide for the options available to add a tailgate assist have helped you in the search for the right kit for your truck. As always, feel free to reach out to us in the comments below if you have any questions or something to add to the conversation. Thanks for reading!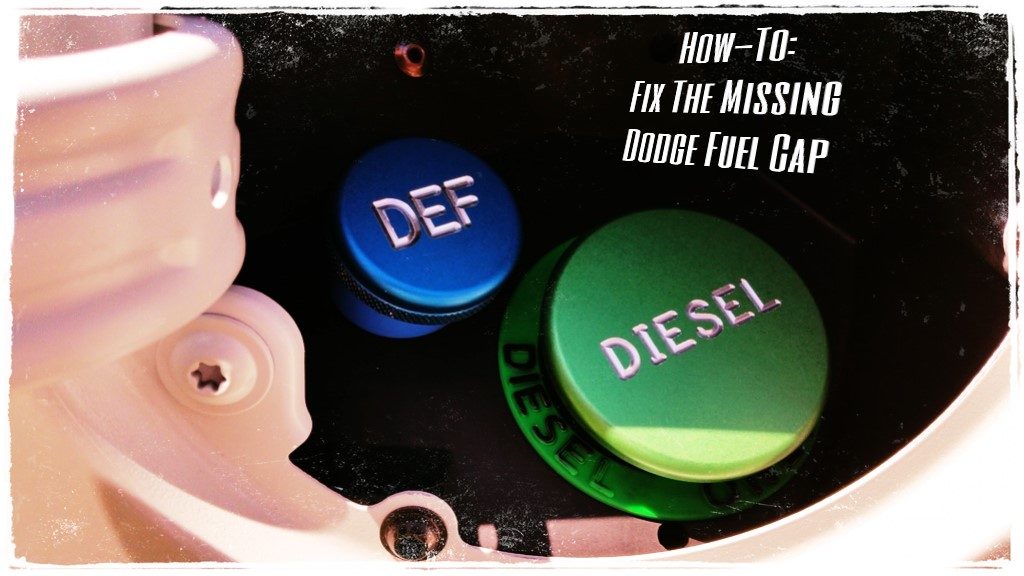 Starting in 2013 and continuing still to this day, the Dodge Ram 1500, 2500 and 3500 turbo diesel trucks all have a pretty significant design flaw.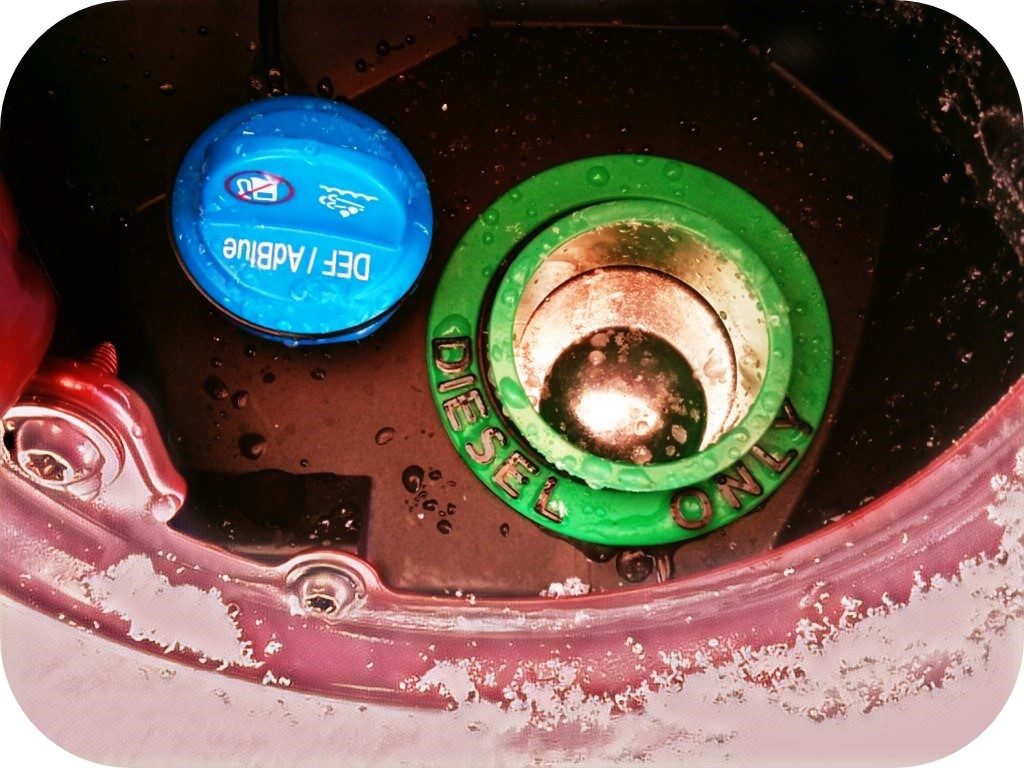 Yep, that's a fuel filler that comes from the factory with no cap. A cap-less fuel filler design, really?
What were you thinking Dodge!?
How exactly is the mediocre seal on the fuel door supposed to protect against water and dirt getting into the fuel filler neck?
Of course, Dodge will not admit to this being anything other than the design as intended, but they did release a part number for the people that inquired about missing "gas" caps; the Mopar part# 52029561AA, which is a quite thin and cheaply made green plastic wedge style cap. These do not seem to be durable at all, and still are questionable in their ability to keep out contaminants.
Fortunately, there are a couple options aside from what Dodge has (or hasn't) provided:
Aluminum Fuel Cap
Thankfully the aftermarket has seen this issue and noticed that people in fact actually want to seal their fuel filler necks from getting crap down into the tank.
The main problem that you'll have when trying to add a normal fuel cap to one of these dodge trucks – there just isn't enough room for a regular old gas cap to sit in there and still have the fuel door close.
This is why these billet aluminum caps have such a low profile, so that they can actually fit perfectly in the filler, seal it with an o-ring and still have space for the door to close. Plus, they look quite good!

2013-2017 Dodge Ram Diesel Fuel Cap Billet Aluminum Magnetic NEW EASIER GRIP DESIGN
Features
This is what Dodge forgot to include in your new truck! Why take the risk going without this Dodge Ram accessory? This Magnetic Dodge Ram Fuel Cap KEEPS DIRT & WATER OUT OF YOUR FUEL TANK on all Capless Dodge Ram Diesel Trucks (2013-2017)
NEW EASIER TO GRIP DESIGN! (Based on our great customer feedback!)
PREVENTATIVE MAINTENANCE AT ITS BEST! Machined from AIRCRAFT GRADE Aluminum and Anodized Green with laser logo to help ensure no fueling mix-ups
A Strong, RARE EARTH MAGNET holds the cap to any metal surface on the truck during fill-ups.
COMPATIBLE with Dodge Ram EVAP EMISSION SYSTEMS. Diesel Compatible O-ring ensures a snug fit inside the fuel fill hole.
Product Description
For all Dodge Ram Diesels 2013-2017 with "capless" fuel fill. This trick looking billet aluminum fuel cap accessory will enhance the look and feel of your new truck. More importantly this cap will give you peace of mind that your fuel tank is staying clean by keeping dirt and debris out. The rubber o-ring seals off the fuel filler area and provides a snug fit. The strong magnet on the backside allows you to easily set it aside during fill ups, just stick it to any metal part of the truck. Eliminate any concern about dirt getting into your fuel tank, this is a fast, simple, effective design and looks great too!
Fuel And DEF Cap Combo
If you prefer a more uniform look, there is a combo set available that combines the DEF and fuel cap replacements together in one kit. Guaranteed to make you smile every time you refill!

2013-2017 Dodge Ram Diesel Magnetic Billet Aluminum Fuel Cap and DEF Cap Combo
Features
Fits all 2013-2017 Dodge Ram Diesel and Eco-diesel vehicles
Rare earth magnet installed in bottom of gas cap. When refueling just place the cap against the steel fuel door, keeps you from setting it down and forgetting about it.
DEF cap is compatible with the stock tether. Remove the old cap and snap the tether around the new cap for easy retention.
Both caps machined from 6061 billet aluminum and anodized for maximum protection and a show quality finish.
Caps include o-rings to protect against outside contaminants, a major improvement over the cheap stock plastic diesel cap that lets dirt and dust in
Product Description
Do you own a 2013-2017 Dodge Ram Diesel? Tired of the lack of a quality gas cap on your expensive truck? What about the cheap looking plastic DEF cap? Well here is the gas and DEF cap combo that you've been looking for. As good looking as they are functional, this combo will keep dirt and debris out of the fuel system while making the other owners jealous. These are the caps that should have been included stock.
OEM Style Plastic Cap
A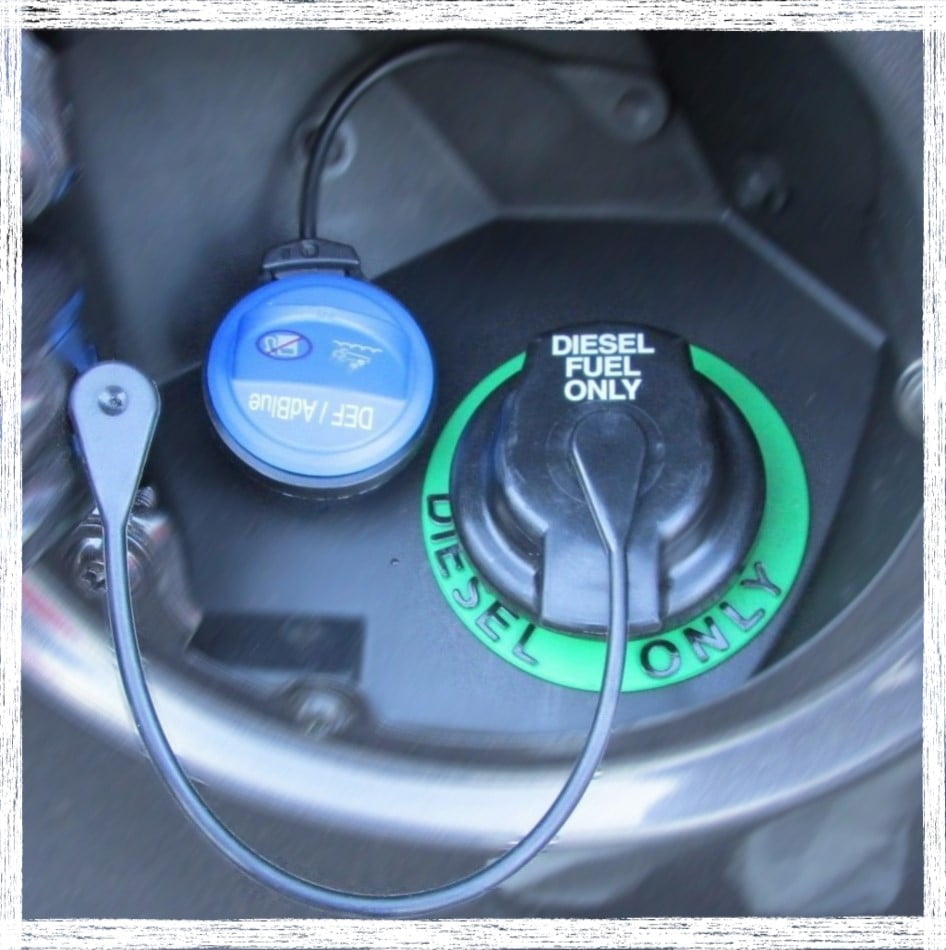 side from the thin green plastic cap, Dodge actually has another style of cap that is more robust and seems like it would do the job of protecting the open fuel filler system.
The part number for this cap: Mopar/Chrysler 82214609.
It does also come with a tether to keep the cap attached and from being lost, a nice feature for those of us that sometimes misplace our fuel caps when refilling our trucks in the morning before coffee.

Product Description
Non-Locking Gas Cap for 3.0L and 6.7L Diesel Engines with capless systemAvailable for 2014-2017 Dodge Ram 1500Available for 2014-2017 Dodge Ram 2500Available for 2014-2017 Dodge Ram 3500
Conclusion
Hopefully this guide has helped you to find the best options for replacing your truck's missing fuel cap. If you have any more questions or input about this issue, feel free to drop us a line below in the comments. Thanks for reading!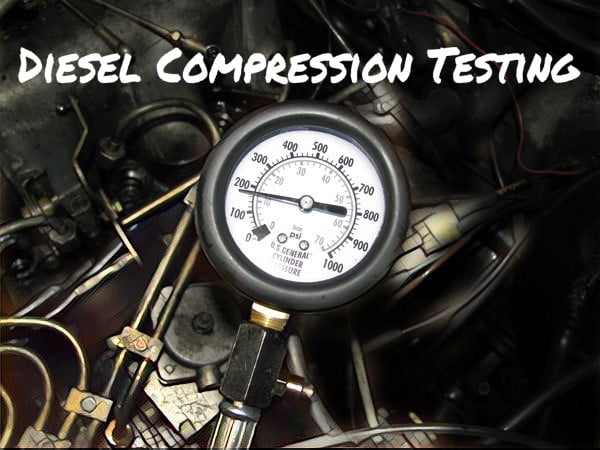 Compression tests have always been a go-to for uncovering any issues that an engine might have, and diesel engines are no exception to this rule.
At first glance, it seems like the testing procedure is very similar between gasoline engines and diesels, however testing compression on a diesel does have different requirements, procedures and tooling (namely adapters and high pressure gauges).
The biggest difference you'll run into when testing a diesel is the pressures that these engines produce. They're a great deal higher than a regular gasoline combustion engine, which means your test gauge will have to be able to take a greater PSI reading. I recommend going with at least a 1,000 PSI gauge in order to accurately read your cylinder pressures, many regular gauges only go up to 300 PSI which just won't cut it.
Best Test Gauge for Diesels
This is the best option that I've found for a reasonably priced, high quality test gauge that reads up to 1,000 PSI (or 70 bar) which is what you'll need for a diesel. Keep in mind that this is for the gauge only, you'll also need to grab the correct adapter kit for your truck, if you keep scrolling I have the most popular adapters listed below.

Features
Works on any diesel engine
Test compression up to 1000 psi and 7000 kPa
Include a check valve push button compression release and a quick disconnect fitting on the hose end
Straight and 45 degree hose connectors are included
Determination of damage by impact tools is subject to SPX evaluation and discretion
Product Description
OTC Universal Diesel Engine Compression Gauge Works on any diesel engine to test compression up to 1000 psi and 7000 kPa. Its features include a check valve, push button compression release, and a quick disconnect fitting on the hose end. Straight and 45 degrees hose connectors are included.
Diesel Compression Test Kit
If you're a professional mechanic or just someone that works on more than one type of truck, you'll probably want to get a test kit that already includes the adapters for all the most popular diesels, instead of buying them piece by piece.

Features
Swivel-end quick-coupler allows quick and easy connection of adapters
0-1000 PSI/0-70 bar gauge with release valve and 14.5" long hose
Weight: 11.35 lbs.
Carbon steel construction. Hardened tips. High-pressure hose
Chrome-plated gauge
Product Description
This diesel compression tester set includes the tester and all necessary adapters to measure cylinder pressure on most diesel-equipped cars, trucks and tractors. Includes adapters for these engines: Ford/Navistar 6.9/7.3 liter engine Audi, Volvo, VW, Cummins 5.9 liter, M-B cars & trucks with 24 MM ports V-185, 210, 225, 555, VT-255, 555 Bacharach adapter M-B 18 MM (prior to 1978) M-B 12 MM (1978 and up) Majority of H-D tractor diesel engines including Allis Chalmers, Case, Deere, Ford, I. H., Mack, Onan, Waukesha Cummins V-6, V-8, V-12 BMW 2.4 liter, Lincoln (Mark-VII) 1984 & 1985, Peugeot 12 MM/18MM Chevy Luv 1.8/2.2 liter, Isuzu 1.8/2.2 liter, Toyota 1.8 liter G. M. 4.3/5.7/6.2/6.5 liter (turbo) Detroit Diesel 53, 71, 92, 110, 149, V53, V71 Cat D-336, 1674, 1676, 3406, 3408, 3412 (capsule-type nozzles) Case, Cat, Deere, Waukesha
7.3L Powerstroke Adapter Kit
On the 7.3 compression testing is best done by removing the glow plugs and inserting the special adapter shown here:

Features
DIESEL TESTER ADAPTER FOR 7.3L POWER STROKE FORD & NAVISTAR
Product Description
Diesel Test Adapter for 7.3L Ford Power Stroke
6.0L and 6.4L Powerstroke Adapter Kit
The 6.0 is just like the 7.3 as far as removing the glow plugs to test. You'll need this adapter for the 6.0:

Features
Compression Tester Adapter
Use with OTC number 5021 diesel engine compression gauge works on 2003-2006 Ford vans and trucks with 60L diesel engines
Works on 2003-2006 Ford vans and trucks with 6.0L diesel engines
Product Description
OTC Compression Tester Adapter Use with OTC number 5021 diesel engine compression gauge. It works on 2003-2006 Ford vans and trucks with 6.0L diesel engines.
5.9 Cummins Adapter Kit
All the years of the 5.9 require the injectors to be pulled in order to perform a compression test. This adapter replaces the removed injector with the 1/8 NPT fitting that works with most gauges.

Features
For use with Lang TU-15 Diesel Compression Tester
Applications: Cummins (1998-2002) 5.9L ISB and Dodge/Cummins (1998-2009) 5.9L ISB
Product Description
The TU-15-26 Die Compression Test Adapter is for use with the STAR Diesel Compression Tester TU-15 to test cylinder pressure on diesel cars and trucks. Holds in place with its own hold-down bracket For Cummins ISB engines used in Dodge pick-ups, school buses and medium-duty trucks Die Compression Test Adapter - TU-15-26 < / p>
2005+ 6.6L Duramax Adapter
This adapter threads into the glow plug hole of your Duramax and features a quick release connector to plug into a gauge.

Features
M10-1.25 thread adapter with quick disconnect screws into the head of the engine in the glow plug hole.
Product Description
null
Testing Procedure
Depending on which engine you have the test procedure will vary in details, but the overall procedure is similar for most engines:
Disable fuel injection
Remove all glow plugs to reduce compression resistance
Use the correct adapter to thread into the glow plug hole
Attach the test gauge to the adapter
Verify that ignition is disabled to prevent engine from starting
Using a test jumper or remote switch, activate the starter directly
Crank the engine for 4-5 revolutions
Read and record the final PSI on the gauge
Repeat for all cylinders and compare pressures
Compression PSI Specifications/Ranges
I've put together the PSI ranges that you should be looking for when doing your compression test. Keep in mind that a lot of these are the specifications for these engines when new or rebuilt. Engines with a lot of miles will naturally have lower PSI because of all the wear and tear.
Generally speaking, you'll always want to look for the relative compression readings for all of the cylinders comparatively. A huge red flag is more than 75% difference between the individual cylinders.
Ford
7.3  365-475 psi is the acceptable range for the 7.3L Powerstroke.
6.0 375-425 psi is the acceptable range for the 6.0L Powerstroke.
6.4 340-375 psi is the acceptable range for the 6.4L Powerstroke.
Dodge
5.9 6BT The minimum psi spec for the 6BT is 350 psi.
Chevy/GM
LB7 Minimum 350 psi.
LLY Minimum 350 psi.
LBZ Minimum 350 psi.
LMM Minimum 350 psi.
LML Minimum 350 psi.
Conclusion
Hopefully this guide has been helpful in answering any questions that you might have had about compression testing your diesel. If you have any questions or concerns, please feel free to post them in the comments section below. Thanks for reading!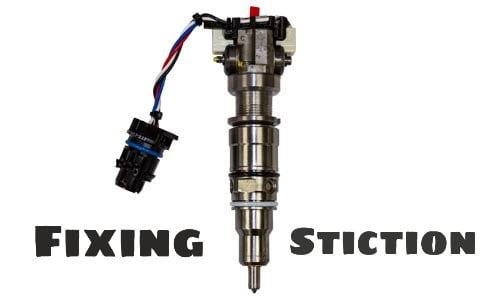 In this guide, I wanted to cover an issue that many 6.0 and 7.3 powerstroke owners have run into, Injector stiction. Stiction is unfortunately a very common problem with the fuel delivery system that these powerstrokes use, and can lead to serious issues with hard starts, rough idling, misfires and terrible overall driveability.
What is stiction?
The 6.0 and 7.3 Powerstrokes use hydraulically actuated electronically controlled unit injector (or HEUI) injectors. Contrary to most modern common rail systems, the HEUI is now an outdated system that was introduced by Caterpillar way back in the 90's. Instead of using a high pressure injection pump to pressurize the fuel in the injector body (like you'll find in newer diesels) the HEUI system uses oil that has been pressurized very highly, sent directly into the injectors, to create the required fuel pressure.
Basically, the oil pump pressurizes some of the engine oil, sends it to the HEUI system, which opens or closes a spool valve inside the injector, allowing the oil to push on the intensifier piston. This piston then converts the oil pressure into fuel pressure, and from there the fuel is injected into the cylinder at up to 4000psi.
The problem happens when the spool valve either has oil residue on it and becomes stuck, or when the engine oil becomes foamy to the point where the foam is creating a false injector pressure.
The bad part about this system is that it is affected by low quality fuel and oil, which is all too common and hard to avoid nowadays. Oil residue and foamy oil in the spool valve is the main issue with the HEUI system, and the best way to keep your injectors flowing well is to use an additive to clean them preventatively.
Frequent oil changes are very important for your Powerstroke, remember that the injectors need oil pressure in order to operate and changing and checking your oil is the best way to ensure that the injector system stays operational and in good working condition. The pressure that the HEUI system operates on the oil side can be greater than 3000 psi, which is just terrible for the longevity of your oil, it breaks down the molecules much faster and creates foam.
Another good reason to stay on top of your oil changes.
The best oil additive to cure your diesel's stiction
There are a few additives out there that claim to fix stiction issues on the powerstroke injectors. Below I'll cover a few of the most popular ones, and how well they work.

Features
Two - 4oz Engine Oil Treatment
Increased Efficiency, Horsepower & Torque
Greatly Improved Cold Start Operation, Dramatic Reductions in Component Wear
Helps release "Sticktion" conditions
Call 800-893-9096 for free advice
I've heard the most positive reviews on Rev-x out of all three of these additives. Some people claim that it solved their stiction issues within the first few hundred miles of driving, after adding a couple of these bottles of Rev-x to their truck after an oil change.
Because of the reviews I've read about success with this stuff bringing low performing injectors back to life, if a contribution code were to pop up on my truck I would start my troubleshooting with some fresh oil and a couple bottles of this stuff.

Features
16oz AR9100 Friction Modifier- Treats one PowerStroke
Fixes 6.0 and 7.3L PowerStroke Cold Start Injector Problems.
For gasoline and diesel engines, gearboxes, hydraulics, differentials and power steering systems.
Reduces wear and extends component life
Reduces engine noise, vibration, and friction heat.
This friction modifier made by Archoil seems to be pretty much just as good as rev-x, and it costs less (per oz) too, which is why this is the stuff that I use on every oil change with my 6.0 already.
I don't currently have any symptoms of stiction, like any hard start or rough idle issues with my truck (knock on wood) but I have seemed to notice a bit smoother acceleration since I've started incorporating it into my maintenance routine.

Features
Improved power; improved compression
Removed engine deposits; seals rings better
Neutralized harmful engine acids; reduced frictional drag
Prevent excessive wear; reduced lifter and valve noise
Restores oil pressure
Hotshot's secret gets many people saying good things about it as well, a lot of people happy with it fixing their stiction issues.  It's cost is very cheap compared to the other options, and if I weren't already happy with what Archoil does for me, I would probably give it a shot.
You really can't go wrong with trying any of these friction modifiers really, they are all designed to do the same thing basically. If I had an OBD code staring me in the face, I'd start with the Rev-x, as that seems to have the most success with tough cases. For preventative maintenance though, I'd pick one of the other two, just because of cost.
Frequent oil changes
Changing the oil often on a diesel that uses high pressure oil in the fuel injection system is much more important than on a regular gasoline vehicle, and here's why:
With the very intense pressures of the oil injector system, your oil is subjected to much more wear and tear than in a regular engine because of shear.
Shear is a way to measure the effects that mechanical stress has on your oil.  Being under huge loads like in a diesel injector system reduces the effective viscosity of the oil by a large factor.
This reduction of viscosity means that the oil is much more quickly thinned out in a diesel than a gasoline vehicle, and because of this it ends up being much less effective at lubricating.
In fact, the industry standard test for oil shear by ASTM International (D5275) actually involves running through a high pressure diesel injection system like in a powerstroke, and then comparing the viscosity to fresh oil.
Best oil for preventing stiction
So now that you know how important frequent oil changes are, let's go over how to choose the best oil to run in your truck to prevent all of the nasty side effects of stiction.
The most important thing to consider when shopping for diesel oil is the additives that they use to protect against shear.
Below is a comparison of what I believe to be the best choice for oil in diesel engines that use a high pressure oil fuel delivery system.
Rotella T6 vs Delo 400LE
Let me start by saying that these two oils are the only kinds that I would ever consider running in my truck. It's so much more important for these high pressure injector systems to have the right additives in the oil to prolong the inevitable thinning, and regular old wal-mart or whatever oil just won't cut it.
Rotella T6 is the primary choice here, the additive profile of this oil is top notch, which ensures that it will be a very good choice for diesels that use a HEUI system.

Features
Shell Rotella T Triple Protection oils provide triple action to help control wear, deposits and emissions to continuously adapt to the needs of the engine for protection in on and off highway applications
Up to 38 percent lower wear in over 40 million miles of on and off road testing in late-model engines
Meets or exceeds API CJ-4 requirements, and is designed to provide extra performance; Shell Rotella T Triple Protection performs well in both older and new engines
30 percent increase in active ashless chemistry to protect against deposits and sludge
Using modern multi-component chemistry, Shell Rotella T Triple Protection gives all-around protection for turbo- and non-turbocharged engines alike
That being said, Delo 400LE is also a great choice that is much more cost effective. The only caveat to the Delo oil is that it designed for the newer trucks because it was formulated to meet emissions specs for '07 and up.

Features
Premium quality, heavy duty motor oil manufactured in the USA
Formulated to meet the requirements of post-2007 low emission engines
Provides outstanding performance with ultra-low sulfur diesel and also with normal and low sulfur diesel fuels
May be used in older, conventional engines and gasoline engines
Formulated with ISOSYN technology
Cleaning the spool valve in the injectors
Sometimes, using an additive or changing the oil won't be enough to clean off the oil residue that is clinging to the spool valves inside your injectors. In this scenario, you're going to need to either replace the injectors, or pull them and clean the spool valves by hand.
This process is a bit involved, but doable. The best instructions  that I've seen for spool valve cleaning are in this video below:
Replacing worn injectors
So, what if you've already thrown the book at your Powerstroke by changing the oil, trying one of the additives, and manually cleaning the spool valves in the injectors – but nothing has helped?
More than likely you're going to have to go with remanufactured injectors like the one below, in order to fix the problem if none of the above has resolved it for you.

OE Ford 4C3Z9E527AA Fuel Injector For 6.0L Ford Diesel (Re-Manufactured)($100.00 Core Deposit Included)(Replaces 1844751C2, 1846692C92, 1845150C92)
Features
Meets Or Exceeds OEM Specs
Factory OEM Fit Form And Function
Stiction Symptoms
Stiction rears its ugly head in the form of misfires on cold starts, rough and uneven idle, and hesitation when accelerating. These symptoms can continue even when the engine has warmed up fully.
Stiction and OBD DTC's
If your injectors are not operating as they should due to stiction, this can lead to the engine computer throwing out some telltale OBD DTC's:*
*Acronym Translation: OBD = On Board Diagnostics and DTC = Diagnostic Trouble Codes.
P0263 Valve train or injector cylinder #1 contribution/balance
P0266 Valve train or injector cylinder #2 contribution/balance
P0269 Valve train or injector cylinder #3 contribution/balance
P0272 Valve train or injector cylinder #4 contribution/balance
P0275  Valve train or injector cylinder #5 contribution/balance
P0278 Valve train or Injector cylinder #6 contribution/balance
P0281 Valve train or injector cylinder #7 contribution/balance
P0284 Valve train or injector cylinder #8 contribution/balance
FICM Causing Stiction Symptoms
The spool valves in the injectors operate when they receive a signal from the FICM (fuel injection control module.) It stands to reason, if your FICM is not operating correctly then you will get symptoms of stiction, the spool valves will act similarly to being clogged up if they aren't receiving the correct signal from the FICM.
Aside from adding a stiction prevention additive, the other first step in troubleshooting a rough running powerstroke, is to test the FICM for the correct voltages. Check out the FICM repair guide for instructions on how to perform that test.