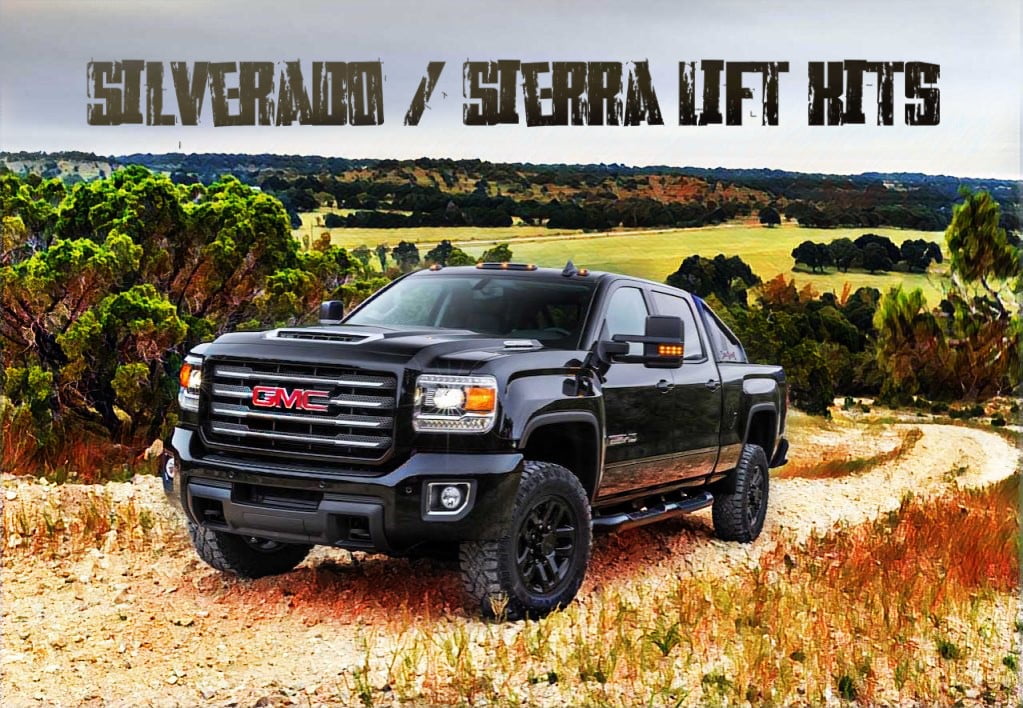 Welcome to our guide to lifting the 2007-2107 Silverado/Sierra!
Whether you're looking to improve ground clearance, run bigger tires or just want to make your truck look better overall by lifting it, this is for you.
This guide will help you compare your options as we take a look at the most popular kits for lifting Silverados and just how they work to give your truck some altitude and attitude!
We'll start with leveling kits that raise the front only, and then go over the options for even more lift, all the way up to some of the highest lift kits available.
Leveling Kits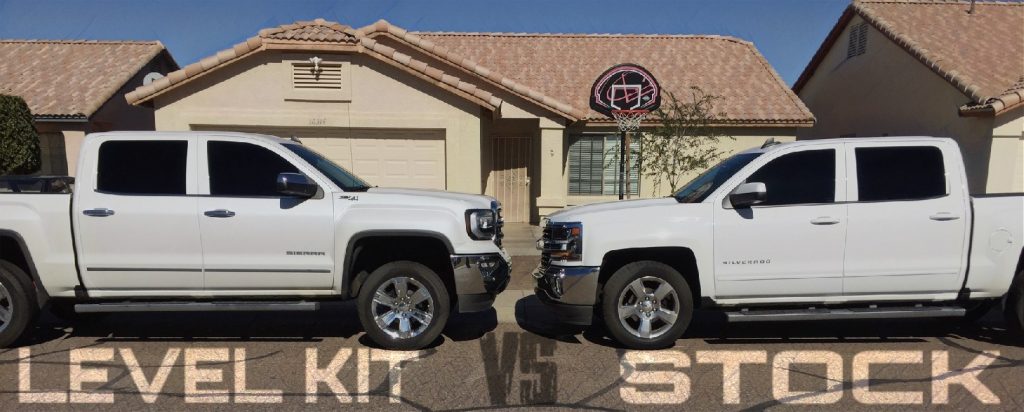 As you can tell from this picture, from the factory these trucks have a forward rake to the way that they sit. It's about a 2 – 2.5″ inch difference, meaning the front of the truck sits about 2″ lower than the bed.
If you're looking to get rid of or reduce the factory rake, and make your truck look a lot more aggressive without compromising in ride quality, a leveling kit is what you want.
There are a few different ways to go about leveling your truck, and the following kits are the best ways of doing it:
2007-2017 Silverado/Sierra 1500 Leveling Kit
Rough Country Spacer Leveling Kit
This kit by Rough Country is the best option for leveling the 1500. Made from durable delrin, it's designed for longevity and corrosion resistance, which means you can rest easy knowing that it will probably outlast the rest of your trucks suspension.
The reviews show nothing but people that are happy with their purchase of this kit. On the rare occasion that anyone has less than stellar things to say, it usually comes down to an error during installation. Rough Country's claims of easy install and 2″ lift are confirmed by multiple Chevy/GMC 1500 owners.
Rough Country (1307) 2" Front End Leveling Kit
as of November 21, 2022 11:46 pm
Features
Give your GM 1500 the perfect blend of performance, protection, and style from Rough Country.
Increase Ground Clearance for On and Off-Road Obstacles | Maintains Smooth, OEM Like Ride.
Levels the Front with the Rear | No need to disassemble your Struts to Install.
Easy at Home Bolt-On Installation, Supported by RC.
Backed by Rough Country's Limited Lifetime Replacement Warranty.
Spacer Leveling Kit Installation
This picture illustrates where the spacer goes (spacer shown in blue.)
Installation is a breeze compared to most suspension lift kits: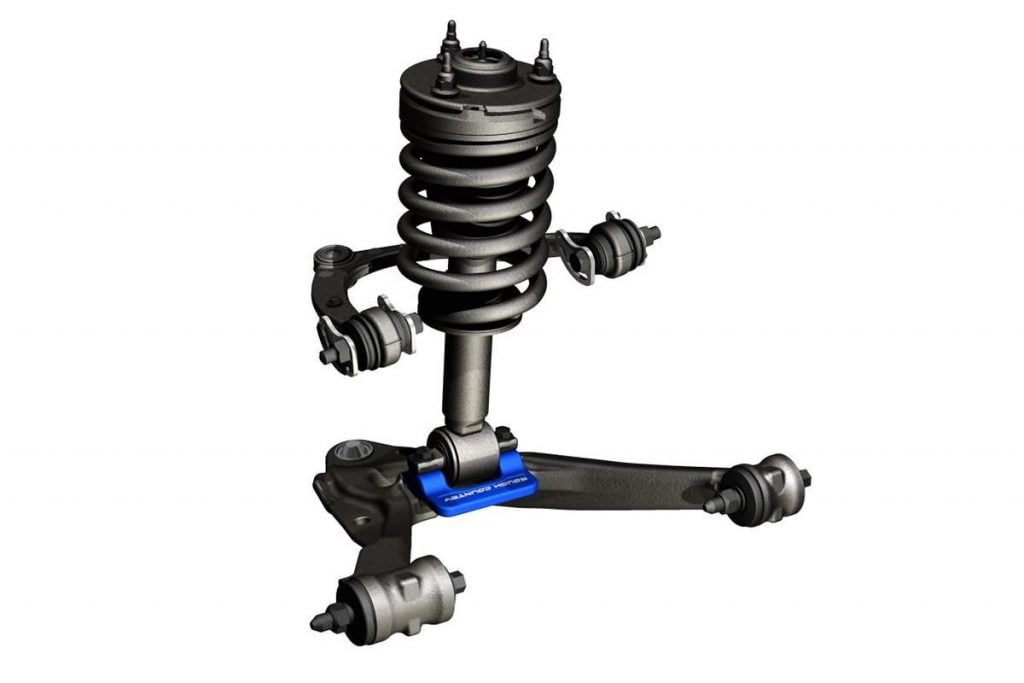 Unbolt the two lower strut mount bolts and the sway bar.
Pry the lower control arm down enough to slip your new spacer in between the lower strut mount and the LCA.
Install the new longer bolts and torque to spec. That's it, you're done!
2011-2017 Silverado/Sierra 2500HD and 3500HD Leveling Kit
ReadyLift 2.25″ Leveling Kit
The 2500HD and 3500HD Silverados will need a different type of lift for the front suspension, as these trucks are heavier and are designed to carry more weight than the suspension setup on the smaller and lighter 1500.
These trucks use a torsion bar type suspension setup for the front, which can actually be adjusted to lift your truck in stock form already, although cranking the torsion bars up with factory keys does make your truck ride rougher.
The reason to get a lift kit for this suspension setup is that while its possible you can adjust the ride height in a stock torsion bar setup, you are still limited in the range that the factory torsion bar keys allow.
This kit replaces the factory torsion keys with a set that moves the point of adjustability up the scale, so that your range of adjustment starts with a higher lift point at the minimum torsion setting.
These keys allow you to have a higher lift potential (up to 4in higher) all while maintaining the factory ride quality.
ReadyLift 66-3011 2.25" Leveling Kit for Silverado/Sierra 2500HD/3500HD 2WD/4WD 8 Lug
as of November 21, 2022 11:46 pm
Features
Ideal for obtaining a level stance on your 2011-UP HD truck and maintain the factory ride.
Torsion keys are forged for ultimate strength and powder coated for lasting corrosion protection
Retains the OEM factory ride while lifting your vehicle to a level stance
against manufacturer defects in materials and workmanship for the life of your vehicle
Installs easily in about an hour - professional install recommended
3.5″ Lift Kits
If your goals area bit higher, like wanting to fit 35″ tires, then you're gonna need to a lift kit that gives a little more height than just a front leveling kit would.
This is where a 3.5″ lift kit comes into play. The higher lift will give you the space that you'll need in the wheel wells (with maybe some minor trimming) for larger tires up to 35's, while also increasing your ground clearance over obstacles.
2008-2017 Silverado/Sierra 1500 4WD
Supreme Suspensions – Silverado Lift Kit 3.5″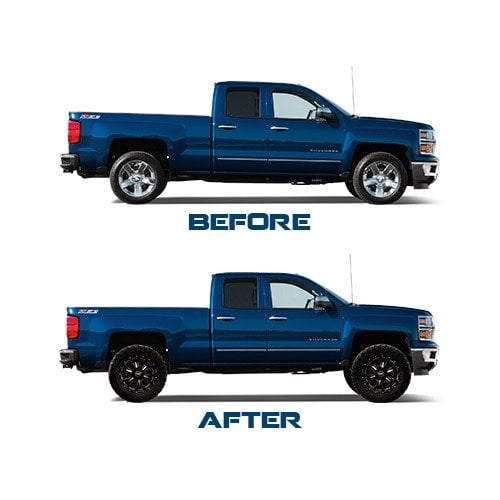 The best 3.5″ kit for the 1500 is this one by Supreme Suspensions. It has everything you need to lift without affecting ride quality.
It includes the lower spacers like you saw in the previous leveling kit, and adds a spacer for the top of the strut assembly, which gives you the extra lift. Splitting up the spacers like this is a very good idea, as you don't want to have too much of a spacer on one end of the strut, as that would affect the suspension geometry.
The kit also comes with the blocks that you need for the rear lift to match the front, and the extended u-bolts that you'll need when adding blocks to the rear leaf springs.
Also included is a differential drop kit, which keeps the front axles at a better angle, to prevent them from wearing out faster than they should.
Supreme Suspensions - Silverado Lift Kit 3.5" Front Suspension Lift + 3" Rear
as of November 21, 2022 11:46 pm
Features
COMPATIBLE WITH 2007 - 2019 Chevrolet Silverado 1500 and GMC Sierra 1500 (6-LUG - 2WD 4WD). *Does NOT fit 2007 Classic Models, TrailBoss or AT4 models, and 2019 models with 5/8 Rear Center Pin. These spacers are NOT compatible with models equipped with ARC / MagneRide / Auto-Ride / Air-Bag / Air-Ride, or any other Self-Leveling Suspension System.
CONTENTS: (2x) T6 Billet Aluminum Top Strut Spacers, (2x) High-Density Delrin Bottom Strut Spacers, (2x) High-Strength Steel Tapered Lift Blocks - 9/16 Pin, (4x) Square Bend U-Bolts, (2x) Axle Alignment Shims, Installation Hardware, Installation Instructions, Supreme Suspensions Pro Pack and 16"x16" Microfiber Cleaning Towel
TECHNICAL NOTES: 3.5 inch front and 3 inch rear suspension lift. Please note that front spacer thickness to lift height is not a 1:1 ratio. Strut spacer installation alters the angle of the lower control arm, and this accounts for an additional lift beyond the actual thickness of the spacers.
HIGH-QUALITY SUSPENSION LIFT KIT: Improves the look of your vehicle and increases ground clearance, allowing you to fit larger custom rims and tires. After an easy 2-4 hour installation* process, you're ready to feature your new and improved ride! *An alignment is always recommended if you are altering the height of your vehicle.
NOTE FOR Z71 / LTZ OWNERS: *Some LTZ/Z71 Models have factory rear blocks pre-installed! Rear lift height will vary depending on the size of the factory block being replaced by our lift blocks. Please check block size before ordering as our lift block is intended to replace any factory equipped blocks.
2011-2017 Silverado/Sierra 2500HD and 3500HD
Tuff Country 2500/3500HD 3.5″ Lift Kit
This Tuff Country kit is the most comprehensive and best overall 3.5″ lift kit for the 2500HD and 3500HD Silverado/Sierra.
Included in the box is everything needed to maintain ride quality while allowing for a higher stance and larger tires (up to 35's with some minor trimming.)
Tuff Country ensures that they produce a high quality kit by keeping the manufacturing in-house in the USA. They powdercoat all applicable parts for longer durability than cheaper painted parts. The limited lifetime warranty is another indication of how they stand behind their products.
The kit is designed for ease of installation, no cutting or welding is required, simply bolt on the replacement parts in place of the factory stuff.
Parts list is as follows:
Heavy Duty tubular upper control arms with polyurethane bushings (corrects front suspension back to factory geometry even with the torsion lift)
Torsion keys for maximum lift adjustability while retaining ride quality
Cast iron leaf spring lift blocks for the rear suspension
Extended U-bolts for the rear lift block installation
Front shock extender brackets (shock replacement not required with this kit)
Differential drop kit (keeps the axles from wearing out prematurely)
Tuff Country 2500/3500HD 3.5" Lift Kit
as of November 21, 2022 11:46 pm
Features
Package Dimensions: 20.32 cms (L) x 35.56 cms (W) x 54.61 cms (H)
Product Type: Auto Part
Package Quantity: 1
Country Of Origin: China
4-6″ Lift Kits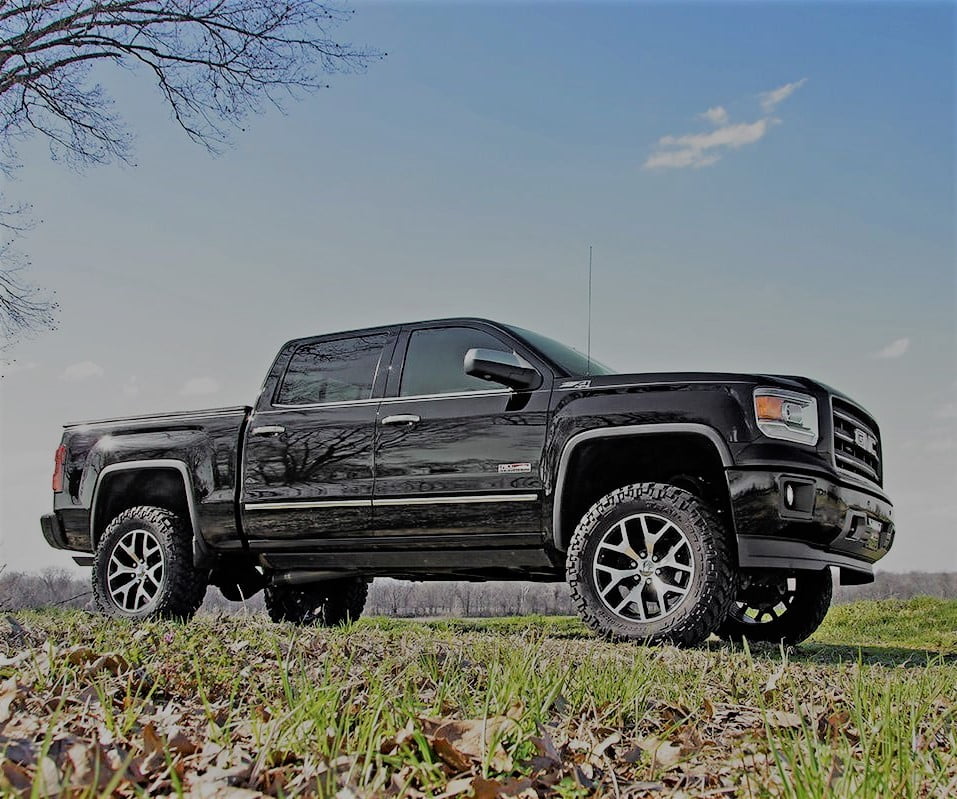 If the 3.5″ lift is just not enough for your truck, or you want to run even bigger wheel and tire combos, then you're going to need a more serious lift kit.
4-6″ kits have much more ground and wheel clearance, but there are also alot more parts to replace when going this route.
Below are the comprehensive kits that include everything needed to give you the big lift that you're looking for.
2014-2017 Silverado/Sierra 1500 4WD
ReadyLift 693414 Lift Kit
as of November 21, 2022 11:46 pm
Features
Not for use with 2014-UP Z71 OFF ROAD with taller Rancho front struts. Standard Z71 (not Z71 Off Road) okay
Extremely durable finish
100% Bolt-on for easy installation
Includes a completely different differential drop mounting system with machined billet circular spacers
Factory changes to the spindle/upright allows us to include the super strong heavy duty ball joints
2014-2018 1500 Silverado/Sierra 7″ Lift
Rough Country 6" Lift Kit (fits) 2007-2013 Chevy Silverado GMC Sierra 1500 4WD | V2 Monotube Shocks | Knuckles | 23670
as of November 21, 2022 11:46 pm
Features
Give your Silverado/Sierra 1500 the perfect blend of performance, protection, and style from Rough Country.
Unmatched Ground Clearance | V2 Performance Monotube Shock Absorbers | Leads the way, delivering Impeccable Ride Quality and Performance Mile after Mile.
Anti-axle wrap rear blocks maintain stock ride quality and eliminates problems.
Fabricated blocks are stronger and a longer lifespan than cast blocks.
Backed by Rough Country's Limited Lifetime Replacement Warranty.
2011-2017 2500/3500 Silverado/Sierra 6″ Lift
Fabtech K1046DL RTS System
as of November 21, 2022 11:46 pm
Features
LftKt-Suspw/Shock
Raised Torsion Suspension Lift System
Conclusion
We hope this guide has helped you to decide which kit is best to buy for lifting your truck. If your have any questions, comments or concerns, feel free to reach below.
Thanks for reading!