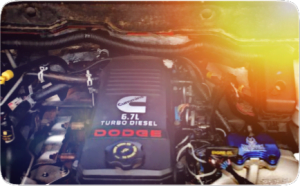 Want to extract more power and get better fuel mileage from your 6.7L Cummins powered truck? On this page I cover just how you can do that, by outlining the parts required for a complete DPF and EGR delete kit.
Removing the DPF and EGR systems allows your off-road truck to breath much easier and run much more efficiently than it does being constantly strangled by the factory emission systems.
Below is the list of required parts that you will need for a complete delete kit for a 6.7L Cummins engine, as found in the 2007+ Dodge diesel trucks.
Best Cummins 6.7L DPF Delete Tuner
When looking for a tuner for performance diesel tuning and DPF/EGR deletes, you need to make sure that the tuner you choose is actually capable of working with your diesel truck's computer to remove the codes that are associated with DPF and EGR removal.
You can find a lot of different tuners available for the 6.7, however there are only a few tuners that have the ability for a true DPF and EGR delete.
H&S and RaceMe are the best available tuners that have this capability for the 6.7 cummins. Both of these tuners can delete the DPF and EGR codes right out of the box.


Features

INCLUDES ALL NECESSARY HARDWARE TO UNLOCK THE ECM AND TUNE 2013+ AND NEWER!
All Pickup Models 2007-2016
Cab & Chassis Models 2007-2010 without DEF
Cab & Chassis Models 2013-2016 with DEF
Shift-On-The-Fly tuning is available on the 2013-2016 Cummins 6.7L!!!

Product Description

Not supported at this time: Cab & Chassis Models 2011-2012 with DEF - in progress, coming soon! Disable The DPF/DEF System And ALL Related Sensors - No Sensors Required To Be Plugged In Or Installed In Race Exhaust. No Reloading / Changing Files Required For Installing On Different Year Models, All Inclusive. Updateable Free via Latest Software Downloads From Our Website.

Cheapest Cummins DPF Delete Tuner



Features

Free Shipping
Lowest Price Guarantee

Product Description

The Mini Maxx race tuner is part of the next generation of diesel downloaders from H&S that offer everything a diesel owner could want, all in one high-tech unit. Exclusive to H&S Performance, the Mini Maxx offers the flexibility of shift-on-the-fly tuning, as well as giving you the ability to monitor vital engine statistics at a glance. The full color, high resolution screen allows the user to view up to four parameters at one time

DPF Delete Pipe

A race exhaust will replace the section of pipe where the DPF filter currently resides and gives the exhaust a straight shot from the turbo back to the muffler.

It is crucial to have the tuner installed with this delete pipe, otherwise you will throw the truck's engine computer into limp mode because it won't be able to use the sensor readings to initiate regen anymore.

Installation is fairly straightforward, usually the hardest part of replacing exhaust is super-heated rusted hardware, in some cases requires heating or cutting of exhaust studs, make sure to use a professional if you're not comfortable with that.



FLO-PRO Stainless Steel Turbo-Back Exhaust System for Dodge Diesel Trucks 6.7L

Features

4" Diameter Exhaust Pipe
Mandrel Bent Heavy Gauge Stainless Steel
Produces Deep Aggressive Performance Sound
Increases Horsepower, Torque and Fuel Efficiency
Installation Instructions Included

Product Description

DODGE 2007.5-2009/6.7L/2500-3500/ALL-CAB AND BED/DUALLY/ 4 IN TURBO BACK, CAT AND DPF DELETE, NO MUFFLER, NO BUNGS, STAINLESS STEEL

EGR blockoff kit



Designed specifically for the 2007.5, 2008 and 2009 Dodge trucks with the 6.7L Cummins

An EGR delete gives you lower running temperatures, improves your throttle response, much better fuel economy, and WAY better reliability!

This kit completely removes the EGR system and bypasses the cooler.

All metal parts are CNC machined from high quality aircraft-grade 7075 aluminum for a perfect fit.

Guaranteed to last under high temperatures and pressures. Installs easily, full installation instructions are provided



Designed specifically for the 2010, 2011 and 2012 Dodge trucks with the 6.7L Cummins This kit completely removes the EGR system and bypasses the cooler. All metal parts are CNC machined from high quality aircraft-grade 7075 aluminum for a perfect fit. Guaranteed to last under high temperatures and pressures. Installs easily, full installation instructions are provided

Throttle Valve Delete



Features

Increased airflow
Less turbulance
Lower EGT's
FITS: 2007.5-2012 Dodge Ram 2500 Cummins 6.7L Diesel
FITS: 2007.5-2012 Dodge Ram 3500 Cummins 6.7L Diesel

Product Description

Sinister Diesel Throttle Valve Delete for 6.7 Cummins & Ram 2007 to 2012 works together with the EGR system to recirculate exhaust gas through the intake to lower tailpipe emissions, increase airflow and reduce turbulence to promote an overall more efficient and powerful diesel engine that won't be breaking down anytime soon. The Throttle Valve is one of the most overlooked parts of an engine that is overlooked during the EGR delete process which can cause problems down the line. Sometimes the throttle valve can move unintentionally to a completely or partially close setting which leads to cutting off the air supply to your Cummins or Dodge Ram and suffocating it. This can cost you power, shut your engine down entirely. If you're driving a higher RPM then this can cause major damages to your engine. It also causes soot buildup and clogged EGR valves making it a crucial part of any EGR System Delete to ensure seamless and safe performance. Using our Throttle Valve Delete results in increased air flow, quicker turbo spool, Lower EGTs, and increases smoother air provided to intake manifold to ensure everything keeps running the way it should. Even if you're throttle valve hasn't caused any problems yet it can completely or partially shut at any time leading to unrepairable damages to your diesel truck engine. Our Throttle Valve Delete Kit comes with everything you need to remove diesel truck throttle valve in a matter of minutes on your own. Our Throttle Valve Delete Kit includes: Throttle Valve Delete and all hardware required for installation. So don't risk your system over an affordable and long lasting Throttle valve Delete! Click on the Add To Cart button and ensure the longevity of your engine!

Conclusion

Hopefully this guide has given you a better idea of the options available for removing the restrictions of the DPF and EGR systems on your 6.7 Cummins. As always, if you have have any questions or ideas for us, make sure to leave them in the comments below. Thanks for reading!