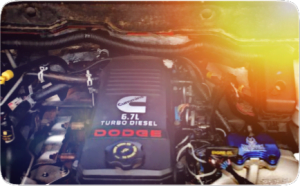 Want to extract more power and get better fuel mileage from your 6.7L Cummins powered truck? On this page I cover just how you can do that, by outlining the parts required for a complete DPF and EGR delete kit.
Removing the DPF and EGR systems allows your off-road truck to breath much easier and run much more efficiently than it does being constantly strangled by the factory emission systems.
Below is the list of required parts that you will need for a complete delete kit for a 6.7L Cummins engine, as found in the 2007+ Dodge diesel trucks.
Best Cummins 6.7L DPF Delete Tuner
When looking for a tuner for performance diesel tuning and DPF/EGR deletes, you need to make sure that the tuner you choose is actually capable of working with your diesel truck's computer to remove the codes that are associated with DPF and EGR removal.
You can find a lot of different tuners available for the 6.7, however there are only a few tuners that have the ability for a true DPF and EGR delete.
H&S and RaceMe are the best available tuners that have this capability for the 6.7 cummins. Both of these tuners can delete the DPF and EGR codes right out of the box.
Cheapest Cummins DPF Delete Tuner
DPF Delete Pipe
A race exhaust will replace the section of pipe where the DPF filter currently resides and gives the exhaust a straight shot from the turbo back to the muffler.
It is crucial to have the tuner installed with this delete pipe, otherwise you will throw the truck's engine computer into limp mode because it won't be able to use the sensor readings to initiate regen anymore.
Installation is fairly straightforward, usually the hardest part of replacing exhaust is super-heated rusted hardware, in some cases requires heating or cutting of exhaust studs, make sure to use a professional if you're not comfortable with that.
EGR blockoff kit
Throttle Valve Delete
Conclusion
Hopefully this guide has given you a better idea of the options available for removing the restrictions of the DPF and EGR systems on your 6.7 Cummins. As always, if you have have any questions or ideas for us, make sure to leave them in the comments below. Thanks for reading!