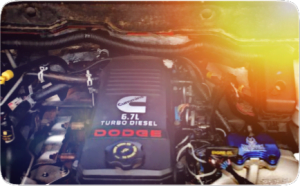 Want to extract more power and get better fuel mileage from your 6.7L Cummins powered truck? On this page I cover just how you can do that, by outlining the parts required for a complete DPF and EGR delete kit.
Removing the DPF and EGR systems allows your off-road truck to breath much easier and run much more efficiently than it does being constantly strangled by the factory emission systems.
Below is the list of required parts that you will need for a complete delete kit for a 6.7L Cummins engine, as found in the 2007+ Dodge diesel trucks.
Best Cummins 6.7L DPF Delete Tuner
RaceME ULTRA DPF Delete Programmer 07.5-16 Dodge Cummins 6.7L
When looking for a tuner for performance diesel tuning and DPF/EGR deletes, you need to make sure that the tuner you choose is actually capable of working with your diesel truck's computer to remove the codes that are associated with DPF and EGR removal.
You can find a lot of different tuners available for the 6.7, however there are only a few tuners that have the ability for a true DPF and EGR delete.
H&S and RaceMe are the best available tuners that have this capability for the 6.7 cummins. Both of these tuners can delete the DPF and EGR codes with or without a custom tune.

RaceME ULTRA DPF Delete Programmer 07.5-16 Dodge Cummins 6.7L
as of October 8, 2019 10:38 pm
Features
INCLUDES ALL NECESSARY HARDWARE TO UNLOCK THE ECM AND TUNE 2013+ AND NEWER!
All Pickup Models 2007-2016
Cab & Chassis Models 2007-2010 without DEF
Cab & Chassis Models 2013-2016 with DEF
Shift-On-The-Fly tuning is available on the 2013-2016 Cummins 6.7L!!!
Product Description
Not supported at this time: Cab & Chassis Models 2011-2012 with DEF - in progress, coming soon! Disable The DPF/DEF System And ALL Related Sensors - No Sensors Required To Be Plugged In Or Installed In Race Exhaust. No Reloading / Changing Files Required For Installing On Different Year Models, All Inclusive. Updateable Free via Latest Software Downloads From Our Website.
Cheapest Cummins DPF Delete Tuner
H&S Mini Maxx Tuner for 6.7L Cummins (Unlocked/Race/Delete Version)
It's slim pickings these days for a tuner that can handle deletes right out of the box on so many models like the H&S Mini Maxx can. That ease of use makes it pretty much the only choice for a delete tuner on a budget. There are some excellent custom tuning solutions out there that can compete for price, but the pre-loaded tunes on the Mini Maxx race version will make the whole process much simpler.
Plus, for the money you're getting a programmer that also acts as a gauge display, and a diagnostic scanner.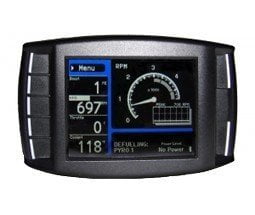 H&S Mini Maxx DPF Delete Race Tuner Ford, Chevy & Dodge
Check Price

ebay.com
as of October 8, 2019 7:56 am
The Mini Maxx race tuner is part of the next generation of diesel downloaders from H&S that offer everything a diesel owner could want, all in one high-tech unit. Exclusive to H&S Performance, the Mini Maxx offers the flexibility of shift-on-the-fly tuning, as well as giving you the ability to monitor vital engine statistics at a glance. The full color, high resolution screen allows the user to view up to four parameters at one time.
DPF Delete Pipe
Performance Race 5″ Turbo Back With Downpipe
A race exhaust will replace the section of pipe where the DPF filter currently resides and gives the exhaust a straight shot from the turbo back to the muffler.
It is crucial to have the tuner installed with this delete pipe, otherwise you will throw the truck's engine computer into limp mode because it won't be able to use the sensor readings to initiate regen anymore.
Installation is fairly straightforward, usually the hardest part of replacing exhaust is super-heated rusted hardware, in some cases requires heating or cutting of exhaust studs, make sure to have a torch handy!

aFe Power 49-02030 Atlas Performance Exhaust System (5", Aluminized, Turbo-Back)
as of October 8, 2019 10:38 pm
Features
Constructed from 5" mandrel-bent aluminized steel tubing
Utilizes all factory mounting locations to provide a quick, hassle-free installation
This is a "Race Only product that is to be used solely for competition
Does NOT fit Cab & Chassis models
Fits Dodge/RAM Diesel Trucks 07.5-12 L6-6.7L (td)
Product Description
Simple Installation: All systems use factory mounting locations providing stability and hassle-free installation. Leak-Free Seal: High quality band clamps are included for a complete 360 degree sealing surface. OE Fit: OE-style bayonet hangers are used to maintain a stable pipe location during high vibration and high heat conditions. The bayonet tip holds the hanger bushing in place for an OE-style fit that does not change with time. Flow and Performance: This ATLAS exhaust system is constructed of 5" mandrel-bent aluminized steel tubing for maximum flow. Smooth transition bends allow for low turbulence, increasing horsepower, torque and lowering EGT's. High Flow Aluminized Muffler: This aluminized steel performance muffler is designed to provide a deep, throaty, powerful sound on acceleration, but maintain a smooth sound at idle. This muffler is constructed of aluminized steel and uses a straight through perforated core with heat resistant packing to reduce backpressure and maximize exhaust flow. You will see increased performance and improved throttle response over the factory exhaust. Also featuring a stamped aFe POWER logo for an aggressive style. Muffler Specifications: 5" Center Inlet/Outlet, 7" Round x 24" L Body Diameter.
EGR blockoff kit
2007-2009 6.7L Cummins trucks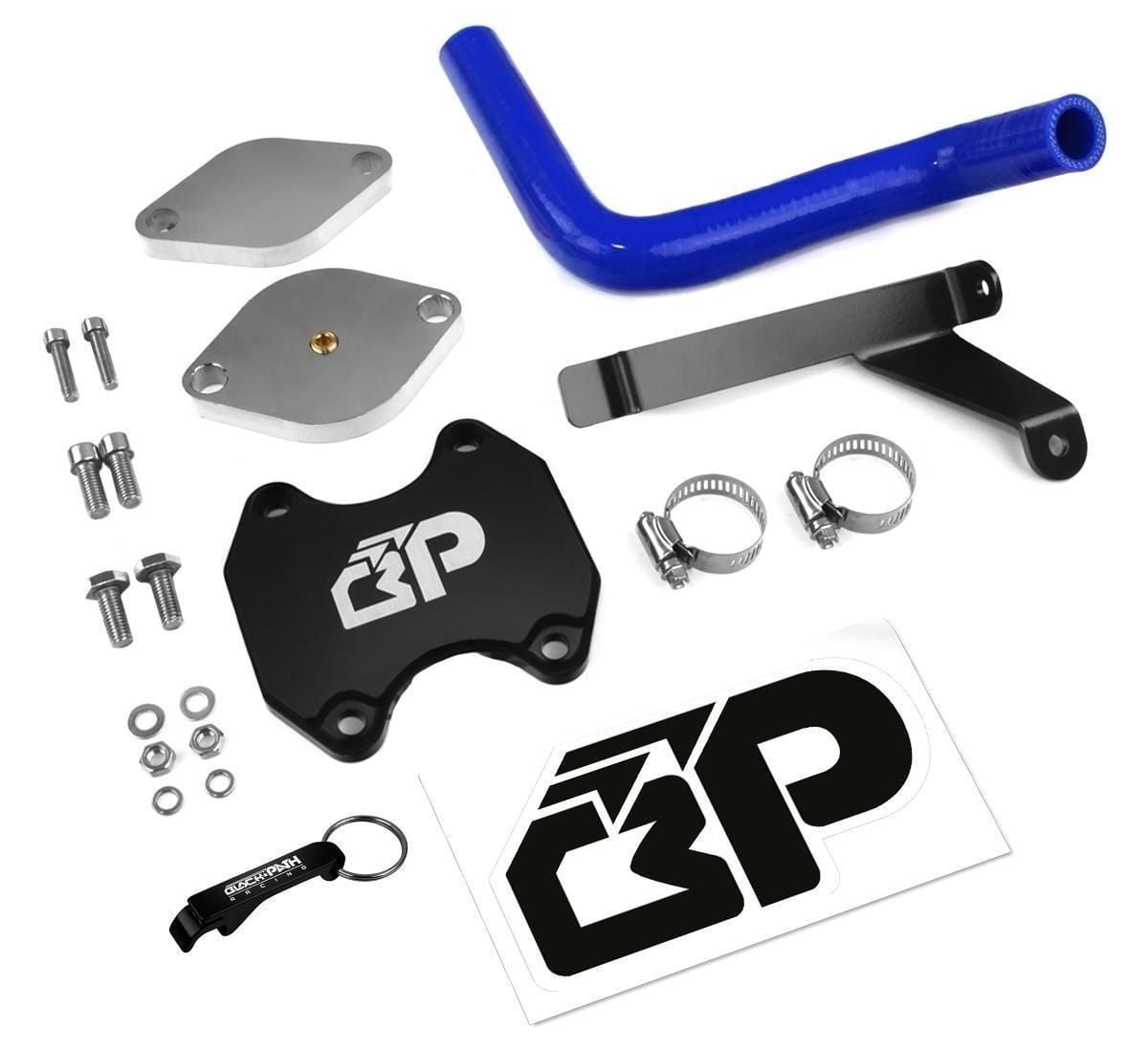 EGR Delete for the 2007-2009 6.7L Cummins Dodge Ram
Check Price

ebay.com
as of October 8, 2019 7:56 am
Designed specifically for the 2007.5, 2008 and 2009 Dodge trucks with the 6.7L Cummins An EGR delete gives you lower running temperatures, improves your throttle response, much better fuel economy, and WAY better reliability! This kit completely removes the EGR system and bypasses the cooler. All metal parts are CNC machined from high quality aircraft-grade 7075 aluminum for a perfect fit. Guaranteed to last under high temperatures and pressures. Installs easily, full installation instructions are provided
2010-2017 Dodge Ram 2500 3500 4500 5500 6.7L Cummins

Sinister Diesel EGR Cooler Kit for Dodge Cummins 2010-2016 6.7L
as of October 8, 2019 10:38 pm
Product Description
Our Sinister Cummins EGR kit is made from strong nickel plated steel and machined billet aluminum. We've fully pressure tested the kit to ensure unrivaled durability and leak-free service under the harshest conditions. This 6.7 Cummins EGR kit is designed to recirculate your engine coolant faster than the stock EGR system for cooler engine temperatures while also allowing your 6.7 Cummins to breathe easier by eliminating sooty exhaust gasses that pass through your intake manifold with the stock EGR system in place.
Throttle Valve Delete
Throttle Valve Delete Kit for 07-17 Dodge Ram 6.7L

Auto Parts Prodigy Throttle Valve Delete Kit for 07-17 Dodge Ram 6.7L L6 Cummins Diesel Turbo Blue
as of October 8, 2019 10:38 pm
Features
Includes gasket and bolts
Less intake airflow turbulance
Increased airflow
Lower EGT's
Better MPG Tuner required to shut off CEL
Product Description
This item is a Throttle Valve Delete Kit.  It fits the following makes and models:05/2007 Production Date - 2010 Dodge Ram 2500 6.7L Cummins Turbo Diesel2010-2017 Ram 2500 6.7L Cummins Turbo Diesel05/2007 Production Date - 2010 Dodge Ram 3500 6.7L Cummins Turbo Diesel2010-2017 Ram 3500 6.7L Cummins Turbo DieselKit Includes The Following:Throttle Valve Delete TubeGasket4 Flange Bolts
Conclusion
Hopefully this guide has given you a better idea of the options available for removing the restrictions of the DPF and EGR systems on your 6.7 Cummins. As always, if you have have any questions or ideas for us, make sure to leave them in the comments below. Thanks for reading!