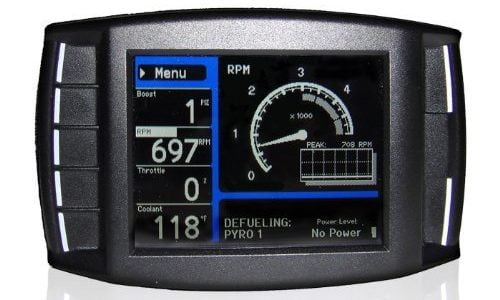 One of the best (and cheapest) delete tuners for those looking to DPF and EGR delete and tune on a budget is the H&S Performance Mini Maxx. This tuner comes loaded with tunes for the following vehicles:
The H&S Mini Maxx comes with preloaded (aka canned) tunes that will allow you to delete all of your emission components while ensuring that you don't have any check engine lights or DTCs (diagnostic trouble codes.)
Most people using the Mini Maxx delete tunes have reported a substantial increase of mpg, often as much as 5 MPG when paired with the correct DPF delete pipe and EGR block off kit. Once you flash the appropriate race tune for your model truck, your DPF exhaust regeneration cycles and EGR system will be inactive. Most people like to install an EGR delete or block off kit in conjunction with the race tune so that the possibility of leaks are eliminated. You are able to run with the EGR system still in place and just turned off, but it is better to block it off. Installing the H&S Mini Maxx is dead simple and is one of the fastest and cheapest ways to eliminate all the restrictions of your emissions systems. Often regarded as one of the best race tuners on the market, the H&S Mini Maxx will make a great addition to your diesel.
What about emissions?
The race tunes on the Mini Maxx are designed for off-road use only. If you live in a country without such requirements, the Mini Maxx is a great option to affordably tune your truck.

Diesel Particulate Filter (DPF) Delete
The Mini Maxx enables you to remove all components of your DPF system and also turns off codes for the related sensors, eliminating check engine lights.
Exhaust Gas Re-circulation (EGR) Delete
Disables the EGR function and any related check engine lights and DTCs. Will work alone by shutting down the EGR system with it is still in place and will also work in conjunction with an EGR block off kit.
Diesel Exhaust Fluid (DEF) Delete
If your truck uses an urea injection system, this tuner will allow you to turn it off completely, which will allow you to remove the tank and all related sensors.
Catalytic Converter Removal
When using the Mini Maxx tunes, you are able to delete your cat without having any DTCs or check engine lights pop up.
ULSD (Ultra-Low Sulfur Diesel) not required If you're running the Mini Maxx emission removal tunes on your truck, you now have the option to use high sulfur diesel, especially helpful in underdeveloped areas with no options for buying ultra low sulfur diesel fuel.
Will it increase fuel mileage?
Almost everyone who installs a DPF delete on their truck reports a significant gain in MPG. On average most trucks will gain between 2-4 MPG but there have been reports of up to 5 MPG increases. Of course it is hard to get equal results across the board, as driving habits and tire sizes all have an effect on how much gain you can see.
Preloaded Available Power Levels
Cummins – 60, 120, 175hp
Powerstroke 6.4L – 80, 160, 250hp
Powerstroke 6.7L – 50, 100, 150hp
Duramax LMM – 60, 120, 175hp
Duramax LML – 50, 100, 150hp
Installation Tips and Tricks
2008-2010 Ford 6.4L Powerstroke
The 6.4L Powerstroke preloaded tune does not require the EGR system to be unplugged or blocked off, however it is a good idea to install a block off kit in order to keep the engine bay tidy and the chances of coolant leaks to a minimum. You'll need to install a DPF delete pipe and remove all of the sensors associated with the factory exhaust system. You'll usually find three EGT sensors and a pressure sensor that you have to unplug and remove. It's recommended that you tape over any open connectors so that dirt and water can't enter them.
2011-2014 Ford 6.7L Powerstroke
The 6.7L has a couple more things to pay attention to when installing a tuner. On the 6.7 you have to make sure to unplug the sensors and everything else associated with the EGR system, otherwise you will cause damage to the system itself.
You can simply unplug the DEF (urea injection) system and leave it installed, or you can remove the tank and the whole mess completely if you want to clean up all the unnecessary junk.
When you install the required DPF delete pipe, you'll need to remove all the sensors that were plugged in for the DPF system. You'll have 3 EGT sensors, a N0x sensor, one DEF system urea injector, and a pressure sensor.
2015-2016 6.7L Powerstroke
The Mini Maxx works just fine on the 2015 and 2016 Ford Powerstroke 6.7L. The only caveat is that in 2016 Ford started adding a crankcase ventilation detection sensor. The mini maxx does not have the ability to compensate for this sensor. This can cause your truck to throw a DTC or check engine light for this sensor. It does not affect drive ability or how the truck runs, it's purely an annoyance.
2007-2009 Dodge 6.7L Cummins
The 07-09 requires you to unplug everything associated with the EGR system if you're not installing an EGR block off kit.
On the exhaust side, there are 3 EGT sensors, 1 pressure sensor and 2 o2 sensors that need to be unplugged when you install the DPF delete pipe.
2010-2012 Dodge 6.7L Cummins
You don't have to unplug the EGR system on the 10-12 cummins, you can leave it in place if you want. The tune will turn off the EGR functions and you can just leave it that way if you don't want to clean up the engine bay with a block off kit. The same warnings apply about possible coolant leaks from the EGR system still being installed however.
The 2011-2012 cab and chassis trucks have an DEF urea injection system that has to be unplugged, or alternatively you can go the extra step and remove it completely. If you don't at least unplug the urea injection sensors then you will most likely have either dash messages warning you about the system or you may also get a check engine light.
When you're installing your DPF delete pipe, you'll want to unplug all of the sensors that are installed in your factory DPF system. It's much easier to just leave all the sensors physically installed in the DPF pipe and simply unplug the connectors to the wiring harness. This method keeps the sensors and factory exhaust all together, making it easier to reinstall. Don't forget to tape over any exposed plugs to keep dirt out and corrosion from happening.
Duramax Diesel LMM 2007-2010
The LMM doesn't require you to turn off the EGR system or block it off, however there are bock off kits available to clean up your engine bay. The sensors in the exhaust need to be removed and unplugged from the wiring harness, and the connectors should be sealed from water intrusion and dirt.

GMC Duramax Diesel LML 2007-2014
If you don't plan on installing an EGR block off kit, you at least need to unplug all of the EGR sensors. The urea injection system needs to at least be unplugged, if not uninstalled completely. For the exhaust side, you'll need to unplug all of the associated sensors that are no longer required with a delete pipe, except for the pressure sensor which needs to still be plugged in at all times. This pressure sensor for the diesel particulate filter lives under the bed of your truck, look on the inside of the passenger frame rail to find it. The pressure ports with rubber hoses can be looped or unplugged but the electrical connection needs to stay plugged into the vehicle wiring harness.
Mini Maxx Additional Features
The Mini Maxx has not only the ability to tune your truck for more power and deleting the emissions, it also comes with the ability to adjust many factory settings. The options available vary between truck models but the most common tweaks are listed below.
6.7L Cummins trucks have a 106 MPH speed limiter set in most trucks. The limiter can be adjusted from 20 MPH to 200 MPH. This option can only be adjusted during the Install Download process.
6.4L Powerstroke trucks have a 95 MPH speed limiter in most cases. The limiter can be adjusted from 55 MPH to 200 MPH. This option can only be adjusted during the Install Download process.
6.0L Powerstroke trucks have a 95 MPH speed limiter. This limiter can be removed completely or left alone if desired.
6.6L LMM Duramax trucks have a 98 MPH speed limiter from factory. The limiter can be adjusted from 50 MPH to 95 MPH or deleted completely. This option can only be adjusted during the Install Download process.
6.6L LML Duramax trucks have a 98 MPH speed limiter from the factory. The limiter may be removed completely but WILL result in a loss of cruise control and exhaust brake function. This function can only be changed during the Install Download process.
The Mini Maxx allows for the re-calibration of the factory speedometer to adjust for non-stock sized tires. For the most accurate speedometer reading when using non-stock sized tires, it is best to measure the diameter of the tire using a tape measure rather than going by the printed tire size. In addition, using a GPS is a great way to dial in your factory speedometer. Entering a larger tire size will cause the factory speedometer to read higher while entering a smaller tire size will cause the factory speedometer to read lower. The tire size can be adjusted from 25.5" to 45". This option only takes a few seconds to change and can be adjusted at any time from the Tire Pressure Calibration menu.
Special functions / features
The H&S Mini Maxx has the capability of enabling or disabling factory vehicle features. These options can be found in the Special Functions Menu. Below is a quick description of each feature:
TPMS: Enable / Disable the Tire Pressure Monitoring System.
Optical chirp on lock: Enable / Disable the parking lights flashing when locking the vehicle.
Horn chirp on lock: Enable / Disable the horn chirp when locking the vehicle.
Set Head lamp Delay: Enable / Disable the head lamp delay.
Accessory Delay: Enable / Disable the shut-off delay of your radio and accessory system after the key has been turned off.
Fog lights W/High: Enable / Disable the fog lights staying on when high beams are being used.
Daytime lights: Enable / Disable the daytime running lights.
Seat Belt Minder: Enable / Disable the chime for the drivers seat belt system. This feature will not disable the seat belt light.
Auto Door lock: Enable / Disable the automatic door locking when the vehicle reaches certain speeds.
Unlock Driver Door: Enable / Disable unlocking only the driver door when pushing the unlock button the keyfob. When enabled, the unlock button on the key fob will need to be pressed twice in order to unlock all doors.
Idle Up (auto only): Enable / Disable the use of the cruise control buttons to control idle RPM. Follow your vehicle owners manual to use this feature.
Technical Support
If there is one downfall to the H&S Mini Maxx, it would be the lack of official technical support. This is because as a tuning company, H&S Performance was forced to close up shop because they did not fully comply with US regulations.
Because of this, the only way to get support for it and the tunes that they used to provide is by buying the tuner from a reputable vendor. Check out our favorite vendor for the race version of the mini maxx here.