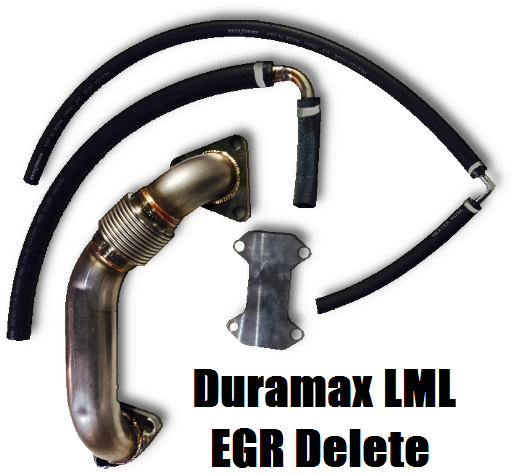 Welcome to our guide for the LML Duramax EGR delete!
The aim of this guide is to compare the best ways of removing the EGR valve and cooler, which are part of the factory emissions system on your Duramax.
Speaking of emissions, the EGR removal goes hand in hand with deleting the DPF, and a lot of lml owners go for installing both kits at the same time in order to eliminate both of the failure prone emissions systems at once. Keep in mind however, these types of modifications are only for off-road trucks, or for countries without diesel regulations.
It's a great way to kickstart your truck's performance and efficiency. Let's take a look at some of the benefits.
Benefits of an EGR Delete
The main benefit of removing the EGR system is that hot and sooty exhaust gasses will no longer be fed back into your intake, which has always been a problem when dealing with diesel engine longevity and efficiency.
This translates into lower intake temps. Your turbo will spool up faster and heat up your exhaust less, which means lower EGT's. Your coolant will also be able to recirculate much faster, which means lower coolant temps.
You can expect to see an increase of a few MPG and HP after blocking off or removing the EGR system.
Duramax LML EGR Delete Kit
When putting together the parts for your EGR delete, you'll have to consider which route you want to take with the kind of kit that you get. Basically, there's an easier way to remove the EGR that takes about 3-6 hours to install, or there's the full delete option that takes longer.
At the bare minimum, when removing the EGR on the LML you're going to need some blockoff plates, hoses for rerouting the coolant and a tuner to edit the ECM.
If you don't already have a tuner, take a look at the best options for the LML.
Once you have a tuner, the only other parts you'll need for the basic EGR delete option are the block off plates and coolant lines, which are often sold in kits like these:
EGR/Cooler Delete Kit Options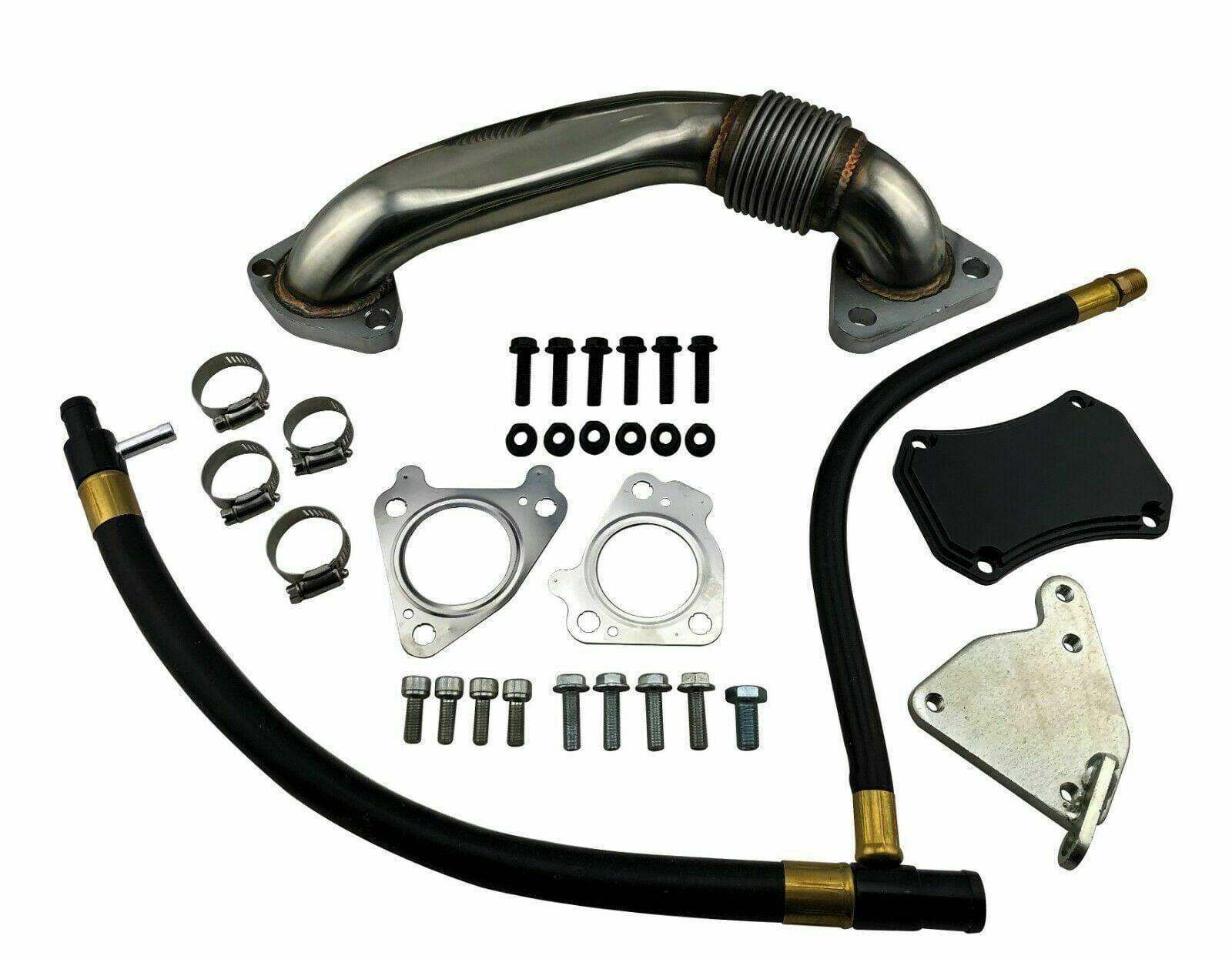 LML EGR Delete Kit
Check Price

Ebay.com
as of September 13, 2023 1:20 pm
2011-2016 GM 6.6L Duramax LML EGR Delete Kit

Increases off the line torque and horse power. Completely replaces/removes the entire EGR system.

Enjoy quicker turbo spool and lower EGTs along with faster re-circulation of the coolant resulting in lower coolant temps. An EGR Delete capable race tuner is required in conjunction with this kit.
Installation Instructions
Click Here for directions on how to do the install for the block off plate and cooler removal.
If you're doing it the easier way, you can skip the steps where you unbolt the downpipe and up-pipe. Instead, you simply install the up-pipe block off plate and keep the EGR portion of the up-pipe intact.
Full LML EGR Delete Kit
While the regular easier EGR delete is great for most people and will be sure to give excellent results, there are also those of us who are looking for a way to completely remove any unnecessary crapola from under our hoods.
This is where the full EGR delete kit parts package comes into play for the LML.
Be warned, doing it this this way requires a lot more work, but it's the only way to go when you are trying to get the most out of your truck.
In addition to the block off plates, you'll also want to get the following two parts in order to remove anything and everything associated with the EGR system.
EGR Delete Up-Pipe
LML Duramax Down Pipe
More performance parts to consider
If you're tearing your truck down far enough to do the full delete, there are some parts in the way that would also be good candidates for upgrading while you're in there.
LML Duramax Cold Air Intake
aFe Power 51-74006-1 Momentum HD Performance Intake System (Dry, 3-Layer Filter)
as of September 13, 2023 1:20 pm
Features
Outflows the factory intake by up to 52%. Produces an additional 22 horsepower and 57 lbs. x ft. torque max gains
3-Layer non-oiled, washable synthetic media for the perfect balance of performance, protection and convenience
High quality one-piece housing with auxiliary air scoop
Unique (Patent Pending) filter-to-housing interface for easy installation
This product is not CARB exempt at this time and is not legal for sale in California or use on vehicles registered with the California Department of Motor Vehicles
Conclusion
Hopefully this guide has given you a better idea of how to remove the EGR system on your LML.
If you have any questions or comments, be sure to drop us a line below!