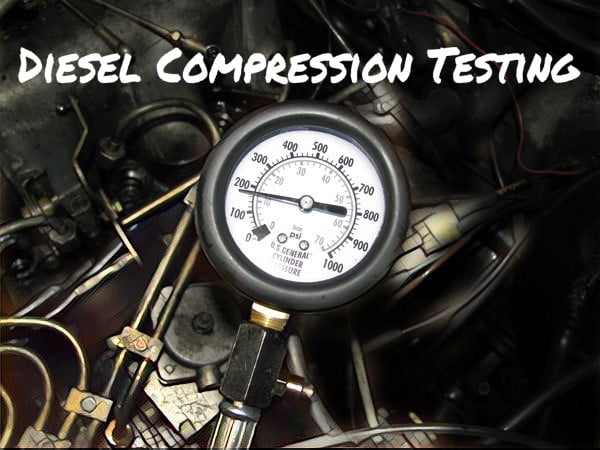 Compression tests have always been a go-to for uncovering any issues that an engine might have, and diesel engines are no exception to this rule.
At first glance, it seems like the testing procedure is very similar between gasoline engines and diesels, however testing compression on a diesel does have different requirements, procedures and tooling (namely adapters and high pressure gauges).
The biggest difference you'll run into when testing a diesel is the pressures that these engines produce. They're a great deal higher than a regular gasoline combustion engine, which means your test gauge will have to be able to take a greater PSI reading. I recommend going with at least a 1,000 PSI gauge in order to accurately read your cylinder pressures, many regular gauges only go up to 300 PSI which just won't cut it.
Best Test Gauge for Diesels
This is the best option that I've found for a reasonably priced, high quality test gauge that reads up to 1,000 PSI (or 70 bar) which is what you'll need for a diesel. Keep in mind that this is for the gauge only, you'll also need to grab the correct adapter kit for your truck, if you keep scrolling I have the most popular adapters listed below.
Diesel Compression Test Kit
If you're a professional mechanic or just someone that works on more than one type of truck, you'll probably want to get a test kit that already includes the adapters for all the most popular diesels, instead of buying them piece by piece.
7.3L Powerstroke Adapter Kit
On the 7.3 compression testing is best done by removing the glow plugs and inserting the special adapter shown here:
6.0L and 6.4L Powerstroke Adapter Kit
The 6.0 is just like the 7.3 as far as removing the glow plugs to test. You'll need this adapter for the 6.0:
5.9 Cummins Adapter Kit
All the years of the 5.9 require the injectors to be pulled in order to perform a compression test. This adapter replaces the removed injector with the 1/8 NPT fitting that works with most gauges.
2005+ 6.6L Duramax Adapter
This adapter threads into the glow plug hole of your Duramax and features a quick release connector to plug into a gauge.
Testing Procedure
Depending on which engine you have the test procedure will vary in details, but the overall procedure is similar for most engines:
Disable fuel injection
Remove all glow plugs to reduce compression resistance
Use the correct adapter to thread into the glow plug hole
Attach the test gauge to the adapter
Verify that ignition is disabled to prevent engine from starting
Using a test jumper or remote switch, activate the starter directly
Crank the engine for 4-5 revolutions
Read and record the final PSI on the gauge
Repeat for all cylinders and compare pressures
Compression PSI Specifications/Ranges
I've put together the PSI ranges that you should be looking for when doing your compression test. Keep in mind that a lot of these are the specifications for these engines when new or rebuilt. Engines with a lot of miles will naturally have lower PSI because of all the wear and tear.
Generally speaking, you'll always want to look for the relative compression readings for all of the cylinders comparatively. A huge red flag is more than 75% difference between the individual cylinders.
Ford
7.3 365-475 psi is the acceptable range for the 7.3L Powerstroke.
6.0 375-425 psi is the acceptable range for the 6.0L Powerstroke.
6.4 340-375 psi is the acceptable range for the 6.4L Powerstroke.
Dodge
5.9 6BT The minimum psi spec for the 6BT is 350 psi.
Chevy/GM
LB7 Minimum 350 psi.
LLY Minimum 350 psi.
LBZ Minimum 350 psi.
LMM Minimum 350 psi.
LML Minimum 350 psi.
Conclusion
Hopefully this guide has been helpful in answering any questions that you might have had about compression testing your diesel. If you have any questions or concerns, please feel free to post them in the comments section below. Thanks for reading!