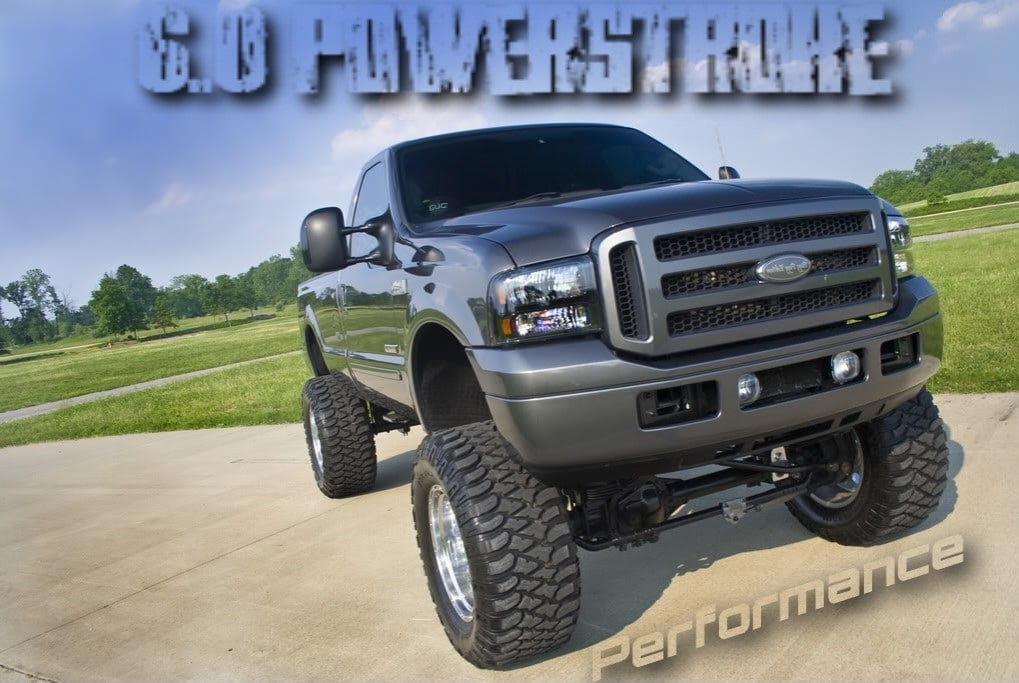 In this guide we'll go over some mods that will start you down the road to getting more performance out of your 6.0 Powerstroke.
We'll start with the basics; an EGR delete kit, air intake and an exhaust are all excellent ways to boost your truck's power and reliability, as modifying these systems allows your truck to breathe much easier and run much more efficiently.
We've made a short list of the parts that you will need for these upgrades for a 6.0L Powerstroke engine in the '03-07 Ford diesel trucks. If you have a newer truck, check out our guides for the 6.4L and 6.7L Powerstrokes.
---
Best Tuner for the 6.0L Powerstroke
The one thing that is key to extracting the maximum horsepower, torque and fuel economy from the 6.0 is a good tuner.
Also sometimes called a programmer or chip, the right tuner will allow you to change fuel maps, delete codes and certain sensors, view readouts and virtual gauges to monitor your truck, and much more. It's a vital part to any build.
There are a lot of options out there as far as tuners for the 6.0, but only a couple that give you maximum tuning ability right out-of-the box. Our favorite is the Livewire, mainly because of the onscreen monitoring/gauges ability that it has.

SCT 5015P Livewire TS+ Performance Ford Programmer/Monitor
as of October 7, 2019 2:08 pm
Features
Color 4" touch screen display with rear view camera input
Holds up to 10 custom tunes and has user adjustable tune options
Built-In Wi-Fi for easy updates
High speed data logging & monitoring with built-in performance calculator
Reads & clears DTC codes
Product Description
Pre-Loaded Gas & Diesel Performance: From the factory, your vehicle's computer is calibrated for the masses, designed with the average driver in mind, not the performance enthusiast. This not only leaves valuable Horsepower & Torque hidden inside your vehicle, but it also makes for a mediocre driving experience. The Livewire TS+ unlocks your vehicle's hidden performance by re-calibrating your vehicle's computer for Maximum Horsepower & Torque, Increased Throttle Response, Firmer Shifts and even Increased Fuel Mileage. MORE PERFORMANCE: SCT's Pre-loaded Dyno Proven tune files optimize the vehicle's Air / Fuel Ratio, Engine Timing & Fuel Curves for Maximum Performance while maintaining OEM reliability & drivability. IMPROVED TOWING & INCREASED MPG: Whether towing a fully loaded race trailer or a 5th Wheel Camper, SCT's Towing tune files add the perfect mix of Horsepower & Torque to help make hauling loads easier. SCT's Performance & Towing tune files not only optimize the vehicle for Maximum Performance, they often increase the vehicle's fuel mileage by up to 1-2MPG! Now with Switch On-The-Fly technology, you can easily switch between Performance and Towing tunes while driving! No need to re-program your trucks computer when getting ready to tow, simply select the Tow power level and go! Switch On-The-Fly only available on select diesel vehicles.
---
This track kit from aFe is the result of a new direction in the design of EGR deletes, addressing the many fitment and leakage flaws of the current market kits.
It's evident from the up close pictures of the great-looking TIG welds on the pipe and the expert machining on the plate, they don't really have anything to hide in the construction like you would see with offshore copies.
They also appear to have taken a lot of care with the J-tube and how it interfaces with the adapter plate. This is the only design of its kind I have seen, and is likely the result of aFe taking a look at the current designs and their leak points, and coming up with a solution to fix that.
Hands down the best EGR delete kit for the '03-'07 Ford 6.0 powerstroke diesel trucks, with one little flaw. It doesn't come with the other gaskets that you'll need to actually get to and remove the EGR and cooler, and for those you'll also need the aFe 46-90075 EGR Cooler Gasket Kit.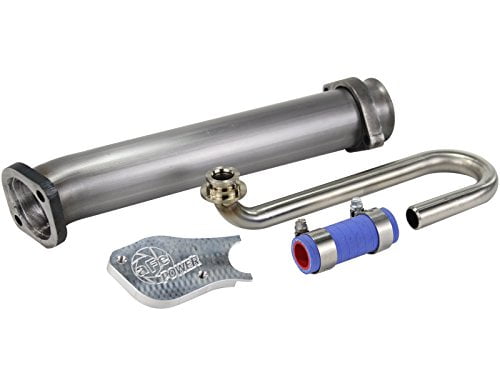 aFe 46-90076 EGR Track Kit for Ford 6.0L
Check Price

ebay.com
as of October 8, 2019 8:44 am
aFe Power is proud to introduce a EGR track kit for 2003-2007 V8-6.0 liter(td) Ford power stroke trucks. This EGR track kit is a 100 percent new unit, not remanufactured. The unit is TIG-welded and pressure tested at the factory. May only be used temporarily to confirm defective EGR coolers. Replaces EGR cooler: aFe EGR track kit allows for the removal of the EGR system for improved engine reliability, lower EGT's and improved horsepower. This is a "must have" for any "Race" upgrades. Durable construction: This kit includes a 304 stainless steel TIG-welded coolant pipe, 14-gauge 409 stainless steel exhaust pipe-up, billet EGR valve block-off plate, hi-temp silicone heater hose and all related hardware. Gasket kit: A complete gasket kit which includes all required components for the removal and replacement of the EGR track kit is also available. aFe part number: 46-90075 sold separately. Also fits: Ford Excursion 2004-2005 V8-6.0 liter (td). Note: This is a "Race Only" product used solely for competition. It's use is limited to closed-course and open-course racing that is formally sanctioned by a recognized racing organization. Any other use including recreational off-road use, could be in violation of local, state and federal laws. This system also requires an aftermarket electronic module to work properly with the vehicle.
---
Blue Spring Fuel Pressure Upgrade Kit
The blue spring mod is a very popular performance and reliability upgrade for the 6.0, and for a good reason. This simple mod will increase your fuel pressure by around 10-15psi, making your truck run much more smoothly, while decreasing the amount of strain on your injectors.
A must do if you are going to be adding other power increasing mods to your truck.

6.0 Blue Spring Kit Upgrade - Fuel Regulator Kit - Ford Blue Spring Kit 6.0 Powerstroke F250, F350, F450, F550 2003, 2004, 2005, 2006, 2007 - 3C3Z-9T517-AG
as of October 7, 2019 2:08 pm
Features
Increase fuel pressure for increased performance. This upgrade will increase the fuel pressure 10-15psi on your 6.0 powerstoke. Increases the life of fuel injectors too.
Easy To Install. The 6.0 blue spring kit includes all the gaskets, seals, bolts, spring, and regulator housing needed for installation. This fuel regulator kit includes a detailed installation video (link included in packaging) with step by step instructions for the blue spring upgrade.
Fits Ford 6.0 Powerstroke F250, F350, F450, F550 model years 2003, 2004, 2005, 2006, 2007
Equivalent to Ford part 3C3Z-9T517-AG Perfect for stock or modified trucks. The 6.0 Blue Spring Kit is a common upgrade because it increases injector life, increases drive-ability, and gives smoother power delivery.
Complete kit with everything needed for installation on your 6.0 Powerstroke: blue spring upgrade, 4 rubber o-ring seals, 3 orifice seals, 4 screws, fuel pressure regulator housing
Product Description
The 6.0 Blue Spring Upgrade is a common upgrade for the Ford 6.0 Powerstroke. One installed this fuel regulator kit will increase fuel pressue on your Powerstroke by 10-15psi. This give many benefits to your Ford 6.0 including increased injector life, smoother power delivery, and increased drive-ability. The Blue Spring Upgrade Kit installs on the 6.0 fuel pressure regulator housing in the engine bay. Access the link included with your Blue Spring Kit and follow the step-by-step installation video.Fits Ford 2003, 2004, 2005, 2006, 2007F250F350F450F550 This is not a genuine Ford part, the term for is used only for vehicle identification purposes.
---
Quite simply, the best turbo back exhaust for the 6.0 powerstroke is a simple straight pipe (no restrictions) from the turbo right out to the back of the truck.
Having the exhaust free of all the factory restrictions has a few great benefits (lower exhaust temps, quicker spooling from the turbo), but by far my favorite two side effects are more horsepower and torque!
One thing to look for to find a good exhaust system: mandrel bends. This simply means that the bends in the exhaust have been made with a die of some kind inserted inside of the pipe at the bending point, to prevent deformation (crushed in sections in the middle of the bend.)
When looking to maximize flow and spool times, you're going to want to minimize any disturbances in the flow, especially where the exhaust gases have to go around bends and corners. This is the reason why these types of bends are far superior to crush bent exhausts, it simply flows much better because the middle of the bend isn't all smashed in and interfering with flow. Any good exhaust will always use mandrel bends.
Our favorite for the 6.0 is this one show below. Made by MBRP, this is the kit that fits on all bed sizes of the '03-'07 Ford powerstroke trucks.

MBRP S6212PLM Turbo Back Single Side Off-Road Exhaust System
as of October 7, 2019 2:08 pm
Features
No muffler for maximum performance
Mandrel bent tubing
Installs with common hand tools
Can improve fuel economy by 1-2 mpg
Boosts torque and horsepower
Product Description
The turbo back type exhaust system mounts directly to the turbo and provides maximum diameter as well as reduced band degree angles and mandrel bent pipe. The objective is to provide the absolute lowest exhaust gas temperatures, maximum exhaust flow, torque and horsepower possible. Fits 2003-2007 Extended Cab/Crew Cab Configurations.
---
An air intake kit is possibly the most common modification that people start with when looking for more performance, and the reason is obvious:
Engines need air and fuel to make power. The more air and fuel, the more power, it's as simple as that. Having a turbocharger like the 6.0 has just makes unrestricted breathing even more important.
Nearly unrestricted breathing is the aim of most aftermarket intakes, and a lot of them do just that. They also all look pretty similar in form too.  Since most of them will do the job of opening up the airflow, it basically all comes down to the differences in performance vs reliability, maintenance, and cost.
This S&B intake pulls off the balance between form and function very well. Because of the airbox design (that actually pulls in cold air) and the reusable dry filters, I would say that it is the best intake out there for the 6.0 powerstroke. A main concern with a lot of the other aftermarket intake designs is that they leave the filter exposed to the heatsoak of the engine bay. This is a really bad idea, especially with how high the underhood temps can get in these trucks.
The S&B kit solves the underhood temp issue with an enclosed filter box that pulls air from outside your engine bay, like an intake always should. They include a removable clear plastic panel that covers the top of the box, while still allowing you to visually inspect the filter, and also making it much less of a pain to remove for cleaning vs. the stock setup. You can even run without the top panel and use the rubber seal that they include to seal the box to the bottom of your hood, allowing for even more airflow.
As far as reliability and maintenance goes, the best part about the aFE dry filters that S&B uses in this kit, is that they can be reused a bunch of times and they never need oiling. All you need is just a soapy wash and water rinse (rinse from the inside out) from time to time. Or alternatively, you can vacuum the filter (from the outside) to get the dirt out, which works well too. But one thing I have learned the hard way with dry filters, NEVER try to clean the filter with compressed air, it ends up ruining the media and you'll have to buy a new one (my wallet speaks from experience here.)

S&B Filters 75-5070D Cold Air Intake for 2003-2007 Ford F250/F350/Excursion Powerstroke 6.0L (Dry Extendable Filter)
as of October 7, 2019 2:08 pm
Features
32.90% More Airflow & 99.54% Efficiency Rating. Tested To The Internationally Accepted ISO 5011 Standard
Designed To Avoid Check Engine Lights
Premium Silicone Parts Last Longer And Look Better
Extend the life of our dry filters: Using compressed air, blow off the outside of the dry filter keeping the air nozzle moving and no closer than 6 inches to the media. Replacement Filter: KF-1039D & Filter Wrap: WF-1039
Street Legal in All US States, CARB Exempt ID: D-590-9
Product Description
9973 f250 snorkel cleaning upper manifold evap hose kn 12 gauge heat shield usa power rack expedition exhaust boyds stock at one 2000 excursion f350 f150 magnum 350 screws lifetime carb legal box cleaner 54 truck gasket turbo intakes seal cooler manifolds super of duty cotton dorman blue lines inch 1999 2002 stage ais drive up sport snake accessories start platinum yates systems
---
Garrett PowerMax Turbo Upgrade
This turbo is a great power upgrade, if your original turbo needs replacement or you just want up to 175 more horsepower, look no further than the PowerMax. You'll be able to install this turbo with no more hassle than installing the original Garrett that comes in your truck, it is a true bolt in swap.
Garrett is at the forefront of turbo technology and the attention to detail on the powermax really shows off their innovation. One of the coolest features is the variable vane tech that they've incorporated into the design, which restricts down low and opens up top. This greatly increases the turbine's efficiency as the rpms change, which keeps the boost at peak performance from idle to redline.

Garrett Powermax Turbocharger for 04.5-07 Powerstroke 6.0L Turbo
as of October 7, 2019 2:08 pm
Features
GARRETT 772441-5002S 04-07 6.0L POWERSTROKE TURBO
Product Description
GARRETT 772441-5002S 04-07 6.0L POWERSTROKE TURBO
---
If you still use your truck on US roads and need to keep the emissions system intact, there is fortunately an option for upgrading the problematic, clog-prone factory EGR cooler that comes equipped on the 6.0 Powerstroke.
This cooler is a huge upgrade to the factory ford EGR cooler. Made from from stainless steel, and some great looking TIG welds, it looks just as good as it performs. Internally, their design ditches the factory ford honeycomb mesh (that without fail always clogs up) and instead uses rounded tubes as the medium.
They pressure test their coolers to ensure that there aren't any leaks when you install it. Leakproof is absolutely something you want to be sure of when going through all the trouble of installing a cooler replacement. The install itself is a direct replacement fit, so no hacking or modifying of your other EGR components is required.

APDTY 015373 EGR Cooler Kit With Gaskets (Upgraded Stainless Straight Tube Design) For 2004-2010 Ford 6.0L Diesel (F250, F350, F450, F550, F650, F750)( 4C3Z9P456AJ)
as of October 7, 2019 2:08 pm
Features
Upgraded design prevents the common clogging and overheating of the original turbulator design
Upgraded design can be used in more harsh environments and perform better
Gaskets Included: Intake Manifold, Turbo Hardware Kit 3C3Z-9433-BJ, EGR Cooler
Inclu
Product Description
Brand New Upgraded EGR Cooler KitIncludes All Gaskets Needed; Includes EGR Cooler Connector Hose; Includes Turbo Hardware KitIt is recommended to replace the engine oil cooler at the same time; Please search for APDTY 015339 to add the oil cooler kit to this orderFits 2003*-2010 Ford 6.0L DieselFits 2003 Models Manufactured On Or After 9-22-2003, Manufacture date can be found on door jamb placardReplaces Ford Part #: 4C3Z9P456AJ, 4C3Z9P456AJ, 4C3Z-9P456-AF, 4C3Z 9P456-AH, 4C3Z 9P456-AC, 4C3Z 9P456-AA, 4C4Z 8592-AA, 3C3Z-9433-BJ, 3C3Z-9439-AA, 3C3Z-9T514-AG, 3C3Z-9T514-AD
---
Upstand Pipe and Dummy Plug Upgrade Kit
If your truck is having hard start issues after it's warmed up, you most likely have a leak in the oil system, causing the injectors to not pressurize fully. A very common place for oil pressure to leak out is the seals on the dummy plugs, causing your fuel pressure to be too low to start the truck right away.
If you've checked the usual electrical suspects, such as the FICM, IPR and IPC and those are operating as intended, then you most likely have a loss of oil pressure.
A good upgrade kit for replacing the dummy plugs and upstand pipe is this kit, it solves the issues that your original dummy plugs have with worn out or rotten seals, sealing up the oil system which will restore your fuel pressure back to normal.

Genuine Ford 6E7Z-9A332-B Fuel Supply Tube
as of October 7, 2019 2:08 pm
Features
genuine oem factory part
exact fit
durable
best in quality
this is not an aftermarket part
Product Description
Ford 6E7Z-9A332-B
---
The perfect upgrade for 6.0 trucks that have a really slow starter is the much better version that comes in the 6.4 and later trucks. Ford revised the gearset in the newer starters which results in much faster cranking times.
It's a simple drop-in replacement, nothing needs to be modified so this upgrade is a no brainer if your current starter is getting really slow.

DB Electrical SFD0122 New Starter For 6.4L 6.4 Ford F150 F250 F350 Diesel Truck 08 09 10 2008 2009 2010 410-14080 7C3T-11000-AA 7C3T-11000-AB 7C3Z-11002-AA
as of October 7, 2019 2:08 pm
Features
Under Full Load Conditions, amperage output at 1200 engine rpm will peak at 220 Amps
Under Full Load Conditions, amperage output at 600 engine rpm (idle) will peak at 110 Amps
Premium Quality From DB Electrical
One Year Warranty
Product Description
Starter For Ford F-Series Pickups 6.4L(391) V8 (Diesel) 2008-2010. 12 Volt, Clockwise Rotation, 12 Teeth, Osgr Starter Type. Replaces Ford 7C3T-11000-Aa, 7C3T-11000-Ab, 7C3Z-11002-Aa; Motorcraft Sa-965
---
Head Gasket and ARP Stud Kit
The most hardcore of upgrades is replacing the head gaskets and bolts with new gaskets and studs to clamp it all together. Unfortunately this is an upgrade that a lot of 6.0 owners have had to do to, with head gasket issues being a weak link in these trucks.
It's such a common occurrence that there are now bulletproofing kit options for replacing everything that this job requires, such as intake gaskets and all the other little gaskets that you would normally not think of when ordering, all included in one easy box with brand new ARP studs – which are a must install. The factory bolts just can't physically have the same clamping force that studs can, and that's one thing you really need on a high boost 6.0.
The only thing to be aware of when choosing a head gasket kit is the build dates on your tuck. Basically, if your truck was built before January 14th 2006, and has t40 Torx bolts for the injector hold-downs – then you have the 18mm dowels in your heads. Of course you should get the kit that has the head gaskets that fits those dowels.
After January 14th, the 2006 and 2007 heads have 20mm dowels in them. That's really the only catch as far as ordering kits goes, pay attention there and your parts will fit when you go to put the beast of a job back together.

ARP Head Stud Kit & OEM Style 18mm Cylinder Head Gasket Set For 2003-2006 Ford Powerstroke Diesel 6.0L F250 F350 F450 F550 - Bundle
as of October 7, 2019 2:08 pm
Features
1X Brand New ARP Head Stud Kit, 1X Brand New Head Gasket Set, 2X Brand New 18mm Black Diamond MLS Head Gasket
Fits 2003-2006 Ford Powerstroke 6.0L Diesel - F250 F350 F450 F550
18 mm Alignment Dowels - Manufactured 2003 - Jan 11, 2006 ONLY PLEASE Contact with us if you have 20 mm Alignment Dowels - Manufactured January 12, 2006 and newer
If you are unsure about fitment, applications, technical specifications, or any other questions, please contact us at Amazon message service before buying.
Product Description
ARP Bolts World-leading Fastener Technology ARP started applying technology to race fastener design and manufacturing in 1968. We'll discuss five components of fastener technology in detail. Design Today's critical diesel fasteners - head studs and bolts, main studs and bolts, and driveline - have been designed stronger than ever before to handle the extreme loads. As a results, installation pre-loads - the amount the fastener is stretched during installation - are very high. To overcome head gasket failures that can occur in 6.0 Powerstroke diesel engines employed in truck and RV applications, industry leader ARP has introduced extra heavy-duty head studs for the popular Ford Powerstroke · These ARP studs are rated at 220,000 psi tensile strength, and provide the clamping force required to keep cylinder heads from lifting due to higher combustion pressures. · The studs are manufactured in ARP's Santa Paula, CA plant from proprietary ARP 2000 material, with threads rolled after heat-treat to provide optimum fatigue strength. · They are centerless ground to assure perfect concentricity · The ends of the studs are broached to facilitate easy installation. This feature also enables the cylinder head to be removed in tight quarters. · Also included in each kit are heat-treated, chrome-moly steel 12-point nuts and parallel-ground washers. They are black oxide finished for extreme durability.
---
Intercooler Piping Upgrade
The factory intercooler boots on the 6.0 are known for being a weak point. After years of sitting on top of the hot engine they often crack and create leaks. The best way to address this is with an intercooler piping upgrade kit such as this one.

Black Intercooler Pipe Kit & Intake Elbow 2003-2007 Ford 6.0L Powerstroke Diesel 6.0 F250 F350 F450 F550
as of October 7, 2019 2:08 pm
Features
Includes replacement silicone boots and T-bolt clamps
Aluminum construction for a lifetime of rust free performance and heat dissipation
These aftermarket charge pipes will not split or crack like the factory OEM pipes
Heavy duty four ply silicone boots
Stainless steel T-bolt clamps
Product Description
Rudy's Diesel Hot & Cold Side Intercooler Charge Pipes RDP-INTRPIPE-6.0-KIT-BLACK Includes replacement silicone boots and T-bolt clamps Aluminum construction for a lifetime of rust free performance and heat dissipation These aftermarket charge pipes will not split or crack like the factory OEM pipes Heavy duty four ply silicone boots Stainless steel T-bolt clamps Rudy's Diesel High Flow Intake Elbow RDP-INTEL-6.0-BLACK Rudy's Diesel Intake Elbow for the Ford 6.0L Powerstroke. This kit is designed and engineered to out perform the competition. Comes with a Mandrel bent aluminum tube and CNC base plate that utilizes a high temperature o-ring designed to hold even the highest boost levels. This intake elbow has a 1/8 NPT fitting for a boost gauge. We recommend using thread tape on the NPT fittings to prevent any boost leaks. Designed to fit all 2003-07 Ford 6.0 Powerstroke diesel trucks. Mandrel bent tubing (2) 1/8" NPT bungs installed Fully TIG welded and pressure tested O-Ring seal designed to handle any boost pressure **2004 models with active throttle plate will require tuning to turn off CEL because of the throttle plate being removed** *HOT SIDE INTERCOOLER PIPE WILL NOT FIT ON TRUCKS WITH DUAL ALTERNATORS*
Conclusion
Hopefully this has answered your questions about what performance upgrades to start with for upgrading the performance on your 6.0 Powerstroke. If you have questions, comments or other upgrades that you think should make the list, be sure to let us know in the comments below, thanks for reading!